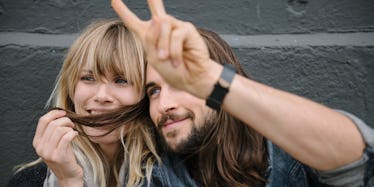 Venus Goes Into Gemini On July 4, Here's What That Means For Your Love Life
Emmanuel Hidalgo
If you've been feeling like the Sun moving into Cancer has you white-water rafting through a river of stormy emotions you can barely f*cking manage, you can breathe easy knowing that -- at the very least -- you have Venus in Gemini to look forward to.
On July 4, Venus (the planet of love, money, and creativity) is going into Gemini just in time for Independence Day, and the symbolism is just too much to take.
Gemini is absolutely the most flirtatious signs in the zodiac. You might be like "Wait, I thought Leo..?" No. Gemini takes the gold. Here's what you can expect from the coming month.
Flirty Teasing
Gemini tries to win over people with witty conversation, quick comebacks, and cutting remarks. They love to show off their quick minds, showing how much they know. This can sometimes come off as teasing, especially with the Sun in sensitive-ass Cancer.
If you feel that your flirting has an edge to it this month, remember not to take any of this personally. While the Sun in Cancer can make us all moody, having Venus in Gemini will lighten everyone's mood a lot.
That said, for the singles out there enjoying some ongoing flirting with a particular person, be aware that because Gemini can be a little evasive when it comes to the truth, you could be flirting with someone who is in a full-on relationship.
Be sure to ask directly if you feel yourself really falling for someone.
Wandering Eyes
This is one case where having the sun in Cancer will be beneficial because people are gonna be thinking about straying from their one-and-only, more for the change of pace than any other reason.
Geminis don't like to be bogged down in their relationships, so when the planet of Venus is in this sign, you can expect to feel the same restlessness that they do in relationships, so don't be surprised if you find yourself looking around a bit more than usual, and don't judge yourself for it. We're all human!
With Venus in Gemini, the Sun in Cancer will actually be a grounding influence because of Cancer's need for security and a stable home-base.
Weekend Trips
For those who are in serious relationships, you can expect this month to bring plenty of social opportunities independent of your relationship, since Gemini is such a social butterfly.
That doesn't mean you won't have the chance to spend some quality time with your SO, though.
We all know absence can make the heart (and loins) grow fonder. Gemini rules local travel, so if you have the chance to take a weekend trip to the beach with your partner, be sure to take it. The stars will support you, and you and your partner will have a universal advantage in your ability to reconnect.
Overall, we'll be able to sit back and enjoy the welcome influence of having an intimate planet like Venus in a flirty sign like Gemini, because with Mercury and the Sun sitting in the sign of Cancer this month, we're all going to be pretty sick of talking about and thinking about our feelings.