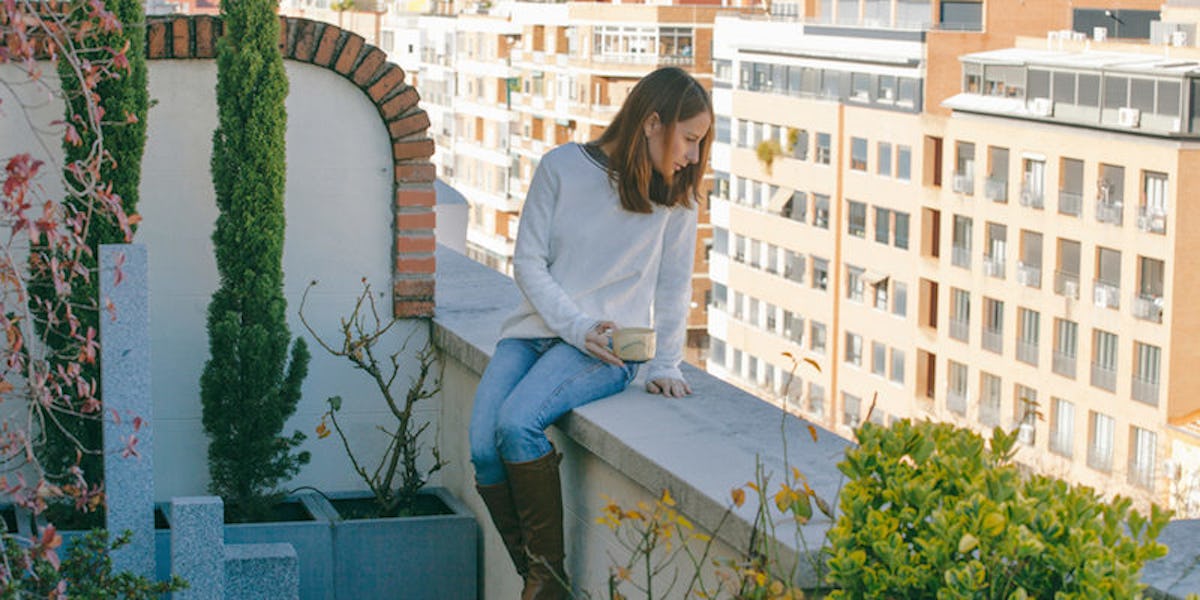 I Didn't Travel After Graduation And It's One Of My Biggest Regrets
It happened last year. There I was, 28 years old. I was sitting on an almost deserted strip of beach on Gili Trawangan — a tiny island off the coast of Indonesia — watching the most incredible sunset with two of my best friends. Then, it hit me. This is what I've been missing out on.
I never really caught the travel bug while growing up. When I was a teenager, I had a plan: graduate from university, move to a big city, land my dream job in fashion, get married by 30 and buy a nice big house with a white picket fence and a garden for the dog.
While I graduated, made the move and landed the job, I did all of this quite early on in life. But then everything just kind of plateaued. Life has a funny way of not giving you everything you want when you want it. It was at that very moment on that very beach that I realized that the one thing I could do to enrich my life was travel.
Why didn't I think of this sooner? Don't get me wrong; I've seen some incredible places. I've ticked Sri Lanka, Goa, the Maldives and Thailand off my list, just to name a few. But looking back, I realize I never properly appreciated them.
That's the thing about hindsight. So now, when I read another article about a 20-something who quit her city job to run an ice cream stall in Hawaii, I can't help but feel insanely jealous.
There are both pros and cons to traveling when you're younger versus traveling when you're older. I mean, sure: Now, I can see the world on a slightly more luxurious scale. (Backpacks aren't for me.) But I can't seem to shift that nagging feeling that I've somehow missed the boat. Here are four reasons why I regret not traveling when I finished my studies:
1. Money
I used to be pretty good at saving. Each month, I'd set aside some money for a rainy day.
While I might not have been able to put a deposit on a house, I figured I'd be OK for a while, should everything go horribly awry. These days, my savings seem to have developed a sense of wanderlust that matches my own. Instead of working toward that house, I now max out my credit card on flights and hotels.
I know what you're thinking: Money isn't everything. But when you're 20, you can plan for these things. You can take a world trip and get it all out of your system in one fell swoop. There's no guilt attached.
Sooner rather than later, you'll have responsibilities. You will have to find new ways to justify that pricey plane ticket. They say, "Travel is the only thing you buy that makes you richer." So if I'm cash poor, at least I'm rich in experience, right? Travel when you're younger, and you can be both.
2. Experience
Travel is supposed to expand your horizons. It makes you think differently, and it changes the way you see the world. Take my recent trip to Sri Lanka, just before the travel bug bit.
Thanks to my job as a journalist, I was able to spend four nights, free of charge, in one of the most luxurious hotels in the country. But comfort soon set in, and we found ourselves watching DVDs every night rather than going out exploring. I didn't even see an elephant.
Today, I'd happily forgo that luxury and get down and dirty with the locals. (Not like that. Get your mind out of the gutter.)
Instead, I'd take the time to learn about the local culture, swim in the waterfalls and eat the delicious food. In fact, I have my second trip to Sri Lanka planned again this year, and I intend on doing just that. This time, I'm seeing a damn elephant.
3. Opportunity
Full-time jobs aren't exactly conducive to regular travel. It's only in the time between university and starting a job that you're time rich. So, unless you're lucky enough to take a sabbatical, you just have to fit in that week or two to travel when you can.
Sure, you can maximize your holiday time. But it doesn't quite compare to three months of traveling across South America, does it?
4. Perspective
I currently live in a multi-cultural city, which is halfway across the world from where I grew up. This means I've had the opportunity to meet some amazing people from all walks of life. But it doesn't mean I've been able to experience how they live.
Meeting folks from exotic cultures in their natural habitats teaches you that the way you look at the world isn't the way everybody else does. As I write, it's all about five-star hotels, skyscrapers and luxury beaches. Sometimes, I think I just need a big, fat slap in the face.
Seeing the world for yourself brings a healthy dose of reality to your so-called higher thinking. It helps you appreciate the little things, as well as the big things.
This is why I've started a travel bucket list at the age of 29. I'm finally going to work my way through it. Better late than never, right?
I always wonder why birds stay in the same place when they can fly anywhere on the earth. Then, I ask myself the same question. — Harun Yahya