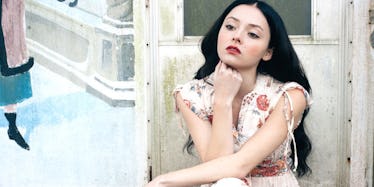 10 Things People Tough On The Outside, Soft On The Inside Wish You Knew
Have you ever found yourself in the throes of insomnia at 2 am, feverishly lost in the hot florescent light of an all-hours drugstore, eyes as large as saucers as you sleeplessly scan the faceless rack of magazines, searching for that one cover that promises to entice your senses and fill in the gaps of your restless night?
We are forever drawn to that one magazine cover; it's the magnetism of the industrious cover girl, the tough babe, the badass chick clothed in faded black leather and effortlessly ripped jeans.
Moments after flipping through the gleamingly glossy pages of the magazine, we come to find this is a very different publication than we had assumed at the point of purchase.
When we were convinced we had spent our hard-earned cash on a magazine detailing the art of spiked collars and the recklessness of punk rock, it was instead about the hurt of unrequited love and the pressing pain of abandonment.
The book neglected to match the cover, so to speak.
Just like books and magazines, there are girls whose outward style doesn't represent their true character.
Girls who, to the naked eye, project an image of steel nails, but once you scratch past the superficiality of their outer appearance, are made up of something surprisingly soft.
Girls encased in radically thick lacquer who wouldn't allow anything to touch them, girls who blow rings of toxic smoke into the frail air with a dangerously sexy "I don't give a f*ck" attitude.
The razor blade of a woman whose energy is that of a freshly sharpened silver knife.
She just looks so otherworldly fierce. So sinewy and unbreakable. So impossibly untouchable.
What most people neglect to grasp is that it takes a lifespan of unyielding work to build walls as high as the sky.
It's no easy feat.
Sometimes it feels almost impossible to see past a tough girl's ever-thick, leather-bound exterior.
So she roams the earth in steel-toed boots largely misunderstood.
So what do these outwardly tough girls wish you knew about them?
1. She's aware you can exit her life as easily as you can enter it
The most terrifying part of allowing someone into your furiously protected inner world is that once a person enters, he or she can also turn around and exit at any given time. It's something we have no control over.
The tough girl knows this from personal experience. Whether it's a friend who unexpectedly lost her life, a parent who left without warning or a partner who tossed her aside like yesterday's laundry — she's felt the ache of loss.
She's vowed to never allow anyone to get close ever again; it's not worth the risk.
So she pushes you away. Not because she wants to, but because she has to.
2. She respects herself enough to protect herself
Self-respect and insecurity are two very different things, and while the tough girl may be secretly insecure – she has a world of respect for herself.
She is so vehemently self-protective because she knows her value in the world.
3. Laughter is her pretty blue pill 
The most universally effective way to mask vulnerability is to turn all that life throws at you into that of a meaningless joke.
I mean, if she doesn't even take her own life seriously, then no one else will either, right? Wisecracks are her ultimate crutch.
If only. There is always something lingering behind the excessive need to turn everything into a meaningless joke.
Pain is the driving force of comedy, and laughter is her pretty blue pill, her everlasting prescription of Xanax.
4. She's not immune to love
Her chest holds court to a massively huge heart that requires a multi-nation army of mass protection.
But if you were to push past the plethora of severely armed guards, you would see an insatiable hunger for love.
The bigger the heart, the bigger the break.
5. There is more to her than meets the bare eye
Contrary to popular belief, there is far more to the tough girl than whip-smart quips and an out-of-this-world aura of confidence.
When you break open her shell of whiskey and leather, you will find a multi-faceted, hyper-complex girl – a girl with fears and desires and ambitions and dumb phobias and odd personality quirks and lovable flaws.
Just because it takes time for her to unravel these truths doesn't mean they're not there.
6. Her anxiety runs deep
So she's ethereally calm, James-Dean-cool and wickedly collected on the outside. How very different is the still exterior to the brutal hurricane that exists within her.
I have this theory that goes as such: The more you endlessly discuss your anxieties, the less severe they are.
A girl who is a wide-open book, detailing her fears to anyone who cares to read has made peace with her neurosis. She's confronted it.
It's the girls who suffer in silence who are struggling the most.
7. Your words can cut her
The tough girl has worked hard to make us believe words are meaningless to her. She's so seemingly fierce and unbreakable that something as vapid as a mere word couldn't scar her steel skin. So we play rough with her (it's how she likes it, right?).
Not so fast, sister. While maybe she's set herself up for this kind of aggressive back and forth, it doesn't mean your unkind words didn't cut her.
When you so innocently called her "overweight" or "slutty" or a "slacker," it hurt her just as much as it would hurt you.
She just doesn't show it; that's the difference.
8. As tough as she is on you, she's harder on herself
A tough girl is hard as hell on everyone who surrounds her, but her hardness to you is soothingly gentle compared to the enormous pressure she endlessly bestows upon herself.
A tough girl has integrity and wouldn't dare to treat anyone differently than she would treat herself. She has a hard outlook on the world, and she is no exception.
9. She doesn't necessarily want to f*ck you on the first date
Tough elicits sexy while vulnerability elicits love. People automatically assume that the outwardly strong chick doesn't need to be romanced, that she's always down for sex.
That pleasure is the intention. That she's simply here to get her rocks off and doesn't crave anything as mundane as affection.
This is false. The outwardly tough girl wants to be gorgeously wooed and relentlessly pursued just as much as the seemingly soft girl.
10. When she dares to love, it's for life
Once an outwardly tough girl grants you permission into her guarded heart, it's for life.
That's why she's so very specific as to whom she allows in.