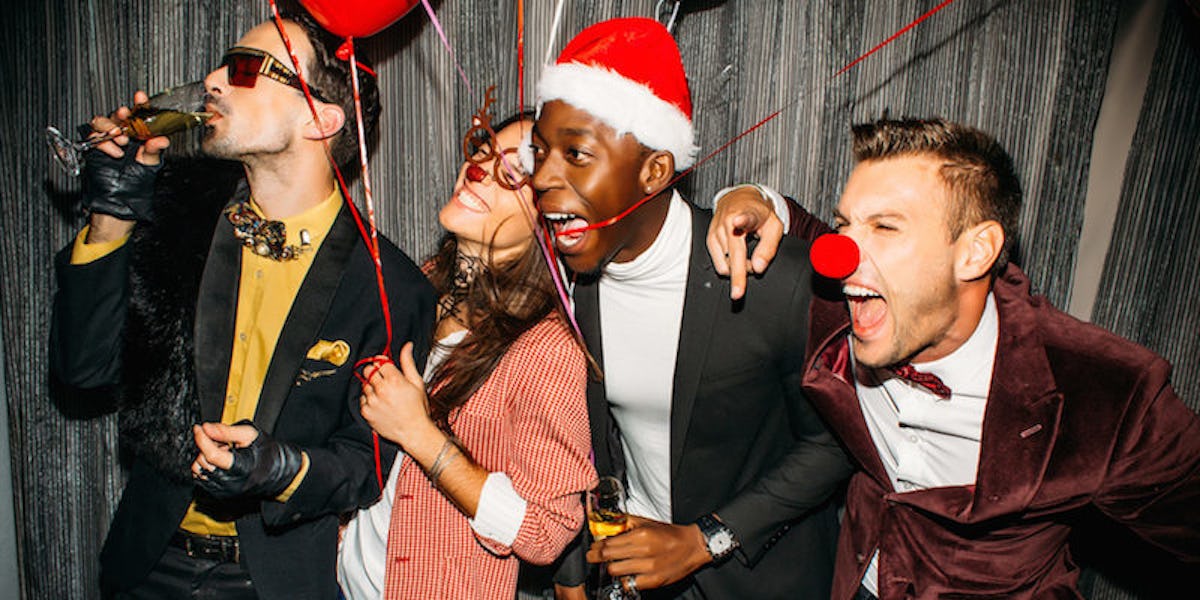 7 Party Tips To Keep Your Guests Rockin' Around The Christmas Tree
The Christmas season means a lot of different things for different people.
For some, it means it's time to decorate every square inch of the house with every light you can get your hands on at Walmart.
For others, it means you can wear that ugly Christmas sweater you refuse to throw out and not be judged for it.
For some, it means overindulging on your favorite Christmas drinks, in order to deal with constantly having to explain to your relatives why you don't have a job or a boyfriend (and are totally okay with that).
But amidst all the Christmas chaos, there's one form of chaos that's always worth it in the end: having a Christmas party.
Whether it's a small gathering of friends or a full house, everyone always gets excited for a good holiday party.
What better way to ring in the season than by hosting it yourself?
Love the idea, but aren't quite sure where to start?
Here are seven tips to help you get a plan together and throw a party that will be talked about well into the New Year:
1. Determine what kind of party you want to have.
Are you feeling a sit-down dinner with a few good friends, or a huge, tacky Christmas sweater extravaganza?
Visualize the type of mood you'd like to have at your party, and go from there.
Be sure to let your guests know what type of party it's going to be!
2. Create a guest list.
It's always the people who make a party fun.
Keep this in mind when creating your guest list.
In terms of sending invites and receiving RSVPs, Evite.com is a great way to keep track of it all online.
Not only can you design your own personal invitation, but you're also notified if someone RSVPs.
It helps keep track of how many guests will be attending, and it keeps your guests in the loop if there are any updates.
3. Create a menu.
You can't have a party without food, so it's important to think about what type of menu you'd like to have.
Are you doing a dinner or just appetizers and desserts?
Would you like your guests to bring anything with them?
These are all important factors to keep in mind.
It's also important to know what's in each of the dishes you serve, just in case your guests have any allergies.
4. Have a signature drink.
Christmas parties are more fun when there's a signature cocktail.
Lucky for you, there are tons to choose from, both hot and cold.
Check out this list from the Food Network to help you brainstorm some ideas.
(A taste test or two before the party wouldn't hurt, either.)
5. Decorate your place.
If you're having people over, you might have to go the extra mile in making your home look festive.
Yes, that means digging for boxes, taking an hour or two to string up some lights and making Christmas displays you've been too lazy to even think about in years past.
But imagine all the compliments you'll get when your guests walk in and feel like they're in a Christmas wonderland.
It's totally worth it.
6. Don't procrastinate.
In theory, planning a party seems pretty straightforward, but there is a lot of work that goes into it.
As long as you spread out that work over time, it'll be cake.
If you wait to the last minute, you'll be pulling your hair out with stress.
It helps to create a timeline for yourself to stay on track, as well as a to-do list to check off big tasks.
Also, don't be afraid to ask for assistance from friends and family.
Delegation is key when it comes to party planning.
7. Be a host, not the butler.
Some people see hosting a party as a chore, but that's not the point of it.
Of course, it's important to make your guests feel welcome, but you don't have to be at their beck and call all night.
Having a party means you're supposed to have an enjoyable time, too.
So keep an eye on the food and drinks, and make sure things are taken care of.
But, also realize your guests are there to celebrate this time of year with you.
So breathe, socialize and have a drink or two (or three or four).
If you're having a good time, your guests will, too.
Good luck, happy holidays and happy party planning to you all.