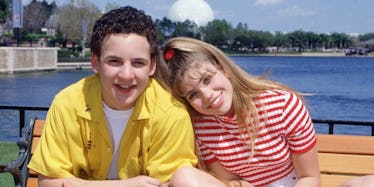 16 Of The Best Things From The 90s That Need To Be Revived In 2015
If you were a 90s kid, you weren't ashamed of it. TGIF was your favorite part of the week, and you held your head high with butterfly clips in your hair. Your homework was fabulously done with gel pens, and at night, you'd curl up in bed with your favorite "Goosebumps" book.
The 90s were a simpler time, so it makes sense this decade has regained so much popularity.
Today, choker necklaces and crop tops are reunited once again, French Toast Crunch has claimed its rightful spot on grocery store shelves and 90s girls can rejoice that now their daughters can also shop at Limited Too.
While this seems to be an answered prayer from the God of the 90s (Chandler Bing), why the sudden obsession?
They say "history repeats itself," so let us just hope we can again enjoy everything we once loved and, unfortunately, have lost.
1. Game shows were a great part of growing up in the 90s.
There's no doubt we need shows like "Double Dare" and "Legends of the Hidden Temple" back on our TV sets today.
You always knew if your family was given the chance to be on "Family Double Dare," you totally would've won.
2. Clarissa Darling was basically a crisis guru for preteen girls of the 90s.
From school, pimples, even training bras, whatever problems you had, you could bet Clarissa had them, too.
How many TV shows are around today that helped preteens in the same way? Clarissa should come back and "explain it all" to kids today.
3. There was nothing better than waking up and rushing to the TV to watch your Saturday morning cartoons.
This was a weekly ritual that, unfortunately, has faded throughout the years.
Sure, there are still cartoons on during Saturday mornings, but they're nothing like we had in the 90s. "Animaniacs," "The Muppet Babies," "DuckTales," "Rugrats" — it doesn't get much better than that.
4. Blow-up furniture was better than the couch.
While you were getting your advice from Clarissa or watching your Saturday morning cartoons, you can bet you were sitting on your blow-up furniture.
This is definitely a thing that needs to come back. Just think of how easy moving would be.
5. The Spice Girls were the hottest pop band.
If there's one thing that broke our hearts in the 90s, it's when Ginger Spice walked out on the band, forever bringing an end to the Spice Girls.
However, like every other 90s dreamer, I am still sticking to the hope that Posh, Baby, Scary, Ginger and Sporty will reunite. Hey, if the Backstreet Boys can do it, so can the Spice Girls.
6. If there's one thing we could look forward to on Friday nights, it was the Disney Channel Original Movies.
The house from "Smart House" will always be your dream home. Because of "The Thirteenth Year," you secretly wished you became a mermaid when you turned 13. And who didn't want to go to a place like "Halloweentown?"
Along with being incredibly good movies to cherish forever, these movies taught valuable lessons.
We need movies like this back; how many more times do we need to see teens spontaneously break out into song?
7. When you weren't watching DCOMs, you probably were watching Mary-Kate and Ashley movies.
From being kid detectives to soccer superstars, and even traveling to places like Paris, living like Mary-Kate and Ashey Olsen was your dream.
For now, we will have to settle with using their tricks for the perfect pouty pose, but we can secretly hope the Olsen twins will solve another mystery. The case of who wore the chicest outfit, perhaps?
8. There was nothing quite like having the simplicity of Lip Smackers being your main form of makeup.
Today, there's contouring, highlighting, filling in your eyebrows, plump lips and so much more to worry about. Back then, the biggest struggle was picking out which flavor you wanted for the day.
9. Chunky shoes were a fashion staple of the 90s.
Whether you were considered grunge or you went for the girlier look, you wore chunky shoes.
Dr. Marten's always went with your babydoll dresses and plaid shirts. With 90s fashion making its own comeback in 2015, there's no reason chunky shoes can't, too.
10. What better haircut to go with your chunky shoes than the "Rachel Green" haircut?
Jennifer Aniston's character on "Friends" was a fashion icon for many.
There's no question her hairstyle was the "it" style of the 90s. Everyone and their mother (literally) was sporting the chic 'do.
11. "Scary Stories to Tell in the Dark" was where you turned when "Goosebumps" didn't quite cut it.
There was no greater fear than reading stories like "Bloody Fingers" or "The Thing."
If the words didn't scare you, the illustrations sure did.
12. It's not hard to admit video games today are less than educational for kids.
Back in the 90s, "The Oregon Trail" was like the holy Mecca of video games.
Not only was it educational, but it was fun. While there wasn't really any action to it, and it wouldn't be as exciting for kids today, it should definitely still come back.
Just admit it: You would play it today … and still die of dysentery.
13. If there was one TV show everyone loved, it was "The Fresh Prince of Bel-Air."
It was canceled after it's fourth season, but brought back for another two seasons because fans wanted it that badly. There's no reason this couldn't happen again today.
If you want something that badly, eventually, it will return (right?). We need a weekly dose of Alfonso Ribeiro doing "the Carlton," not just random outbursts of the dance.
His most recent surprise was great, even Justin Timberlake joined in.
Though, if the "Fresh Prince of Bel-Air" returned today, it wouldn't be the same without Uncle Phil. But, since James Avery has passed, who says we can't have a spinoff?
If we can get the cast of "Full House" to reunite for "Fuller House" on Netflix next year, and the creators of "Boy Meets World" can make a show about Corey and Topanga's children bringing back all the characters we loved with it, why can't we see a show about Will's or Carlton's kids?
14. Speaking of Corey and Topanga, what happened to relationships like theirs?
We all dreamed we would meet someone we loved basically throughout our whole lives. Even throughout the fights, you always went back to one another. Even Mr. Feeny approved of the relationship; that's when you know you're living the dream.
15. How could you not want to be Cher Horowitz in class with the fuzzy pink pen from "Clueless?"
I would totally use one of those in class or at work today. It's so chic, you're bound to get noticed for all the right reasons.
Cher certainly knew what she was doing.
16. By far the most important thing from the decade would have to be 90s Leonardo DiCaprio.
Don't get me wrong; Leo today is fantastic. But, secretly, we all want back the swoopy-haired heartthrob we loved in "Titanic" and "Romeo and Juliet." How could you not?
The 90s were a great time to be alive.
Even if they're a thing of the past, the 90s give us Millennials great nostalgia. So, go open up a can of Surge and mist yourself in Cucumber Melon Body Spray from Bath and Body Works like it's 1999.