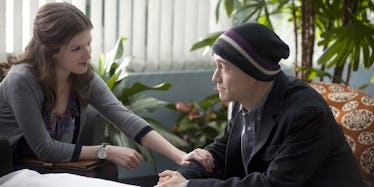 Why You Should Consider Seeing A Therapist, Even If You're 'Just Stressed'
Summit Entertainment
Since 1992, April has been celebrated as Stress Awareness Month. Whether you're a college student or just a regular person taking on life day to day, you will encounter stress. It's inevitable. Stress is something that is so important to talk about because many people go through it and don't have a clue how to face it.
A few years ago, a terrible, traumatic incident occurred when I was a freshman in college. After the incident, I thought I was fine, but it turned out I was not fine at all. I was subconsciously thinking about the incident over and over again, and I didn't even realize it. I started to feel a lump in my throat and my chest was tightening up, and I would go days without sleeping.
I even had thoughts I was going to die. I then realized that this was not normal, and I needed help. I thought about the resources on campus, and I remembered hearing about the CPS (counseling and psychological services) that was on campus. Prior to this occasion, I had never spoken with a therapist before, and the thought of going to speak with a therapist freaked me out.
I thought of all the reasons why I shouldn't go. Would I see people I knew? Would they judge me? What if the therapist judges me? It was scary to think about, but I knew I couldn't take the physical discomfort any longer. I went to my school's counseling services center to speak with a therapist for 30 minutes. She said that these symptoms were normal for someone who is extremely stressed out. She was nice, and I felt comfortable talking to her.
She didn't judge me or look at me in a funny way; she just listened. She advised me to come to a weekly group therapy session for other people with excessive stress and anxiety. I hesitated, but I showed up the following week. It was the best decision of my life. I went for the entire spring semester freshman year once a week and I didn't miss a single appointment.
I met many other people who were going through the exact same thing I was, and it felt comforting to know I wasn't alone. To this day, I am so grateful I made that big decision in taking the responsible steps to address what was going on in my life.
I thought I would never overcome it, but I did. I will never forget the last day of therapy. I cried my eyes out because I was so happy I came out of the fire and ended up in a better headspace. I wouldn't change that experience for anything. To this day, I still talk about it, and being so transparent has allowed me to help others get the help they need.
If you are stressing out and don't know what to do, my biggest advice is to talk to someone, including your parents, friends and loved ones. You don't want to deal with stress alone, and you shouldn't have to. Even if a stranger such as a therapist can help. You'd be surprised there are people who actually want to listen and help you. It's always better to get help than to try to get through things alone. If I could do it, so can you.