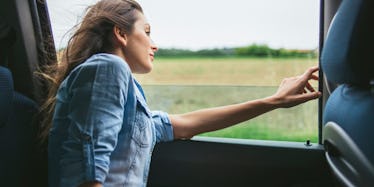 8 Places Outside Of The US You Should Road Trip Instead Of Backpack Through
While traveling can be a fun and liberating experience in and of itself, nothing declares absolute independence from monotonous routines and schedules like a road trip. This mode of travel offers ultimate spontaneity.
Plans can (and do) go awry, but that's all part of the experience. You might need to be rescued at some point, but as long as you have a cell phone, a basic car kit and solid insurance, there's nothing you can't take care of. If you're not doing this solo, there might be moments when you'll be tempted to leave behind your co-passenger.
More importantly, you'll also find yourself taking the right turn instead of the left at many points. But that's OK. Sometimes, this can lead you to jaw-dropping views that aren't on the map.
You might meet hitchhikers who'll share their routes to secret waterfall spots you can have all to yourself. When you're tired of driving, you can simply park and watch a glorious sunset, or fall sleep under the stars.
Whether it's by car, motorbike or camper van, these countries will stoke your wanderlust for a road trip adventure with their sublime landscapes that unfold when you least expect it. Rev up your engines, roll down your windows, put on your favorite playlist and set off on your next adventure.
1. Australia
From the wild and rugged coastline of Tasmania and the red Uluru rocks in the majestic Australian desert to the white sand beaches and pretty reefs along the Coral Coast, there isn't a better way to see Australia than by your own set of wheels.
Then, there's the Great Ocean Road in Victoria. It was built to commemorate the martyrs of World War I.
This drive rewards with dramatic scenery along stops such as the Twelve Apostles, lush rainforests in the Great Otway National Park and the picturesque Loch Ard Gorge.
2. New Zealand
New Zealand constantly makes it to the top spots of every list of the most beautiful countries in the world. Traversing through most of the South Island is every nature lover's dream come true.
When you drive around Central Otago, Glacier Country and Fiordland – home to the incredible Milford and Doubtful Sounds – you'll be greeted with gorgeous vistas, beautiful vineyards, deserted beaches, native forests and the snow-capped peaks of the Southern Alps.
3. Iceland
The land of fire and ice is an otherworldly landscape of bubbling hot spots, spouting geysers, lava fields, volcanic craters, secret waterfalls hidden behind gorges, towering cliffs rising from the ocean (that are actually trolls), glacial lagoons and shiny black beaches.
A road trip is undoubtedly the best way to see the country. While most visitors drive the Ring Road (a 1339-kilometer road that runs around the island) to see as much of Iceland as they can within a 10 or 12-day trip, it's worth traveling slowly and heading off the Ring Road. Head to the interior to find the most striking and remote gems in the landscape.
4. Ireland
The 2500-km Wild Atlantic Way on the Western Coast of Ireland is the world's longest coastal route. It very much lives up to its name.
On a road trip, expect unfettered waves known as "prowlers" to crash into massive cliffs. You'll love the sights: a craggy coastline, solitary lighthouses and grand panoramic views. For a shorter trip, consider the Causeway Coastal Route in Northern Ireland.
5. Spain
On a road trip through Spain, you'll enjoy the best of the country's fantastic scenery, interesting culture and regional culinary secrets. From the sweeping coastal views of Costa Brava; Dali Triangle of Portlligat, Figueres and Pubol; surreal Cap De Creus National Park; medieval towns and villages such as Girona, Toledo, and historic Castille-Leon; the middle-eastern vibe of Cordoba; culture-rich Sevilla and spectacular Pyrenees, a long road trip through Spain promises to be the trip of a lifetime.
6. Italy
For a romantic road trip, consider spending a week or two driving through the Tuscan countryside. Explore art and culture-rich cities such as Florence, Siena and Lucca. You can also pay a visit to medieval towns and villages, such as Anghiari, Casole d'Elsa, Fosdinova, Arezzo, Montepulciano and Montalcino.
You'll be surrounded by olive groves, vineyards, medieval castles and rolling hills, and you'll get to spend nights in quaint Agriturismos or country houses. Plus, there couldn't be a better way to kick back after long days of driving and exploring than sampling some of the finest wines in the Chianti region.
7. India
While you might not necessarily think of India when you plan a road trip, the northern region of the country is perfect for those looking for an unusual adventure. Motorcycle enthusiasts often road trip through Leh-Ladakh, which wows visitors with its remote but beautiful terrain, snow-capped Himalayan peaks, challenging mountain passes, winding roads, tranquil lakes and Tibetan monasteries.
It's the ideal destination because it's away from the heavy chaos and crowds that mark the rest of the country.
8. Oman
Still a relatively unexplored corner of the Middle East, Oman has natural beauty in abundance. This makes it an ideal choice for a road trip adventure.
The country is home to majestic fjords in areas like Khasab, the rugged Al Hajar mountains, golden beaches, hidden bays and coves, deserts and dunes, and rugged wadis like Wadi Shab and Wadi Tiwi.
Swim in a natural sinkhole, and explore the abandoned forts, old souks and local villages. You'll be wowed by all the traditions that still exist. Set up camp for the night in a wadi or on a lonely beach. Here, you may find yourself breaking bread with local fishermen.