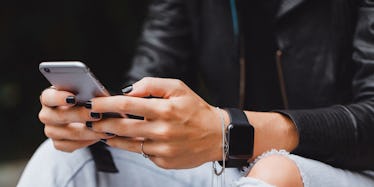 4 Ways To Make Sure Your #TBT Posts Don't Bore All Of Your Followers
Shutterstock
Looking back on the good old days is fun and often hilarious. There's nothing like looking at an old photo and asking people, "Did I really look like that?"
So, when #TBT took over as a winning hashtag in February 2012, Millennials started throwing it back like there was no tomorrow. From reliving your happiest moments to posting memories that are awkwardly glorious, #TBT is here to stay.
So, make the most of it by trying the following:
1. Restore your memories to their former glory.
Filtering is now such an expected part of the photo and video uploading process that there's actually a hashtag named #NoFilter. But, filtering never used to be an option – let alone a given – when it came to photography. So, why not combine the nostalgia of the past with the technology of today?
FilterBaker allows iOS users to filter and edit photos and videos by either creating their own filters or using default filters within the app for free. Just because the memories are from an older time doesn't mean they need to look old.
Bring your memories to life by filtering your pics and videos based on your exact specifications. You can even use advanced color controls. Let's be real: That baby pic where you're displaying your toothless smile deserves all the appreciation it can get.
2. Get retro.
The whole point of a #TBT is to dig way back into those archives. But, what about the really good stuff that's stuck somewhere on your parents' old computer? Or what about the files you don't have saved on your iPhone 6 Plus, but you know are backed up on your laptop?
The downfall of Instagram is the fact you can only upload pictures through your mobile device. So, if you have a perfect picture in mind that you don't have on your phone, get Andy OS. It's a desktop program that imitates an Android phone, which means you can download a mobile version of Instagram onto your laptop or computer. This way, you can finally upload those winning photos from any device, no matter where they're stored.
3. Automate your memories.
It's hard to keep track of all the best photos you've taken because let's be honest: Your phone gallery is mostly pictures of your adorable dog. Plus, who can remember when and where you took that hilarious selfie with your favorite bar bouncer?
Worry no longer, my friends. Thanks to Facebook's "On This Day" feature, you can now coordinate your #TBTs based on exactly when that great memory happened (or at the very least, when it was uploaded to Facebook).
Don't worry, you won't get bombarded with too many memories if you don't want to be. It's customizable, which means you can enable and disable certain preferences, and only see what you want to see.
4. Blast to the past.
Most of the fun of a #TBT is reminiscing about all your memories, shenanigans and momentous occasions. We leave massive digital footprints over a plethora of social networks, so it's hard to find and collect all our daily memories.
By aggregating and displaying your daily updates and experiences, Timehop makes your #TBTs timely. It may even bring up memories you've forgotten about.
Collecting images, status updates and reviews will help you re-live experiences you either posted or were tagged in on Facebook, Twitter, Foursquare, Instagram and your phone's gallery. There's nothing like an unexpected #TBT to brighten up your Thursday.
Throwing back to the old days is anything but boring. So, don't represent your memories in a boring light. Make use of these technological advances, and get ready for the perfect #TBT.