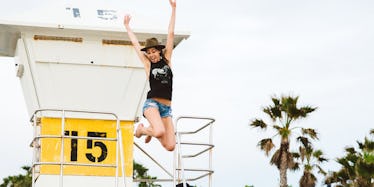 #TBT: Five 90s Fashion Trends That Are Totally Back In Style
Stocksy
If you're a 90s girl like me, every time you see overalls, fanny packs, and bandanas, it brings you back to your childhood. The funny thing about fashion is that, every few decades, trends start to recirculate and make their way back into the scene.
You may not have realized it, but your favorite current fashion looks are very likely taken from those 90s trends you either knew and loved, or stayed far away from.
Now, with these five favorite 90s styles making a comeback in 2013, it seems as if our generation is being brought back to our younger years on the daily.
Combat Boots
Grunge boots have been making their return for a few years, but that does not mean the trend is dying down, at all. Today, you see girls sporting combat boots with leggings, jeans, dresses, and virtually anything.
Back in the 90s, the bad boys you loved, and your parents hated that you loved, wore combat boots as their go-to shoes. No matter who dons this grungy trend these days, you are sure to look trendy with a bit of an edge.
T-Shirt With A Blazer
Think back to "Night at the Roxbury," with Will Ferrell and Chris Kattan bopping their heads in the ridiculous blazer and t-shirt combo. While that was a comedic and, surprisingly, popular look for the 90s, the trend has actually made its comeback quite nicely for Generation-Y. Today, men are finding ways to make this look classier and laid back, such as finding jackets and tees that are a bit more fitted and flattering.
Yet, even though men were the focus of this trend back in the day, the biggest fans of this fashion comeback are actually Gen-Y women. From the working girl to the socialite out for drinks with friends, blazers and tees have become fab, instead of flop.
Parachute Pants
Becoming most popular with MC Hammer in the 90s, these pants were a huge hit with men and women alike across the country. These days, track pants are definitely back, now with a variety of looks, from parachute style to slim and more form fitting. These are the biggest hit with women because they are not only chic, but comfortable, too. Grab them in any print or color to go with pretty much everything in your wardrobe.
Plaid
Plaid is the type of thing that never really goes out of style, but you'll notice that it is popping up a lot more recently than usual. The thing about plaid that makes this Gen-Y trend different from what it was in the 90s is that the plaid skirts, blazers and pants, which our good friend, Cher Horowitz, made popular, have been replaced with button downs.
While it's probably a better thing that the trend has stayed most consistent with button downs, fashionistas everywhere secretly wish the skirts would make a comeback so we can channel our favorite "Clueless" girl (as if!).
Crop Tops
Zaynestergirlpic
The crop top is probably the biggest comeback item on this list, as you basically can't pass a single teenage girl on the street not wearing one. From long sleeves to tanks, patterns to solids, and turtlenecks to low cut, crop tops now come in every style, color and pattern you could dream of. While this trend likely re-originated at EDM concerts, it has rapidly grown outside of that, from everyday wear to the perfect top for a night out at the club with friends.
Just because "All That," "Hey Arnold," and "Rugrats" aren't on television anymore doesn't mean your favorite 90s trends (or those you thought you'd never see yourself in) aren't back and more popular than ever. The 90s will always be a time we consider as the prime of our childhood, but now that these trends are coming back around, we can feel like the kids we wish we still were all over again. Now all we need are slap bracelets and light up sneakers to come back in style.
Top Photo Courtesy: Feminspire