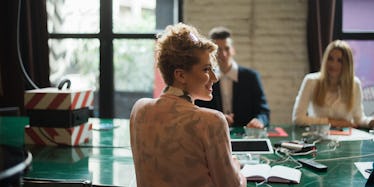 Everything You Need To Know To Survive A 90-Day Trial Period At Your New Job
You wrote a 2,000-word, insightful blog post about the company you wished to work at.
You paid for Facebook and Twitter ads out of your own pocket to promote your post, targeting it at people employed by the said company, got a shout-out on Twitter from the CMO, did a lengthy official application process (part of which was to create a marketing strategy from scratch), aced the cultural interview by turning the tables on the interviewer and showing interest in her work and achievements and finally got an offer.
The sweaty-hands interview phase is over, but you still need to get through the 90-day trial period.
Here are some practical tips for surviving at your new place of work:
1. Know your place.
This first tip is a no brainer, really: Don't take the spoon that has a sticker with someone's name on it. You really don't want to get on the bad side of that person. Think about it: They went through the trouble of printing a tiny sticker with their name and putting it on the spoon. They obviously care.
2. Learn the pecking order.
You don't need to act on all the 50 new emails you get every day, but you do need to know which senders can and can't be ignored. It may not always be as straightforward as it seems.
Some senior managers are very relaxed and understand that you must have a gazillion other things to do, and some middle managers will raise hell if you don't reply them on the same day.
3. Find your quiet corner.
You will need one for five to 15 minutes every day to gather your thoughts and deal with the stress. But make sure someone else hasn't already marked the territory. One person sitting in the dark with eyes closed is relaxing, but two people in the same place is new age freaky and way too intimate for a work place.
4. Forgive and forget.
Making friends matters more than having lunch. If someone has accidentally on purpose eaten your delicious tupperware treat, turn a blind eye. Three months from now, you will sniff out who the stealing bastard is and serve an unexpected revenge. For now, don't go around the office accusing your new co-workers.
5. Pledge allegiance.
As a newbie, you need to show your allegiance. Whether it's Tuesday Twirls, Wednesday Waffles or Tennis Thursdays, participate with gusto. Most modern companies see themselves as a form of cult. If you are not with us, you are against us.
You should also get a t-shirt, bracelet, headband and iPhone cover with your company colors. Put a magnet logo on your mom's fridge, and Instagram Friday night drinks with your new colleagues (#colleaguestofriends @yournewcompany).
6. Make a name for yourself.
Perhaps your company has a Slack channel or a WhatsApp group. It can be very intimidating posting stuff there for everyone (including the CEO) to see. But, you should do it.
Or perhaps, you disagree with a colleague. Don't be scared to speak up. Yes, you will make mistakes, but they will be easily forgiven since you are a newbie.
The faster you make mistakes, the faster you will learn. Make the "duh" screwups in your first month, not your fifth when you should know better. Anyway, most good CEOs appreciate self-motivated and active employees. People who get stuff done make mistakes more often than those who don't do anything.
7. Figure out who's who.
Spend a Sunday playing whatever memory games you need to learn names. Has anyone ever called you by the wrong name? You bet. It sucks, right?
We love hearing our own names; it's an ego thing. So, calling your new co-worker Steven, when his name is Sheldon, will make Sheldon's subconscious hate you. Knowingly or unknowingly, Sheldon will get back at you.
8. Stalk people on LinkedIn.
Not only it will help you to put faces to names, but it will also help you learn valuable things about your colleagues' backgrounds. That way, the next time you start explaining the basics of ÅdWords to your graphic designer, you will stop and remember she was a marketing executive in her previous company and probably knows more about AdWords than you do.
9. Don't make assumptions.
Don't ask the skinny guy who looks 16 to do a coffee run for you. Unlike in the recent past, age is as much of an indicator of a person's position in the pecking order as wearing a bowtie is of a person's age. The gawky guy probably dropped out of high school at 14, founded his first startup at 15 and now is a strategic advisor to the CEO.