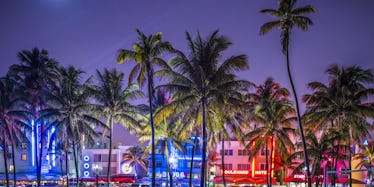 10 Things To Do In South Beach, Miami That Don't Involve The Beach
Shutterstock
One thing I always look for when traveling are recommendations from people who have been to the city I'm planning on visiting. Nothing beats getting some inside information from someone who has spent time in a specific city.
Below are some places I have found on my past two trips to Miami, Florida that will help you plan a perfect trip to the amazing city:
Where To Stay
The Palms Hotel & Spa 
When I visited Miami in January 2015, this is the hotel I stayed in for the week. I loved how it was a little bit more north, which meant it was quieter at night. At the time, it was running a Wednesday night yoga class complete with a farm-to-table dinner.
It was the perfect mix of relaxation and health, and I highly recommend it. Its restaurant, Essensia, is worth a visit even if you aren't staying at the hotel.
Airbnb
This time around, I rented an Airbnb and had a great experience. Our condo was three blocks from the beach and had everything we needed. The place was clean, quiet and had a wonderful kitchen. (We didn't use it, but it looked nice.) I love Airbnb, and the fact that it allows you to live like a local for a week is sublime.
Where To Eat
11th Street Diner
I was searching for breakfast options one morning and came across this diner. It was featured on "Diners, Drive-Ins and Dives," and it was really good.
The breakfasts are big enough to fill you up, so you don't need to worry about lunch later on. I had the cheese omelet with hash browns, and I highly recommend giving it a try.
Juice and Java
If you need something healthy to start your day, this is the place for you. The goat cheese eggs are delicious, and its menu of fresh-pressed juices is extensive.
I'll even admit that its juices are better than some I've had in Santa Monica (bold statement). California knows how to do juices, so you know it's got to be good. Its coffee is also pretty delicious.
The Dutch
While the original location may be in NYC, I actually had never heard of this restaurant until I was in Miami. Located inside the W Hotel, it's a little pricey, but totally worth the treat.
It has an extensive seafood menu, and my favorite things on the menu are the kale salad and the pappardelle with lamb ragu.
Havana 1957
This is a small chain, but you would never know it because the food is that good. The atmosphere was fun, and the service was amazing.
The waiter took his time to explain the history behind what we were ordering, which I thought was pretty cool. I recommend the Havana 1957 specialty and the vaca frita.
Where To Explore
Lincoln Road Mall
I normally don't go shopping while I am on vacation, but for some reason, I really enjoy this place. It has a farmer's market every Sunday and a really great Zara. The mall also has a ton of small restaurants that are reasonably priced.
Wynwood Walls
Established in 2009, the walls were a way to to transform the warehouse district of Wynwood.
It's a 20-minute ride from the beach, but if you get the chance to go, you will not be disappointed. There are also tons of art galleries in the area. Vizcaya Museum & Gardens
I randomly came across this place when I Googled, "things to do in Miami that aren't the beach," and I am so glad I did. It was built as the vacation home of James Deering, a wealthy business man from Chicago. The building and gardens look like something you would see in Europe, and the history inside the home is well worth the visit.