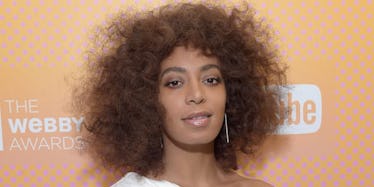 Solange Deleted Her Twitter To "Preserve Her Spirit" In Charlottesville Aftermath
Getty Images
The back and forth between the alt-right and those who oppose blatant racists picked up steam on Twitter, following violent protests across the country. Like the many other protestors against white supremacy, Solange was one who was blatantly not here for the racist trolls who came out of the shadows. And, like comedienne Leslie Jones and Fifth Harmony singer Normani Kordei, who have both deleted (and later reactivated) their Twitter accounts following trolls, Solange Knowles deleted her Twitter account on Tuesday, Aug. 15, seemingly to avoid racist hecklers.
On Aug. 12, white supremacist groups took to the campus of the University of Virginia, armed with blazing tiki torches and the riotous spirit of the confederacy in a protest which, according to the Washington Post, had the goal of taking America back. The incident led to the tragic death of one young woman, Heather Heyer, a helicopter crash, multiple injuries and a state of radical uproar that was not contained in Charlottesville alone.
The "Cranes in the Sky" singer, Solange Knowles, made it clear that racism and bigotry have no seat at her table. Solange announced shortly after the riots that she would soon be deleting her Twitter account. She took this stance and held herself accountable as she followed through on her promise and deleted her Twitter account.
Although her Twitter account no longer exists, the multi-talented superstar continues to have an Instagram presence, where she uploaded a note with remarks on the ordeal.  In this iPhone memo uploaded to her Instagram story following the deletion of her Twitter account,  Solange notes that her energy would not be given to who she calls "racist ugly ass ass fuck bois." 
The note prioritizes Solange's efforts to practice self-care and self-preservation as she continues to tour and perform her Grammy nominated album, A Seat At The Table." Her post also made readers aware that her son, who like many other children went back to school during this time of civil unrest, are going to school to learn "American history" while the "deep dark rooted ugliness continues to live." Solange left Twitter with a call to action to free protester Takiyah Thompson from jail.  
Who Is Takiyah Thompson?
Takiyah Thompson, a 22-year-old college student was arrested after her role in a protest march in Durham, N.C., in which a Confederate monument was destroyed.  
According to The Fader, Thompson was charged with two felony counts for participating in the protest and the destruction of the monument, as well as two misdemeanor charges for damage to property and disorderly conduct. Thompson has since been released from custody, but the effort to ensure she remains free is valiant. Many have led the charge to raise money and support for Thompson's legal fees as she prepares for a trial that could result in more than two years in prison.
Solange is not the only notable person who has celebrated the movement heralded by Takiyah Thompson. Those who have actively campaigned for Thompson's actions and supports efforts to aid Thompson include Bree Newsome, who was famously arrested for climbing the flagpole at a South Carolina statehouse and removing the Confederate banner.
Whether or not Solange returns to Twitter, her "f*ck your bland ass stale ass monuments" sentiments live on in the actions of activists like Takiyah Thompson. The movement to tear down every statue and celebratory landmark of historically racist figures will continue on and offline.
The revolution may not be televised, but it will always be tweeted.