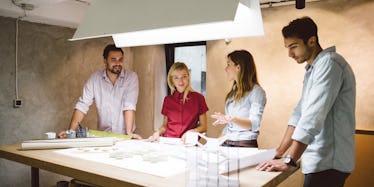 Social Entrepreneurship: How Generation-Y Is Changing The World
Social entrepreneurship is more than a recent trend spurred by the emergence of the Millennial generation into the business world. It represents a shift toward accountable business practices and creating sustainable change in the world.
These new entrepreneurs aim to create a career for themselves that is both fiscally sound and has meaning in a wider global context.
There are distinct differences between these social entrepreneurs and entrepreneurs behind the age of digital sharing. Both groups are interested in changing the world through innovation.
However, those interested in social enterprise are more interested in using innovation to impact the systems that make inequality and poverty a reality for too many people.
What many of these socially-minded businesses have in common is a desire to take responsibility for these problems. By changing the business model to reflect these goals, social entrepreneurs are able to use their businesses' profits to further their social causes.
The School for Business at Oxford University refers to this practice as a combination of innovation, opportunity and resourcefulness to create social change. This social change is designed to be transparent and sustainable.
Social entrepreneurship is different from philanthropy and activism. It is unique because of its ability to sustain social value while pursuing new opportunities. It is allowed to profit from the business like any limited liability company; however, it will primarily use that profit to further the resources for the cause.
It is still important to be financially savvy. The difference is the goal has shifted from increasing profits to driving change.
When enterprises change their business model to become able to take on profits and seek revenue from investors, they are freed from the burden of relying solely on grants and donations.
One of the biggest changes in the way Generation-Y runs these businesses is through collaboration aided by the Internet. The Internet is how the movers and shakers of Generation-Y meet each other. Introductions are easier with social media. Meetings happen faster with Skype and Google Hangouts.
This collaboration has not only resulted in changes in the structure of businesses, charities and NGOs, but also in the thinking that drives them. These enterprises feel a sense of personal and organizational accountability for both the causes served and the outcomes provided.
These business ventures also begin differently now than they did before. While some of the earliest and most profitable companies today started in a garage, these social businesses begin with private investors and incubators. Incubator Echoing Green provides successful applicants with a stipend of $80,000, along with valuable services like support, counseling and partnerships designed to kickstart the business.
Many of today's most successful social entrepreneurs are not high-profile billionaires. Tal Dehtiar, the man behind the for-profit company, Oliberte, has created a business aimed at creating a sustainable middle class in Africa.
Dehtiar has created safe environments for Africans to develop work skills. Oliberte produces the world's first Fair Trade-certified footwear. The materials are sustainably sourced and the labor provides a substantial income for families in Ethiopia, Liberia and Kenya.
And, in true Millennial style, the shoes are also very trendy!
This business practice is what separates the social entrepreneurs from the philanthropists. Instead of throwing money into areas of need, these individuals create sustainable ways to help others help themselves. Social entrepreneurs do not just change lives; they change systems.
Social enterprise can make big changes while encouraging huge revenue. Teach for America has brought change to two groups at once: college graduates and low-income communities. The company works to employ recent graduates and career changers. The recruits are then trained and placed in teaching positions in low-income communities.
Teach for America's mission is to help enable America's next generation of leaders, all while bridging the gap in education quality. Their goal is noble. The fact that they bring in $318 million in revenue every year is also equally impressive.
Baby Boomers joke that Generation-Y's greatest accomplishment so far is extending Casual Fridays all week. Yet, these social entrepreneurs would beg to differ.
Ninety percent of Millennials are not motivated by a job well done, but by knowing where their work is going.
Generation-Y's lack of interest in money, love of transparency and disdain for hierarchy is a catalyst for ventures that are not just expanding the world, but also creating real change.
Without these fundamental differences between Generation-Y and its predecessors, social entrepreneurship would not be possible.