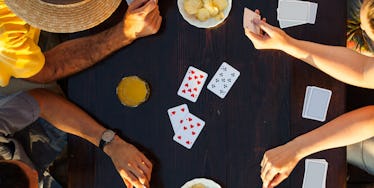 5 Ways To Bring Sin City To Your Hometown If You Can't Afford A Vegas Trip
Jelena Jojic
For many people, Vegas is the best summer destination around. An amazing nightlife, luxury hotels, plenty of casinos and beautiful weather, what else do you need?
A superior budget, most likely, as Vegas is far from cheap if you wish to get the full experience. Unless you've been saving for some time, most budgets will only cover the flights and the hotel. While this might be fine for most places, Vegas is a city where everything, from the Casinos to the entertainment, costs money.
It's also very busy, and few people like being stuck in large crowds 24/7. Even on the quieter days, the booming business means you lack the open space you would find in your own home.
So, why not make Vegas come to you? Many of these activities can be done at home. While on a smaller scale, they are nowhere near as expensive, and require much less effort to plan out. Best of all, there's no waiting around in airports, getting double-booked at your hotel or sitting on long flights just waiting to land.
Here are five ways you can save money and bring Sin City right to your hometown this summer:
1. Gambling
First and foremost, Vegas is known for gambling. Unless you have some very specific tastes, you don't need to fly out to Nevada just to do this. This experience can easily be replicated at home. All you need is a table and a decent poker set. As long as you have a pack of cards and a way to keep track of points, there are plenty of card games to play.
Better yet, you could combine this into a group experience. In Vegas casinos, you can't discuss your hand with other people. At home, why not try playing online poker with your friends, to see if your collective heads can beat some of the online pros?
Your home is a much more relaxed environment, so have fun. You don't worry about getting in trouble with the pit boss.
2. Poolside Retreats
When it comes to summer holidays, Vegas is just like any other destination — at some point, you're going to spend a day or two lounging by the hotel pool. Yet, when you think about it, all this really consists of is a body of water and some deck chairs.
If you have the space in your garden, you can easily create a decent pool. This might be inflatable (for a temporary fix), or a permanent, dug-in structure for long-term use. What really matters is that you have a decent pool pump that can fill it up when you want to take a dip.
Add a few reclining deck chairs, and you have the Vegas hotel experience in your own backyard. For extra style points, you can even set up a small poolside cocktail bar or barbecue.
3. The Vegas Night Scene
If you're not a fan of gambling, many people go to Vegas for the active night scene. The strip is never short of unique bars, cafés and nightclubs.
Depending on your personal style, you can do any number of these at home. Want to eat something fancy? Cook in advance (or order in). Want to relax in style? Serve cocktails and lounge outside until it gets dark. Want to liven things up? Play music and enjoy the hot evening weather.
You can do all of these from your own home, and without the expensive Vegas prices. It's a perfect deal.
4. Shows And Entertainment
Vegas is also home to some big names and big shows. Most people tend to have their favorites, but everyone has something they like. For some people, it's live music, while others prefer the charm and novelty of a magician. Vegas entertainment offers all of these, and your local community most likely does, too.
There are many entertainers who travel and perform, so have a look online for one that suits your tastes. If you're planning a big event, let everyone chip in to help reduce the cost.
5. Vegas Themes
Few cities can ever match Vegas in its multicultural novelty. Different hotels and casinos take inspiration from cultures all over the world. Whatever your personal tastes are, it's there.
Asian? European? Nothing but Elvis? Vegas caters to all tastes. But when you're planning your own summer, you only need to cater to yourself. How about a themed Elvis party? Or something with a theatrical, cabaret theme to represent the showmanship that goes down in Vegas?
If you're looking to dress up, tuxedos and cocktail dresses have always been part of Vegas' history. Of course, if you enjoy the glam of the modern casino, you can go for a purely Vegas themed set-up instead.
As you can see, you don't need to go to Vegas to get a little luxury this summer. With a little effort, you can introduce the highlights of the city into your own home. Sure, there won't be any room service, but you also don't need to pack.