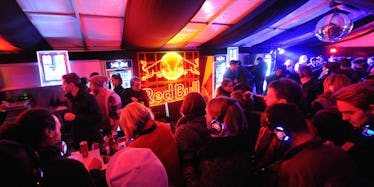 Why Silent Discos Are The Most Millennial Thing Ever
Getty Images
Not to be basic, but Coachella is right around the corner. This means it's time to kick off music festival season. It's time to get weird.
What better way to get weird than a silent disco? If you're too embarrassed to admit you don't know what a silent disco is, don't be. It wouldn't be very silent disco-y to be embarrassed.
In short, a silent disco is an event where you put on a special pair of noise-canceling headphones and gather with others who have done the same. Then, as individuals, you can tune into one or multiple channels of sound, while simultaneously and indirectly combining energies with those around you.
This results in a lot of singing and dancing like no one's watching, and letting your freak flag fly. To further illustrate, picture two DJs spinning, but without the speaker setup. The floor is filled with thousands of people, all with headphones.
But there's no actual music from the DJ being played aloud. Instead, the music is playing in the ears of the attendees, who have the ability to switch between one DJ and the other. They get to choose the beats that move them.
From a bird's eye view, you might be able to tell which person is grooving to which DJ, based on his or her moves. You may even be able to tell which DJ is more favored.
The music battle of the future is here. The thing is, even though this room, field or street is filled with of a bunch of people moving and grooving, it is happening with relative quietness. But this silent disco trend is starting to make a lot of noise.
These headphone raves started gaining popularity across the seas -- in places like Europe -- years ago. Now, they've hit America.
They are popping up in the most popular cities, festivals and venues in the nation. In fact, things are about to heat up even more, with the summer of music just around the corner. Multiple theories could explain why these silent discos are such a hot trend.
Maybe it's because DJs are in. Maybe noise ordinances have forced us to think outside the speaker box. Maybe superior sound technology is pushing the way. When giant music production pioneers like Sony are making slick, wireless, noise-canceling headphones specifically so silent discos can ensue, you know it's for legit reason.
Or maybe it's simply the fact that this quiet clubbing is so weird yet liberating, and immersive yet euphoric. But it isn't imposing, which makes it quite possibly the coolest thing ever.
Whatever the reason may be, it's time to jump on the bandwagon and ride the glorious sound wave of silent disco sweeping the nation. Thanks to DJs, bands, rappers, singers, security and sloppy folk, mainstream music festivals can cause a lot of unnecessary commotion. It's an amazing feeling to tune out the hoopla, and tune into the sounds that can take you higher all around.
Quiet events are the epitome of 2016, and of our generation. They allow us the freedom to choose. Give us a chance to break the rules and question what's normal, and we'll take it. These events create a platform in which advanced technology can engage and bond us.
Because of this, it doesn't matter if it's digging deep in our own souls or the act of coming together in silence that's so powerful. These events have become our jam: our own modern-day music festival.
If you haven't experienced the silent disco yet, the time is now. You'll be grateful that you did.
It's all worth that moment when you can look up from bobbing your head and shuffling your feet in the midst of a crowd, and lock eyes with a total stranger who is doing the exact same movement. Asexual dancing has never felt so intimate.