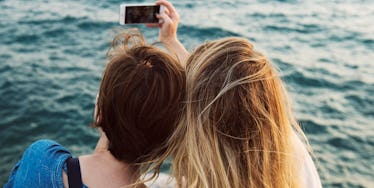 9 Selfie Apps You Should Download ASAP To Take Your Insta To Another Level
rawpixel/Pexels
It's a national holiday, yet again.
But, before you go scurrying around looking for free food and activities, take a hard look at yourself... because that's what this holiday is all about. Happy National Selfie Day.
National Selfie Day was established on June 21, 2014 by DJ Rick McNeely from Fishbowl Radio Network in Arlington, Texas. Since then, the holiday has gone viral.
Yes, it's an entire day dedicated to those selfie pics you would take even if it wasn't a holiday... admit it.
Now, if you want to get in the creative spirit of making an awesome, stand-out selfie, try playing around with a few of these helpful apps and tutorials.
Play with different styles that add a little extra to your already awesome look. This app is great for removing those random stray hairs that try to photobomb.
This trippy selfie style is perfect if you're going for the lost in translation look. The blend of cool colors makes you look like a glitchy television screen. Keep it artsy and original.
If you're indecisive, this app has "real-time" filters and over 100 stickers to give your selfie the look you truly want. You can never go wrong with having an endless amount of options for your picture.
I mean, who doesn't want to look like a magic trick? Create amazing pastel colors with this filter... and abracadabra.
Play with a wide variety of filters to pair with whatever mood you're in, and share with all of your followers. This app also has fun seasonal stickers.
Follow the rainbow in this filter, and create that awesome colorful streak across your face. But sorry, no pot of gold this time. You are the gold.
This app is great for adding frames, stickers, or animated characters to your Instagram. The best part about it is you can make your very own music video selfies.
With this app, you'll not only create an epic selfie, but also a gif. This is perfect for those funny moments you trick your friend into thinking you're taking a photo, but it's actually being recorded as a video.
Disperse portions of your selfie with this filter. This is a great option for those action shots that could use a little more artistic amplification.
Snap away for National Selfie Day. None of us are exactly the same, so today is a day to own who you are and share your selfie skills with the world.