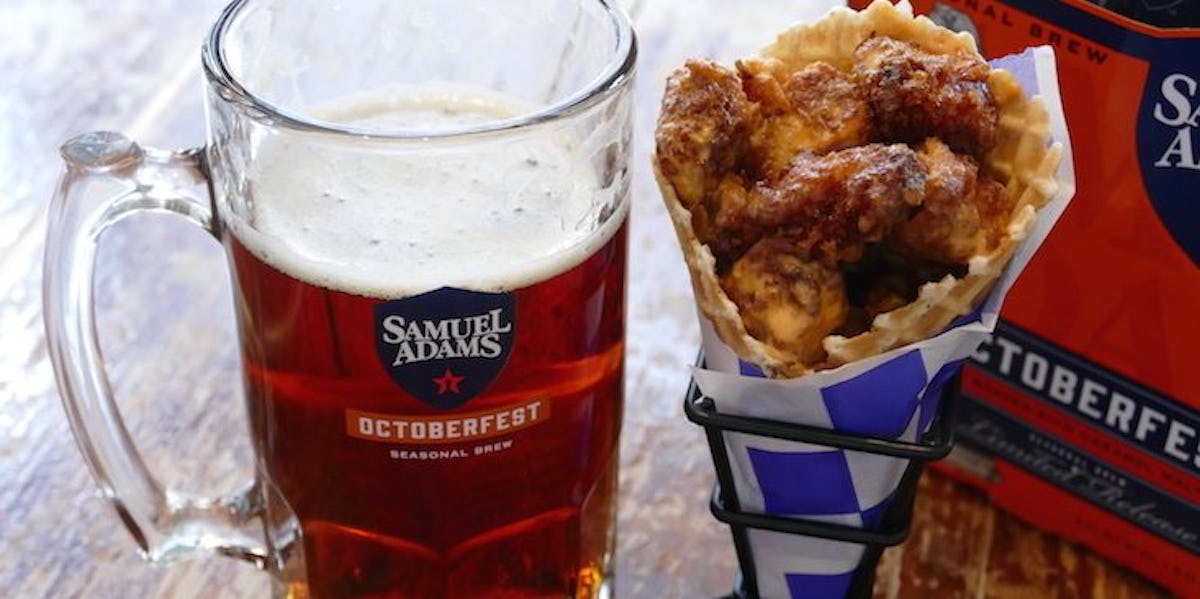 These Beer Cheese Chicken Waffle Cones Are Every Fall Lover's Dream Come True
Sam Adams
With each new season, we can expect the unexpected. When autumn rolls around, we immediately lose our hearts to the deep orange, yellow, and red hues on the trees. We long for that highly-anticipated sip of something pumpkin-spice flavored, and fall so hard for the very first opportunity to be reunited with our combat boots and oversized sweaters once again. Oh, how we've missed you, flannel weather. We're here for you, fall, every single year, because the possibilities are endless when it comes to food, fashion, love, travel, and obviously, Starbucks' new seasonal flavors. I'm looking at you, Maple Pecan Latte. The question on many of our minds is, what will autumn have in store for our taste buds and chic wardrobes this year? More often than not, us fall lovers are pleasantly surprised -- most especially when a foodie favorite debuts something festive and boozy to kick off the season on an extremely pleasant note. Prepare to salivate, because Sam Adams collaborated with NYC-based Chick'nCone to create beer cheese chicken waffle cones. Let me tell you, they're truly works of art.
If you're not celebrating Oktoberfest this year with your main crew and a stein of Sam Adams (while savoring this one-of-a-kind OctoberFest-infused Chick'nCone), what are you actually doing with your life? Hop on the bandwagon, peeps, and get on it ASAP. The masterpiece highlights OctoberFest-infused beer cheese -- which is one of the most genius and mouthwatering creations known to man) -- in addition to Chick'nCones' infamous waffle cone and fried chicken. One of the best parts about the cone is that you don't even need a fork to eat it, and you won't make a mess, like we all do with ice cream in the sizzling heat. Chick'nCone, you have certainly made every fall lover's dream come true.
After trying the beer cheese chicken waffle cone for myself, I kid you not, it's #socluckingood.
This chicken cone has been all the hype on Instagram, and it's clear as to why. It's perfect for lunch, an afternoon snack, dinner... or why not eat it for all three? I mean, just look at how downright heavenly it looks casually chilling next to Sam Adams. Cue all the heart-eyed emojis. You know you need this in your life.
That cheese, though... deserves your undivided attention.
If you're blessed enough to call New York City home sweet home, you're in luck. And if you're not, you'll honestly have to pack up your bags and round up the crew for a weekend getaway, because this Chick'nCone is way too good to pass up. Oktoberfest in Germany officially kicked off on Saturday, Sept. 16, and the festivities last all the way through Tuesday, Oct. 3... so you still have time to work this essential plan into your schedule. Even though the heart and soul of the Oktoberfest celebration goes down in Munich, cities and towns throughout the world host smaller festivals and events throughout this time period to honor the incredible time of year.
Chick'nCone, aka, Instagram foodie sensation, has a permanent location in the Gansevoort Market, and the cone is priced at $8.99. You can also hit up Madison Square Eats and grab a table outside, where the delight will be served from Sept. 2 through Sept. 29. In addition, it will be offered at Urbanspace in the Garment District from Sept. 18 through Oct. 27, and Broadway Bites from Oct. 4 through Nov. 10.
OK, so you really have no excuse to not get it since it will be served all the way through Nov. 10. Order some cajun fries that pair perfectly with your Chick'nCone, and you're set for a clutch time.
Check out the entire Gen Why series and other videos on Facebook and the Bustle app across Apple TV, Roku, and Amazon Fire TV.