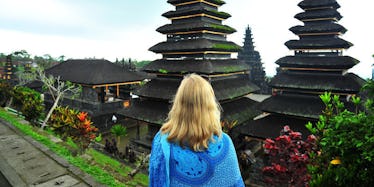 12 Insider Tips For A Safe, Successful Bali Vacation
Shutterstock
You've Googled "first time in Bali" or "best things to do in Bali." So, I'm guessing you're looking for that tropical island getaway on the cheap? Turquoise waters, amazing scuba diving, cheap drinks and more adventure sports to choose from than you could dream of: Bali can be all of this, if you get it right.
The flip side to Bali can be dirty streets, scammers on the sidewalk, spiked drinks and a nasty little stomach bug called "Bali belly."
What's that, you say? It's your first time in Bali, and you want to get the good side. Well, keep reading, and I'll share the insights I've gained from my times there:
1. Keep out of the party zone.
I know it's tempting to book a hotel in Kuta or Legian. It's generally cheaper, and closer to the airport and party scene. Trust me: Life is so much better a short drive away. In Ubud, Sanur, Canggu or Jimbaran, you can still squeeze in the tropical island feel, or at least make the most of the peace and quiet away from the hustle.
At least, if that's what you're traveling to Bali for. If not, then disregard everything I've just said, and make your way swiftly to the Bounty Hotel for endless nights of sweaty singlet and thong-laden cage dancing with all the Smirnoff pre-mixed drinks you can handle.
2. Try to find a deal on a villa.
Bali is best enjoyed with your friends. If you're looking for a romantic getaway, I'd advise you to look to one of the Thai islands for that touch of luxury and seclusion. Sift through your favourite hotel booking site for a great deal, or try your hand at a Groupon deal.
Pooling your cash and hiring a villa together is a much more luxurious and fun way to relax in Bali. You could even afford your own butler and cooks. I recommend this accommodation choice over a hotel room any day of the week.
3. Get out of town.
Bali isn't just about the beachfront and cheap shops. The island is so much more than that. You've missed out on so much if you haven't taken a tour through the rice fields of Ubud or climbed the dormant volcano, Mt Batur, for a sunrise ascent.
For the best and cheapest way to get around Bali, don't miss this post: What You Must Know Before Riding A Scooter In Bali.
4. Buy all of your questionably cheap underwear here.
It may not be legit, but my drawers are packed full of $5 Calvin Klein boy-legs. They last just as long. Stock up on these, and you've nearly paid off your airfare. Nearly.
5. Never buy a drink that isn't sealed in a bottle.
Bali has unfortunately earned itself a very bad reputation over the past few years for topping up patrons' mixed drinks with chemicals like methanol. Tragically, quite a few tourists have died in recent years from methanol poisoning.
Always keep your thumb on your bottle top, and never take just any drink offered to you. An exception to this is the drinks served at your villa or hotel. Those are fine.
Also, the ice in your cocktail could very possibly just be a frozen version of the same water that put you over a toilet for a week thanks to Bali belly. Try and stay away from ice, too.
6. Only walk the quiet and secluded alleyways by day.
Mom always said, "Never walk down a secluded alleyway." Well, sometimes, we shouldn't listen to mom.
In Bali, I've always found these alleyways to be home to the best little back-of-the-house diners that serve really authentic and flavorful dishes. For $3 a meal, you can't go wrong.
7. If it's your first time in Bali, have 100 massages.
If it's your first time in Bali, you'll definitely be astounded by the fact that $5 to $7 will buy you a very relaxing one-hour massage. They are offered on every street by little Balinese ladies in matching polo shirts.
Just try and turn down the "happy ending." They will often offer it to you, no matter whether you're a man or a woman.
8. Be super careful about how you exchange your money.
Trust me, during my first time in Bali, I thought the same thing: "I'll be fine. No one can fool me."
Well, I was suckered in. It was only the kind nature of my hotel manager that got my money back.
Street money-changers will offer you "better than possible" rates. The thing is, if you don't happen to get scammed by the swift sleight of hand, you'll make a few dollars.
They don't mind. Because too often, they are that good. They will take advantage of a slight lack of concentration, and you would have just walked away with half the money he just counted out for you. Bali is one of the only places in the world where the street-changers can beat the ATM conversion rates.
So, I recommend exchanging your money in Bali. But just be super careful. Always use a teller who is out in the open.
9. Get active.
Bali has so much to offer by way of activity. Go snorkelling, go diving, learn to surf, jet ski, hike up mountains or take one of the many new yoga experiences the place has to offer.
Bali is a great place for all of this stuff. Don't go without ticking a few of these off the list.
10. Stay clean.
If you are caught anywhere near drugs, you could be facing the death penalty. Don't risk it. Stay out of it, and never trust a local who asks about it.
On the lighter side, always keep anti-bacterial lotion handy. The Bali belly bug sits on everything from the water you drink to the cash you handle. In Bali, it's better to be OCD about this one.
11. Make your way to Rock Bar at Ayana Resort.
I know you've probably come to Bali because of its reputation as a tropical paradise getaway, and a cheap one at that. But unless you want to pay next to western prices, you may end up feeling a little lacking on the paradise side, what with all the hustle, bustle and stray dogs.
That's where Ayana comes in. This place was first a Ritz-Carlton. It is the most expansive hotel complex I think I've ever seen, with 2 kilometers of luscious driveway before the front door. Then, it's infinity pool after infinity pool, bar after bar, view after view until you reach the west-facing cliffs of Balangan.
You may think this is where it stops. But you are sadly mistaken. Just a short elevator or staircase down will take you to a sprawling bar built into the cliff-face, and it offers the best views in Asia of the beautiful red sunset.
To sit at a table will cost your group a minimum of $50 each in drinks and food, and it won't get you nearly as far as it would in the beach restaurants in Jimbaran. But is it worth it? Undeniably.
I recommend that everyone finishes his or her Bali trip with an afternoon at Rock Bar, even if he or she can't afford to stay overnight.
12. Take a scooter down to the Uluwatu Surfer's Beach.
Do you remember that movie, "The Beach," starring Leonardo DiCaprio? He ended up finding his way to this secret, secluded community that just surfed, chilled and existed in a southeast Asian paradise on the beach.
Well, that's the sort of utopia you feel when you make your way down the endless steps to this hidden beach community, which opens up into the most picturesque surfers' cove I've ever seen. Don't miss it.