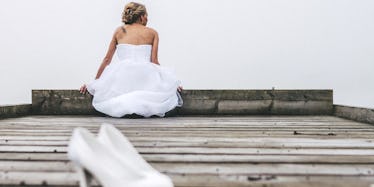 Runaway Bride: How I Found Myself After Calling Off My Wedding
Almost a year ago, a story was published on Elite Daily by an anonymous runaway bride, who recounted her decision to call off her wedding.
The story of her and her fiancé played out like a Lifetime movie: They were two young 20-somethings who had a serendipitous meeting in Manhattan while interning in the city.
Their whirlwind summer romance and string of dates eventually blossomed into a relationship that neither one had anticipated.
The love came with all the trappings of a romance novel: heart-wrenching long-distance as the two finished college, moving into a small apartment together in a new city without a second thought and getting engaged with the same nonchalance one has when impulsively making a purchase.
It was the type of relationship many of us have had, will have and can relate to.
It was a magical connection that shrouds all logic and masks all incompatibilities, until you're in over your head.
Eventually, reality began to dawn on this "bride-to-be," who couldn't quite get on board with wedding planning and the role of being a giddy, blushing bride.
In the months leading up to her wedding day, she couldn't ignore the stark differences in how she and her fiancé envisioned their futures.
He pictured settling down, having kids, a dog, a large backyard and moving into a big home in suburbia. She pictured traveling the world, writing about various cultures and not having kids.
She had wings, and he had roots. While neither futures were wrong, both were undeniably ill-matched.
On a whim, this bride flew to Buenos Aires on assignment and to solo travel through Argentina and Uruguay, with hopes she'd finally face her demons and decide what to do with her life.
Away from New York and all the talk of wedding plans, this bride felt she could finally exhale and reflect on what she wanted out of life. In a moment that would stay with her forever, she found herself hiking the jungle paths of Iguazu near the border of Brazil, shamelessly asking herself, "What do I want?"
Without friends, family or her fiancé nearby, she surprised herself with how strong of an answer burst forth from her lips: I don't want to get married.
There it was, an undeniable answer to a loaded question that had been lingering for months.
She knew she had a choice. She could either change the course of her life now and give both her and her fiancé a shot at finding real happiness, or she could file away her feelings and go through the motions of being a bride.
She called off her own wedding just weeks before it was to take place.
As she sat amongst ripped-up RSVPs, registry refunds and an excess of never-to-be-used wedding favors, she did the only thing she knew to do: tell her story.
The story went live on Elite Daily one fall day, and it was debated over, commented on, praised and scorned. But, like most things on the Internet, it eventually faded into oblivion.
I am that runaway bride, that anonymous author.
Being a travel writer, my work usually gets as personal as recounting destinations visited abroad, the taste of a delicious meal or serendipitous encounters with other travelers.
But, I rarely dive into the details of my own personal life.
When I told my story of calling off my own wedding, it was to provide solace to people who may find themselves on the brink of a big life decision, trying to find the courage to choose a different path.
Graduating from college, getting a job, falling in love, having a wedding, getting a mortgage and having kids is the blueprint many of us are handed for our lives.
So, to go against the status quo can be intimidating, and it is often greeted with raised eyebrows.
Calling off my wedding was a heart-wrenching experience that had a financial, emotional and mental toll.
In a month's time, I had seemingly lost my best friend, grew apart from my bridesmaids and even distanced myself from family who couldn't quite understand why I had run away from marital bliss.
The immediate aftermath of my decision was like pushing through a hurricane. I clung on to that moment of clarity I had in Iguazu, and I recognized the unwavering strength and self-love I had found while solo traveling.
It's been almost a year now, and time has given me the gift of perspective. Like the calm after a storm, the dust has settled.
Today, this 27-year-old runaway bride has chased her dreams of travel writing from Colombia to France, has been published in Vice, Food & Wine, Matador Network, Roads & Kingdoms and more and is about to head to Africa in August and Vietnam in September.
On my travel blog, The Pin the Map Project, I have single-handedly grown my small website into an online destination that is now part of the Mode Media Network (ranked #7 of the top 100 web properties, and reaches 406 million readers worldwide).
As I make the switch from a 9 to 5 job in advertising to becoming a full-time, freelance writer and travel blogger, my website has blossomed, and so has my passion for travel writing.
My life is much different than it once was, yet it is more reflective than ever of the person I truly am.
I am living a life defined by my passion of writing, am in a new relationship with a wonderful man whose love of the arts and an unconventional life mirrors my own, live in a new neighborhood that is bursting with global flavors and am surrounded by friends who I bond with over the world of travel.
My ex-fiancé has moved to a new city where he lives happily with his best friend, and we keep in touch on occasion and remain on amicable terms.
While traveling in Argentina, I clung to the book "Wild." I resonated with Cheryl Strayed's character and how she sought the unpredictability and freedom of the Pacific Crest Trail.
There is a moment in the book when Cheryl reflects back on all the decisions she had made in the past few years that led her far down a path that seemed to have no return.
In the wake of her mom's death and subsequent collapse of her relationship, Cheryl loses herself and her direction until she is in mud-covered boots in the wilderness with nothing but her thoughts.
" Here's some questions I've been asking myself: What if I forgive myself? What if I was sorry? What if I could go back in time? I wouldn't do a single thing differently. "What if all those things I did were the things that got me here?"
Looking back on my own journey, on the choices and mistakes I've made and wrong turns I took along the way, I can't say I would change a single thing. Because everything — moving to New York, falling in love, getting engaged, calling off my wedding, becoming a travel writer — led me to where I am today.