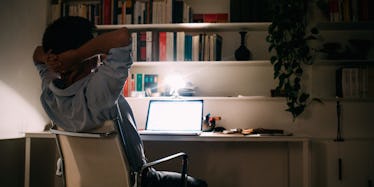 All That Porn You're Watching May Be Making You Socially Awkward, Science Says
They call us the antisocial generation. Like moths to a flame, Millennials walk around with our heads bowed down to the blue light of our phones. We were raised on MacBooks and smartwatches, so technology is our nearest and dearest kind of pacifier.
Stuck waiting for a buddy at a party full of strangers? Find your Instagram app and start scrolling. It's an immediate fix for any kind of social anxiety. The problem comes when we start relying on technology to replace interpersonal relationships entirely, thus aggravating any of our introverted tendencies.
A newly published, year-long study from Brigham Young University focused on more than 200 college students at two different schools. It showed a connection between "problematic media" — the team's name for graphic or violent programs like porn and video games — and social isolation.
Essentially, if you're socially awkward and you turn to digital gambling, you'll likely become more so. Spending the night spooning "League of Legends" doesn't teach you any mingling skills. And porn certainly doesn't, either.
The team reports even students who didn't have any trouble in social settings became more withdrawn after turning to video games and porn. While the programs aren't risky in and of themselves, it's the pairing with social avoidance that becomes problematic.
If you're hiding from one happy hour in hopes of spending a little quality time with YouPorn, that's OK. If you find it becoming a habit, however, you're one step closer to Michael Fassbender in "Shame" than you'd like to be. Habits like those, the researchers observed, can morph into depression and substance abuse frighteningly quickly.
Worried you're headed down the path of no return? Lead author Larry Nelson, a BYU professor of family life, clarified trial participants had several distinctive motivations for their actions. Some actually loved socializing, but found it difficult to get motivated (same). Others — and these are the worrisome students — were paralyzed with fear about socializing, so they turned to alternative forms of entertainment as a substitute for interaction.
Nelson says the takeaway of his study is that technology-focused young adults need to actively take a step back from what's easiest, choosing instead to form healthy, long-term habits.
He explains in a press release,
Emerging adulthood is a time in which young people, for the first time in their lives, have more freedom to make choices on how they spend their time than at any other point in their lives... Young people need to be aware of potential risks of their choices.
Hear that, kids? There's no excuse not to go out on Fridays now.
Citations: The irony of awkward: Taking yourself out of uncomfortable situations makes you more uncomfortable in the long run (BYU)