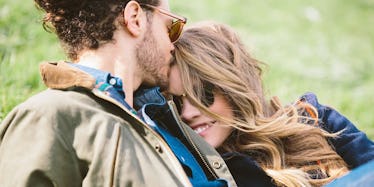 3 Reasons Why It's Important To Learn From What Life Is Trying To Teach You
Stocksy
In a life, there are uncertainties. But, the one constant on which we can all depend is the hardships we will undoubtedly face.
There are ups; there are downs, and there are times when we will feel like the universe is against us. There will be curveballs for which it will be impossible to prepare; situations that are out of our control and truths we must learn to accept.
However, there are situations in life that are absolutely in our control. Life is a long journey with many roads along the way, and it is up to us to learn the best ways to efficiently navigate our lives.
As we get older and face many more winters, we will develop a sense of how to trek our own personal path. People have different tricks of the trade as to how they confront life's twist and turns, but as we age and live, we gain wisdom that allows us to keep moving forward.
Progress, no matter the increment, is positive and displays a willingness to learn and change with every bend in the road toward the destination.
When we fail to tend to the failures we face in life, this progress is curtailed, and as a result, we become stagnant. It is so easy to point a finger at any and every person for the problems we face.
However, if we stop and try to see what we're not doing, it could open our eyes to the changes we must make in order to continue toward a better life.
This is why it is important to pay attention to what life is trying to teach us.
Turn problems into lessons
Have you ever seen someone repeatedly in the same compromising situation? Ironically enough, these are the same people who describe themselves as "stuck."
If our parents can't convince us, and if the severity of other people's mishaps wont persuade us, life certainly won't mind testing and retesting us until we learn the hard way.
Whether it's failure to use contraception or infidelity in relationships, if we don't see our consequences as reasons why we're "stuck," we will continue to be in a stuck state.
Some life struggles are indicators of a wrong approach, and it's up to us to see these trials not as punishments, but as lessons warning us to adjust our approaches.
Dangers of not learning from our failures
When we fail to stand still and take notice of our current circumstances, we immediately put our futures in jeopardy. Pride is dangerous, and we hate admitting that we need to change. "My study habits are fine," you say; yet, you repeatedly fail exams.
"I am a good driver; it's not as many tickets as you think," then you get your license suspended. "What, you mean I'm not good with my money? I take offense to that!" yet you're living paycheck to paycheck.
We have to pay attention to our circumstances and learn from them, or else we will be forced to continually repeat the same hardships.
Progress when you do learn from your mistakes
Life is all about moving forward, and it would be a shame for us to get to a certain age without learning how to navigate problems we should have solved ages ago.
When we acknowledge our mistakes and take the necessary steps to avoid repeating them, we gain valuable knowledge that will better us in the future.
Photo Courtesy: We Heart It