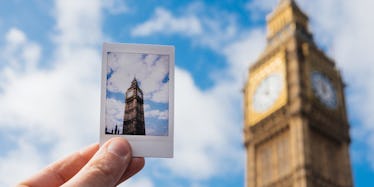 7 Party Destinations That Will Rally The Wild Traveler In You
Traveling can seem daunting, but once you're on the move, a whole other side of yourself is revealed. Travel brings out the wild side in all of us.
Whether it's skydiving in Switzerland, cliff diving in the Maldives or simply taking one too many shots in a pub in Edinburgh, you always do things you wouldn't normally do in your average day-to-day.
Some destinations bring out more of our wild sides than others, so let's break it down with the top seven places that do just that:
1. Ibiza, Spain
Topping the list is this Mediterranean party island off the coast of Spain. Known for its nightclub scene, yacht parties and general craziness, Ibiza is the place to go if you want to bring out your spontaneous edge.
Once famous for the rich, elites of the world who frequently traveled there, Ibiza now attracts young travelers by the hundreds. Maybe you won't get onto Leonardo DiCaprio's yacht, but you can still have a wild time dancing the night away in the local bars.
2. Cancun, Mexico
A little closer to home, Cancun is a perfect getaway to try out new things. What's better than a vacation that includes snorkeling, swimming with sharks, hiking the ruins and tropical drinks? Mexico's perfect for wild times that are both Facebook-appropriate and Snapchat-ready.
3. London, England
No matter what level of wild you are, London raises the bar. The city has pubs on every corner that appear low-key on the outside, but on the inside, you'll find yourself partaking in political jargon with the locals, while downing a few pints along the way. Or, you'll be taking tequila shots in a nightclub blasting the Biebs, but either way, you're bound to have a crazy time with the Brits.
4. Epcot, Walt Disney World, Florida
When you think "wild" and "Florida," the first place that pops into your head is probably Miami, but don't forget the ultimate travel spot, Disney World. Magic Kingdom won't spark your inner wildness, but Epcot definitely does the trick.
You'll be transported to different parts of the world, all while eating the authentic dishes and drinking the good stuff. At night, some of the different venues turn into dance floors, basically mimicking a European nightclub. It'll have you yearning for the real thing, while still having a blast in the meantime.
5. Quebec, Canada
There's something for everyone in this picturesque destination. The kids can shop and enjoy the waterfalls during the day, while the adults can sip wine on rooftops and take shots at an ice bar at night.
Nothing will bring out the wild traveler in you like willingly sitting on barstools carved out of ice. Winter doesn't have to be dull when you have a place like Quebec to road trip to on a whim.
6. Dublin, Ireland
Going green has never been easier. Dublin is known for its Temple Bar area, which is basically a couple of blocks dedicated to drunken fun and live music.
There are locals playing guitars on the streets and in the bars, singing Irish tunes that'll have you feeling spontaneous and up for anything. You'll take the Irish spirit with you on the rest of your travels, while (unfortunately) leaving the Guinness behind.
7. Los Angeles, California
Even if you're not 21, LA brings out the free-spirited traveler in you with the general vibes of Hollywood. Check out the surfing scene during the day, and maybe even ride a wave or two yourself. And at night, head to the House of Blues, or splurge on a concert. (It's LA, so there's bound to be at least one big headliner in the area.)
Traveling to new places is brave in of itself, and you're sure to unleash a different side of yourself. These new places and experiences will have you breaking loose and being more impulsive. Any place on this list will jumpstart your inner wild child and have you seeing traveling in a whole new light.
If you were bitten by the travel bug before, you're definitely bitten by the wild travel bug now. Take advantage of your adventures, and try new things. What do you have to lose?