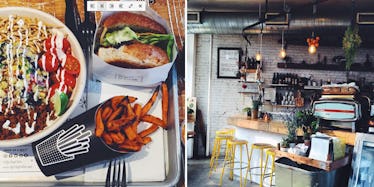 5 NYC Brunch Spots That Will Immediately Elevate Your Insta-Game
Christina Chin
Eating brunch has become more than just taking photos of your bottomless mimosas and avocado toast. Instead, it has become the Generation-Y's mutual language of communicating "aesthetics."
Appreciation of the visually appealing interior design elements of your brunch spot is the trendy bandwagon everyone is hopping on. Although the food plays an equally instrumental role in determining which brunch spot to dine in, the story a restaurant articulates is a more intriguing conversation that avid social media users are willing to engage in.
The decor, atmosphere and kinds of food served at the restaurant are visual translations that tell organic stories and reveal what the owners are passionate about. This allows the restaurant to establish an authentic rapport with its consumers, all while indulging in the creative aspects of the owner's vision.
From Instagram to Snapchat, social media is digressing into a platform for Millennials to display their aesthetics through visually compelling photographs. Some of the best brunch locations in the world can be found in none other than New York City. Here are five brunch spots to elevate your Insta-game:
1. Egg Shop, Lower East Side
Nothing screams "brunch" better than any dish with eggs, and that is all you will get at Egg Shop. This chic little restaurant is ornamented with pale pastels and wooden furniture, exuding a retro throwback to the '90s.
Currently in a committed relationship with eggs, Egg Shop prides itself in its ability to master the art of the traditional egg sandwich and its "eggs any style" mission.
Tucked away in the Lower East Side, this brunch location perfectly captures the essence of a peaceful Sunday morning. Get your dose of protein from this quiet eatery with any kind of eggs you want (organic and locally sourced, of course).
2. The Butcher's Daughter, Lower East Side
Brunch in style with a myriad of vegetarian and non-dairy selections featuring fresh fruits and vegetables. The Butcher's Daughter is concerned about sustainability and maintaining a healthy lifestyle, eliminating meats from its daily-changing menu. Centralizing its spotlight around cleansing juices and catering to all dietary restrictions, the restaurant's innovative approach on food is refreshing and definitely worth a try.
This industrialized space incorporates raw, rugged elements of a butcher shop with exposed brick walls, steel metal railings and concrete floors. The vibrant colors and succulents around the restaurant add a feminine dimension to the otherwise robust appearance of the interior.
3. Two Hands Cafe, Little Italy
Ever dreamed of sipping your morning coffee aloft a bed of clouds? An Instagram food connoisseur's go-to brunch spot, Two Hands Cafe, can fulfill that fantasy for you.
A taste of its famous avocado toast and latte will leave you daydreaming for more. With string lights and cotton clouds decorated throughout the whole restaurant, the aesthetic of the eatery makes for the most photogenic setting you will ever encounter. Celebrate your weekly Sunday brunch ritual with a touch of whimsical daze at Two Hands Cafe.
4. By CHLOE., West Village
This trendy eatery deserves a mention because it has been all the rave on social media. With over 19,000 followers on Instagram, by CHLOE. exhibits a minimalist aesthetic that resonates with people of all ages.
Best known for serving vegan, animal-free dishes without compromising the tastebuds, this brunch spot has become a favorite for many food enthusiasts. It's not only known because of its delicate balance between flavor and sustainability, but also for its eccentric and funky decor.
5. Sweatshop, Brooklyn
"Death before decaf" is its unapologetic motto. Sweatshop is a hole-in-the-ground espresso bar you would probably miss out on if you did not look carefully. If you have a sweet tooth, you do not want to miss out on its Aussie iced coffee, which is espresso poured over a scoop of vanilla bean ice cream.
For those who are here for brunch, the avocado toast with bacon and egg is a delightful option to start off your morning. The mostly black and white interior of the shop is grungy and embodies the nonchalant attitude of Williamsburg.