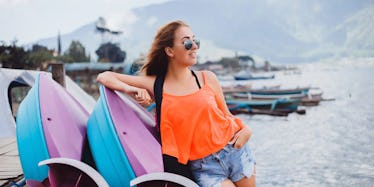 10 Reasons Every Traveler Will Find A Tiny Piece Of Home In Bali
Shutterstock
The year of 2015 was incredible for me.
I feel like I experienced more highs and lows last year than ever before in my life.
From a disappointing failed relationship and a devastating cancer diagnosis to a brand new shot at life and chasing my dreams with passion, my outlook on life has changed drastically.
And part of that outlook change was a life-altering trip to Bali, Indonesia.
When my cousin first proposed the idea of Bali, my head was spinning.
I've been all over the United States and have friends scattered across different regions.
I have memories imbedded into my brain of the sandy beaches of Oregon, wet streets of Seattle, snowy mountains of Vermont, the reddened clay dirt on my hiking shoes from Colorado and the Blue Ridge Mountains in Virginia.
I've swam in crystal clear waters and sipped mojitos on the beach in Miami, walked the Golden Gate Bridge in San Francisco in a hoodie and played an acoustic show at a small club in Nashville.
Travel is one of my absolute favorite ways to shake off my day-to-day routines for a bit and experience something different and outside of my comfort zone.
But Bali?
Bali meant an entirely different culture, time zone and country.
Sure, I've been to Canada plenty of times, but that was the extent of my non-US travel experience.
I had planned to go to Europe someday, just like I had planned to go to South America and visit my Colombian relatives someday.
But then, the opportunity to travel to the other side of the world presented itself.
So, I booked the trip, and it was one of the best decisions I ever made.
Here are my top 10 reasons you need to make Bali your next destination:
1. Bali is beautiful.
You can Google the images if you don't believe me, but Bali is one of the most beautiful places in the world.
With white sandy beaches, incredible mountain ranges, lush green jungles and clear emerald waters teeming with colorful fish, stingrays, turtles and dolphins, I couldn't believe I was actually there.
The natural beauty of the country is breathtaking.
2. Bali is rich in culture.
I felt like I had literally stepped into another world when I got off the plane.
Despite more modern conveniences like cell phones, WiFi, cars and fast food places by the airport, the people of Bali are still highly traditional and consider much of their traditions sacred.
There are shrines and temples on every corner.
There are small flower basket "offerings" for spirits that are placed reverently on doorsteps and in vehicles to bring good luck.
A lot of attention is also given to the traditional clothing and customs in everyday life.
Even though Bali has become a popular travel destination over the last 20 years, the adherence to Indonesian culture and lifestyle allows tourists like myself to have a peek into what ancient Bali must have been.
3. The food alone is worth the trip.
With all the spices, flavors and the presentation, it was a culinary delight to sample the fruits, vegetables and various rice and meat dishes at the resorts and restaurants we discovered.
I still lust after those brunches.
I don't think I will ever have more delicious smoothies with fresh, tropical fruits picked that morning than we experienced at Alila Ubud.
4. It's the capital of relaxation and rejuvenation.
Yogis from all over the world come to Bali for the atmosphere and the connection.
Just think of "Eat Pray Love" (which I read while lounging on the beach sipping on a fresh green coconut).
There are spa treatments, meditation, peaceful serenity and a sense of calm.
Oh how I want to go back!
5. It's one of the most slow-paced places to visit.
No one is in a hurry.
Despite the cultural differences and the completely different way of life the Balinese operate by, one of the biggest things that struck me was the contentedness and positivity that was exuded by almost everyone I met.
From the oldest to the youngest, we were offered smiles, warmth and happiness (good karma) everywhere we went.
There is a sense of relaxation and flexibility there I have never encountered in the US.
American culture says busy equals productive, which equals purpose and satisfaction.
Even when we're on vacation, we don't truly know how to just relax.
We have to fill our days with something, or else we feel like we've wasted precious time.
This isn't so with the Balinese.
They are hard workers, and they all support the familial and communal structure.
But, time is much more languid and fluid there.
I felt so rejuvenated and refreshed when I returned (minus the heavy jet lag and exhaustion from the return travel).
I think it was from how freeing it felt to be in such a positive atmosphere 24/7.
6. Bali is cheap.
There is no such thing as fresh, free water in Bali (which we completely take for granted here in the US).
However, it was one of the most affordable trips I've ever taken.
The dollar can be stretched pretty far.
Massages for $5 on the beach? Yes, please.
I felt like royalty for the entire trip.
7. It's one of the safest travel destinations.
We were two single women in our 20s, roaming the Balinese countryside and exploring the Ubud capital.
I never felt unsafe.
Sure, there were plenty of vendors trying to get our attention constantly, but there was never a moment I felt uncomfortable or at risk.
I'm sad to say I've had several moments like that here in the US, but not once while exploring Bali.
8. Everyone wants to help.
The Balinese are truly the most friendly and warm people I've ever met.
From the resort staff to the locals in town, everyone wanted to start a conversation, simply say hello or point you in the right direction.
9. There are many exotic animals.
I already mentioned the aquatic wildlife, but the jungles are filled with monkeys, exotic birds, lizards and other fantastic creatures that you definitely don't see here in the States unless they're in a zoo.
Riding elephants was truly a highlight.
Fighting off a monkey trying to steal my belongings in the Sacred Monkey Forest, however, was not.
But, I was mesmerized by the diversity of the wildlife.
10. Bali is an adventure.
I hiked through rice paddy fields, stood on a balcony overlooking Mount Batur (an active volcano), sipped coffee on a plantation, snorkeled in the Indian Ocean and enjoyed the sunset on the beach.
I couldn't help but think this was truly an adventure of a lifetime.
This was a trip I will never forget, won't stop retelling and will frequently peruse through pictures of.
I pushed past my comfort zone and found a whole new and exciting world on the other side.
I hope I will have many more adventures in my life, and I hope I'll never forget what I've learned in Bali.