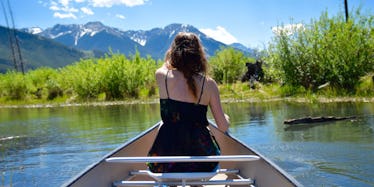 11 Reasons Banff Should Be The Next Location For Your Winter Getaway
Girls Vs. Globe
Banff, a Canadian town with a population of 9,386, could easily be just another dot on the map.
It's a sleepy hollow in the middle of nowhere.
So why was this little settlement just named one of the top destinations on the rise by Trip Advisor?
For years, travelers have been coming here to explore Banff National Park, which was declared a World Heritage Site by the UN in 1984.
The town is watched over by four towering mountains – Rundle, Sulphur, Norquay and Cascade – and the resort town is one of Canada's most popular tourist destinations, with around three to four million people visiting every year.
In fact, many Millennials decide to stay here and work for a season.
Waiters, shopkeepers and even bar managers are often people who will greet you with an Australian or British accent.
Sound like fun? It is.
I was lucky enough to visit this summer, and here are my eleven reasons the next trip you plan must be to Banff:
1. Skiing
In the winter, Banff is the epicenter of all things skiing and snowboarding.
There are three ski resorts within the national park — Sunshine Village, Mt. Norquay and Lake Louise Mountain Resort — and many places where you can get the party started with a proper après ski session in the town itself.
2. Canoeing
Canoeing is a wonderful way to work out, get some sunshine and take in the nature all at once.
The Vermilion Lakes are your best bet if you want to stay relatively close to the center of town.
Banff Canoe Club sits quietly between Bow Avenue and Wolf Street.
All the streets in the area have animal names, like Moose, Lynx, Caribou or Bear Street.
So adorable.
Lake Louise is another great option, if you're willing to go on a 40-minute drive first.
But, it's a lovely scenic drive.
While there, you could also have delicious afternoon tea in Chateau Lake Louise's luxurious Lakeview Lounge.
It's hard to believe, but those views will get even more beautiful when accompanied by English scones, miniature custard tarts and strawberry-topped shortbread.
3. Wildlife
Banff was made for wildlife spotting.
All those street names I just told you about? They're based on animals that live in the area, roaming freely from majestic mountain to crooked creek, day and night.
No one can guarantee you will see any of these stealthy creatures, but if you're patient (and careful), you could be going home with an amazing bear selfie.
I wasn't particularly lucky in my animal adventures, but I still got to see a woodpecker, a coyote as it ran from me in horror and countless prairie dogs, like the cute guy in the photo above.
4. Fishing
Banff is home many pristine fishing spots, but my top tip would be Lake Minnewanka.
Its name actually means "water of the spirits" in Nakoda, one of the local indigenous languages.
It's the perfect fishing spot for novices and experts alike.
The lake is about five miles from the town of Banff, and it's the largest lake in the entire national park.
I'm not sure you'll be able to catch any spirits, but I hear the lake is full of trout and Rocky Mountain whitefish.
5. Sulphur Mountain Gondola
Sulphur Mountain, which quietly watches over the town of Banff, is a pretty special place.
It used to be home to a meteorological observatory built in 1903, which you can still see (and peek inside) on top of Sanson Peak.
The peak is named after Norman Bethune Sanson, the research facility's employee who tirelessly hiked up to it to check the recording equipment for almost 30 years.
In fact, he made the trip more than 1,000 times while working as the park meteorologist until 1945, when he turned 84.
What a man!
Nowadays, you can simply take the gondola up to see the spectacular views.
But if you'd rather follow in Sanson's footsteps, there's a wide trail you can follow from the Banff Hot Springs to the summit.
6. Foodie Paradise
Banff is a wonderful place to go out and get a little wild, so don't miss a chance to explore the place by night.
My favorite place to have a drink and watch life go by was by far Park Distillery.
It's quite the new kid in town, as it had just been opened when I visited, and all of its three levels were completely packed.
When you take a proper look at the menu, it quickly becomes clear why.
The cocktails are delicious and carefully crafted.
The Sazerac knocked me off my feet (although I was sitting down), and the food is cooked on an open campfire in the kitchen.
7. Gorgeous Sunsets
You can find incredible sunsets all over the world, and it's just one of those things that never gets old or stops being romantic.
There are a few great sunset watching spots in and around Banff, and three are really great options in particular.
The first is going up Mount Norquay, which is a little far from the city, but definitely worth it.
The second is hiking up Tunnel Mountain, which will take you less than 45 minutes from the centre of Banff.
If you do either of these, don't forget to bring a headlamp for your trip back down.
You never know in this neck of the woods.
The more low-key option is to go down to Vermilion Lakes and watch the sun go down from the docks.
Bring insect repellent, though. Those little buggers love to bite.
8. Peyto Lake
Peyto Lake is just a short drive from Banff, and it's one of those places that will make you want to weep with how gorgeous it is.
Just look at how turquoise that water is.
That's not Photoshop, my friends; that's reality.
It's actually that shade of blue.
It gets pretty crowded at the top near where my photo was taken, but there are loads of paths leading up and down the mountain.
They'll make you feel like you're alone in this beautiful world, and this is just your backyard.
No big deal.
9. Horseback Riding
Few things will make you feel as invincible as looking at the world while sitting on horseback.
I didn't actually have time to try this out in Banff myself, but there are a few companies that will allow you to unleash your inner cowboy in the area.
For those who would rather sit back and relax, there is the option of a horse-drawn carriage ride, which could be pretty romantic with the right person sitting beside you.
10. Banff Upper Hot Springs
I completely fell in love with Banff Upper Hot Springs when I realized that they let you rent vintage-inspired bath suits from the 1900s, like the one I'm wearing in the photo above.
How cool is that?
After relaxing by this pool full of warm water with incredible mountain views, I felt like a Hollywood starlet on summer vacation.
In my opinion, that's one of the best feelings ever.
11. The Great Outdoors
Last but not least, Banff is the perfect place for outdoor enthusiasts.
Whether you're into trekking, biking or climbing, you will find a million things to do in this beautiful Canadian mountain paradise.