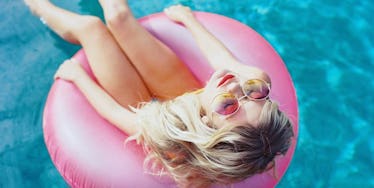 7 Essentials Girls Who Are Always Hot Need To Survive This Summer
wendy laurel
If you have to endure the intense humidity of the city throughout the summer, odds are, you're daydreaming about escaping to the tropics as we speak.
SOS: This chick over here needs some vitamin sea in her life ASAP.
The overwhelmingly sticky subway cars begin to be too much to handle. Literally, you want to scream as you try to dodge someone's sweaty pit that's getting a tad too close for comfort to your face.
And as much as you love hitting up trendy patios for happy hour, all you want to be doing is retreating someplace cool and blasting the air conditioning in your face.
Turn it up high, and keep it flowing.
If you're always hot during the summer months, I totally feel you. The struggle can be all too real… especially if you live in an urban jungle and there's not a beach down the block where you can dive into the waves.
In order to survive a heat wave, here are seven summer necessities every chick who's always hot AF needs.
1. DIY Milkshake Kit
DIY Milkshake Kit, free, Postmates
Ring in the first day of summer by bringing those infamous eccentric milkshakes to your home.
Lactaid is collaborating with the milkshake masterminds at New Territories in New York City to debut something incredibly sweet.
Starting at 1 p.m. on June 21, urbanites in NYC, Los Angeles and Miami are able to order a free DIY milkshake kit via Postmates. And the best part is, you won't have to leave the comfort of your refreshing air conditioning.
For all of the sweet tooth lovers out there, this is the ultimate way to get crafting. The DIY kits highlight Lactaid milk and ice cream, in addition to the whimsical toppings to make your milkshake super Instagram-worthy.
The milkshakes available in each city include NYC's Unicorn State of Mind, Miami's Sun & Surf, and LA's Best New Artist Milkshake.
If you don't live in these cities, you can head over to Lactaid's website for the complete recipes.
2. Trendy Sun Hat
San Cristobal Hat, $120, Chila Bags
Even though I love soaking up those beautiful rays of sunshine every chance I can get, I never go to the beach without some sort of hat in my beach bag.
If you want to take a break from the rays, Chila Bags has a chic collection of sun hats that will pair perfectly with your bathing suit. Crush the style game this summer with a 100 percent handmade straw hat inspired by Colombia's breathtaking beaches.
3. Nourishing Shea Butter Sunscreen
Lavanila Laboratories The Healthy Sport Luxe SPF 30, $22, Amazon
Protect your beach glow with a rejuvenating mineral sunscreen. What's great about Lavanila is it's infused with Smart Sport™ water-resistant technology, so you can hit up the volleyball court with your girlfriends, and head straight into the water for paddle boarding and floating in the deep blue.
This vegan sunscreen refreshes the skin while protecting it from those harmful UV rays at the same time.
4. A Freezer Stocked With Sweet Treats
What better way to brave any summer heat wave than with a freezer conveniently stocked with refreshing popsicles?
Cool off with Simply Popsicle's delicious ice pops, which are made with real cane sugar, and spotlight colors and flavors from natural sources. Strawberry-Banana & Mango, anyone?
You'll be having a delicious #PopsicleTime in no time.
5. Anti-Chafe Stick -- Seriously!
Megababe Thigh Rescue, $14, Megababe Beauty
This little guy is perfect to carry in your purse throughout the sizzling summer months. It's an anti-chafe stick made with pomegranate, aloe, vitamin E, and grapeseed oil.
Say goodbye to any annoying chafing on your walk to work... forever. Your legs will be oh-so-smooth and hydrated at all times.
6. Breezy Clothes You Feel Like A Summer Goddess In
Mary Red Crop Top, $40, Tobi
Whether it's a flowy maxi dress, chiffon romper, or distressed denim shorts paired with a tank top, embrace the summer style you feel most comfortable (and coolest) in.
Summer is the one time you want to make sure your look is functional at all costs, but that doesn't mean you have to sacrifice being cute, either.
7. To-Go Hydrating Mist Spray
TULA Urban Defense Hydrating Mist, $28, Amazon
Protect your skin against toxins in the environment while keeping it feeling totally refreshed with this hydrating mist.
The product's coconut water, hyaluronic acid, and anti-inflammatory rose water keep your skin calm and hydrated.