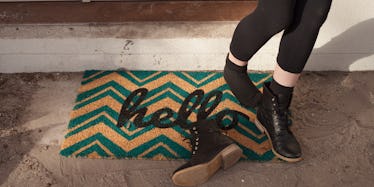 5 Things You Hear About Buying Your First Home That Just Aren't True
Entering the housing market for the first time can be terrifying, particularly in today's times. Most of us still have the memories of the housing bubble and the crash of 2008 in the back of our minds when we think about finally buying a home.
It's natural to be apprehensive, but as it turns out, now is actually an excellent time to buy a house.
This is partly because everyone else is equally apprehensive about buying a home. Lack of demand means it's currently a buyer's market, as anybody listing their home is likely struggling to get the kind of attention they want.
For those holding out on purchasing their first home, chances are there's a ton of reasons why. Some of these reasons, however, are just misinformed or out of date, especially if you're citing these five common myths.
You need massive savings to buy a home.
Chances are, you probably think you have to produce a significant amount of cash to buy a home. But you don't—or at least, you're not expected to do it all on your own.
Federal Housing Administration loans have lower standards for lending -- you only need a 580 credit score to qualify -- and require only a 3.5 percent down payment, making them a useful and accessible option for many first time home buyers. Even if your credit score is between 500 and 570, you can still get a loan, but you're obligated to put down 10 percent instead.
Purchasing a house will take ages.
If you're paying cash, you can close a purchase in a matter of days. Of course, most people don't have several hundred thousand dollars lying around and have to apply for a loan instead, but that doesn't necessarily need to take forever either.
Getting pre-approved for a mortgage before you begin shopping around can cut down on your waiting time after you find your dream house. Once you put down an offer, it could take as little as 20 to 25 days to close, so long as you remain prepared to answer your loan officer.
No loan purchase will be complete in less than a month from start to finish, but you won't be spending months and months shopping for a home nowadays.
You can't pay below asking price.
Like I said before,  it's currently a buyer's market. That's because millennials aren't rushing into their first homes like previous generations have, resulting in a sudden decrease in demand.
What this means is homeowners are often eager to sell, and that means negotiation is very much in your favor. You can easily risk handing over an offer below asking price in a buyer's market, sometimes tens of thousands of dollars lower than the listing price.
This is especially true for houses that have been on the market for a long time. Be sure to mention your desire to find this kind of place to your agent if you use one, as they'll be able to guide you on how to best negotiate your offer.
Negotiations are limited to house price.
Speaking of negotiating, it's not just the price of the house that's on the table. Inspections, closing costs and fees are all open to negotiation when you start signing paperwork, and are all important aspects to consider.
Home inspections are one of the most critical and neglected aspects of home purchasing -- and should absolutely be a part of your negotiations.
Aside from negotiating who pays for the cost of an inspection, whatever the inspection turns up can change the value of the house or your willingness to go through with a sale, which means sellers are motivated to complete repairs as needed through a repair addendum contract.
You shouldn't use an agent.
Home purchasing is fraught with legal complexities that require an experienced agent to navigate. Attempting to tackle home buying on your own may seem like a smart move, but you'll quickly find yourself up to your eyeballs in details you can't make heads or tails of.
An agent can help you identify what the best offer to make is, spot warning signs of trouble in a home or sale, find the best homes on the market to fit your needs, complete all the paperwork you have no idea how to fill out and walk you through the closing process.
The savings that an agent can find for you outweigh the costs of hiring one, making them an invaluable part of the home buying process.
Buying a home isn't high on the priority list for most millennials. But if you're looking to break into the market for the first time, know that you can get a great deal on a dream home if you play your cards right. Just make sure you educate yourself on the process thoroughly before you start the search for your perfect home.
Happy house hunting!
Citations: Fortune, Millenial Magazine