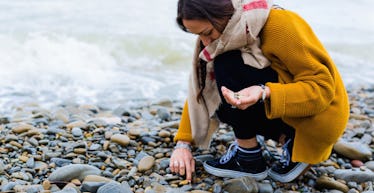 Life Isn't Made Of Quicksand: 4 Ways To Make A Change When You're Feeling Stuck
Have you ever felt stuck in one place? Or wondered what you're actually doing with your life? Do you feel like you have nowhere to go until you do your time, and all you can think of is how much you want to get away and move on to the next adventure?
Life is like that for me right now; I have plans, but I'm stuck on placement until the end of the year.
Don't get me wrong; it's a great placement, but I feel stuck and dread that I have to suck it up until it's over. I can't help but feel like in the meantime, there's a big, bad world out there just waiting to be explored.
What I find to be an even harder pill to swallow is that when you are "stuck," you're acutely aware of the lives of others and you find yourself comparing your life to those around the world who are the same age as you.
Take Ariana Grande, for example, who recently turned 21 and has an estimated net worth of $5 million. The famous singer, songwriter and American actress has broken records with her single, "Problem," featuring Iggy Azalea, and has a very promising future ahead of her in showbiz.
My all-time favorite celeb to envy is the infamous British actress, Emma Watson. She's best known for her role as Hermione Granger in the "Harry Potter" films. Watson is one of the world's most successful actresses; she's starred in all "Harry Potter" films, "My Week With Marilyn" (2011), "The Perks of Being a Wallflower" (2012), "The Bling Ring" (2013) and "Noah" (2014).
The 24-year-old Paris-born actress and model is worth $60 million, and also recently graduated from Brown University. She has been the face of Lancôme and Burberry, and was recently named the UN Women Goodwill Ambassador. Is there anything this girl can't do?
While I go on turning green, I can't help but wonder: What happens when envying the lives of others leaves you feeling in complete despair about your own life, particularly if you're feeling trapped where you are?
We've all been there, whether it is comparing our lives to others, a hangover day when we're seriously questioning the antics from the night before or when we just have too much time on our hands.
To avoid driving yourself mad, next time you're feeling stuck or that you might not be living your life to its fullest potential, remember these few points:
Find Your Passion
Give yourself a break. Maybe you just haven't found your passion in life yet, and that's perfectly okay. After all, how are you supposed to know what you really want to do if you don't test the waters by casting out the net as far and wide as possible?
Take up a new hobby you think you might be interested in. What have you got to lose?
If it doesn't work out, you can't say you didn't try and you'll know that you definitely don't want to do it. If it does work out, then it will bring you endless joy, a sense of accomplishment and even an extremely successful career.
It's Never Too Late
It really is never too late to change the course of your life. If you're genuinely unhappy where you are or with where your life is going, it is up to you to change it.
Who says when you can or can't start something new and whether or not you might succeed at it? Listen to your heart and your head will follow. If it's something you really want to do, the only thing getting in the way is you.
Think being in your 20s is too late to change your life? Being in your 20s is the perfect time. You have worldly experience, you've probably lived alone, you know what you value and you know that there's so much more in the world to learn about.
Your 20s is the only time you'll have all this knowledge, minus the endless responsibilities that come with your 30s. The time is now.
Don't Compare Yourself To Others
Okay, so I need to take my own advice here, but it's true. The grass isn't always greener on the other side; it's greener where it's watered.
If you put as much effort into improving or changing your own circumstances as you did following the life of someone else, imagine where you could be. This is your life; you are responsible for grabbing it by the reigns and controlling where it goes.
Oh, you're not known internationally? You don't have millions in the bank, yet? Just imagine where you could be in five years time if you put your mind to it. You never know; people could be wishing for your life in years to come.
Be Happy
At the end of the day, it's all about being happy, right? If you're happy where you are and where you're going, fantastic. If you're not and you really are wondering why you're stuck in this job or internship, maybe it is time to get out.
Be brave and do it for you because no one else will.
Sure, feeling stuck or trapped where you are sucks when you're not enjoying yourself, but sometimes you just have to grit your teeth and get on with it. If it's where you want to be, remember that it will be worth it.
If it's not, it's up to you to change your path. In the words of Hannah Montana, "Life's what you make it!"
Photo Courtesy: We Heart It