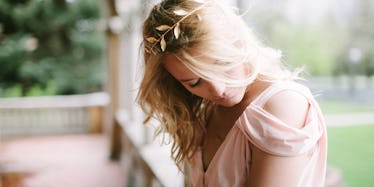 Your Perception Is Your Reality
Stocksy
The way people view you and the way you present yourself is the impression you will leave behind. As you go about the business of carrying out your life people will make judgments about your appearance, personality and capabilities.
If you don't like the way your life is playing out you can always take charge of your own perception of reality. You are in control of your story. Not everyone in life is a top performer but they all have the ability to give off that impression.
Perception = Projection
Things are not always what they seem and marketers and artists rely on this to make you see things the way they want you to see them. You can meet someone and they can tell you everything you want to hear without any hint of truth. Anyone can give off any perception they want. The world we see is a reflection of who we are and what we believe.
The self-fulfilling prophecy lays at the foundation of this concept; a statement that alters actions and therefore becomes true. Someone who thinks their night is going to play out terribly will subconsciously change their actions so that this prediction is fulfilled by their actions. Often the way we perceive reality is colored by how we want it rather than simply the way it is.
Perception drives people's behaviors everyday. Take a look at the movies "Romy & Michelle's High School Reunion" and "The Girl Next Door." Upon receiving word of a 10-year high school reunion, Romy and Michelle realize their lives are not as impressive as they wish they were. So when the time comes to attend the reunion they show up in an expensive car dressed in business suits, equipped with cell phones, and bring along a huge fictitious success story.
Romy tries to convince everyone that she invented the post-it note while Michele tries to convince everyone she invented a type of glue. In "The Girl Next Door" the teenagers all pay pornstars to pose as their prom dates in hopes of giving off a cooler vibe.
"When truth is blurred by lies and misinformation, perception becomes reality and all is lost."
What people perceive is usually what they believe, and this is based on what they hear, see and think. Most of the time we cannot control what happens but we can always control our reactions.
A person can rent a Lamborghini and a tuxedo and show up to a club and buy a $500 bottle just to have people think they are millionaires. This person is creating his own perception by creating a false illusion. It does not matter that this person isn't a millionaire because you perceive him as one. This man is creating the reality that he is doing big things but in all honestly he may not be doing jack sh*t.
You can go to a new town and give off a completely different perception of yourself while still remaining the same person on the inside. People do this all the time when trying to forge a new beginning.
"Change the way you look at things and the things you look at change."
The entertainment industry is full of false realities. DJ promo videos are all shot at angles that make them look as if they sold out every venue they performed at. The actuality of the situation could be the room was half empty but the perception is that it was jam-packed. A ton of artists in the business pay for Facebook likes and Twitter followers on websites such as Fiverr.com. My friend who is an aspiring DJ has admitted he has done this on multiple occasions and has no shame. He knows the way the game works and is doing all he can to gain publicity and clout.
The bigger the artists the more followers they will have. This gives the perception of immense popularity, which these artists thrive on. This applies to athletes like LeBron James who has over 8 million followers. Okay King James, do you.
People lie about things everyday in order to evoke a better persona. It's important to be conscious of your perception, because if you're not, someone else will create it for you. It's your life you need to decide how you're going to live it.