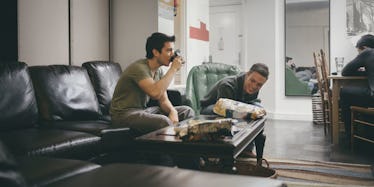 The Five Most Inspirational Speeches Of Our Time That Will Be Sure To Motivate You
Stocksy
Inspiration is a stimulating feeling that we seek to motivate us, to continue pressing forward through hardships and to find meaning amidst chaos. What inspires us is sometimes found in the rarest of forms. It is sometimes in plain sight. It is often stumbled upon without intention, and it is sometimes graciously handed to us in the form of wise words, spoken by experienced and influential minds.
For those who are feeling aimlessly lost in the journey to find themselves, those who are feeling stuck under the darkest clouds waiting for a ray of sunshine and those who simply need a dose of encouragement, heed these words of wisdom.
From some of the most gifted minds to the greatest influencers of our generation; from currently eminent leaders to those illustrious leaders who made a difference and left us too soon, here are some of the most inspirational speeches of our time in chronological order.
Baz Luhrmann: 'Everybody's Free (To Wear Sunscreen),' 1999
Baz Luhrmann is a native of Australia and best known as a filmmaker, but when he debuted the spoken word single, 'Everybody's Free (To Wear Sunscreen),' in the spring of 1999, he inspired all who listened. The song was originally written by Mary Schmich, who delivered an abundance of advice based upon his own life's experience in a 1997 issue of the Chicago Tribune.
Luhrmann opens and closes the song by noting the importance and benefits of wearing sunscreen, and in between, takes five minutes of your day to express the best life lessons you might ever soak up.
"Don't worry about the future; or worry, but know that worrying is as effective as trying to solve an algebra equation by chewing bubblegum." - Mary Schmich
Barack Obama: Keynote Speech, 2004
In 2004, then-Illinois State Senator Barack Obama took the stage at the Democratic National Convention to deliver the keynote address. Obama reflects on his upbringing and his beating the odds with faith in the possibilities. President Obama instills the message of hope in this 20-minute speech that will leave you feeling humbled and inspired to achieve your potential.
Steve Jobs: Stanford University Commencement Speech, 2005
In 2005, about a year after he was diagnosed with pancreatic cancer, Apple CEO Steve Jobs stood before the graduating class of Stanford University to tell three stories of his life about connecting the dots, love and loss and death. Jobs's address is extremely moving and powerful, as it instills confidence in the form of reality paired with personal reflection.
He concludes his speech with a quote that he once saw and remembered forever, which read, "Stay hungry. Stay foolish." Steve Jobs was a visionary, creative genius and revolutionary innovator who has transformed the world and continues to inspire individuals from beyond the pearly gates.
Randy Pausch: 'Achieving Your Childhood Dreams,' 2007
With three to six months of good health left, Professor Randy Pausch of Carnegie Mellon went on to deliver the final lecture of a series called 'The Last Lecture' to a full audience in a university auditorium. In the speech titled, "Achieving Your Childhood Dreams," Pausch discusses his life lessons learned and dispenses invaluable advice on how to accomplish your own career and reach your personal goals -- words that every Gen-Yer searches for on a daily basis.
Coming from a man with a limit on life at the time, you may not find a more inspiring speech than this one by the late Randy Pausch.
"Anything is possible, and that's something we should not lose sight of. The inspiration and the permission to dream is huge." - Randy Pausch
Robin Roberts: Arthur Ashe Courage Award Speech, 2013 ESPYS
At the ESPYS on July 19, 2013, longtime ESPN journalist and host of ABC's 'Good Morning America' Robin Roberts took the stage to accept the Arthur Ashe Courage Award, when she spoke about having strength and faith when life throws you challenges. Roberts is a survivor of breast cancer, which she first conquered in 2007, prior to battling a rare blood disorder, myelodysplastic syndrome.
Last fall, her sister Sally Ann donated bone marrow for a transplant that would save Robin's life. Roberts became ESPN's first black broadcaster in the 90s, and she will remain a pioneer and leader for many decades to come.
Bonus: Jimmy V's 1993 ESPY Speech