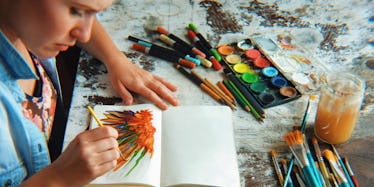 The 10 Differences Between Interesting People And Boring People
Don't you hate boring people? The one thing I fear most when going out to socialize or network is running into someone who is boring. Not because I personally won't be entertained by what they have to say — although that may very well be the case — but because the conversation that ensues is excruciating.
I feel like a dentist pulling teeth, searching for something interesting about them or their lives. Nevertheless, I have had no choice but to arrive at one conclusion: boring people are boring — plain and simple; no matter how many teeth you pull, they will still sound boring, but with a lisp.
Being boring, in actuality, is not only about who you are as a person, but also how you present yourself. For those of you in need of some sprucing up, I have compiled a list of the 10 differences between boring people and interesting people. Use them to your advantage, young grasshoppers.
1. Interesting people like to have conversations; boring people like to avoid them.
Human beings primarily communicate through words — this is how our species interacts. If you are the person that goes to a party and picks a quiet corner to sit in, then shame on you. You are missing out on a ton of networking opportunities. You may not like anyone at the party because they are all scumbags, but you never know when having a scumbag around could come in handy.
He could be a potential client or investor for the future — or be able to connect you with someone that will be. Or maybe he has a hot sister you can bang. Boring people usually aren't boring at their core; they are simply introverted. Don't be shy; talking to someone new won't kill you.
2. Boring people are those that enjoy too much comfort.
We all have a comfort zone, but we don't all decide to stay within its bounds. In my opinion, a comfort zone is good for one thing and one thing only: knowing what needs to be done to leave it in order to start living. You already know what makes for a complacent, lethargic, comfortable life. Now do the exact opposite of that and you won't be so boring — or so bored.
3. Interesting people have several hobbies; boring people have a hobby.
Being interesting involves more than having something that you enjoy doing and enjoy talking about. If you have one hobby — especially if it is one that most people don't share — then people will find you boring. It's great if you have that one thing that you are passionate about, but if you are worried about being too boring, try to diversify and find yourself two more hobbies that spark your interest.
4. Interesting people are well-informed.
Being perceived as interesting revolves around holding conversations. The more that you have to talk about, the better. This of course does not mean that you ought to be starting a conversation with someone and running through a handful of topics one after another, but the more knowledgeable you are of different things, the better the chances are that you and your conversation partner will have something to talk about. Be up-to-date on the news and on the most popular pop culture.
5. Boring people stay put; interesting people like to explore.
It's one thing to be perceived as being boring and it's another to actually be boring. This goes back to leaving your comfort zone. If you want to be interesting, then you need to be interested in doing things. You need to explore the world, both around you and the world that requires a 16-hour flight. Go out and explore.
6. Interesting people have a hunger for life; boring people are content with frozen dinner.
Variety, variety, variety — life has such a smorgasbord to offer us, that sticking to that which you know is, well, boring. Stop eating the same food, stop hanging out with the same people at the same places. Doing the same boring things guarantee a boring life because it avoids change.
7. Change makes for an exciting life.
If you want an interesting, exciting life, then embrace change. It is the fear of change that causes stagnancy and that causes people with much potential to be labeled as boring people. If you do not learn to enjoy change then you will not only lack success, you will lack joy in your life.
8. Interesting people are driven people. Boring people are push-overs.
Figure out what it is that you want and then plan a way to get it. Letting others decide your destiny, being complacent and accepting whatever leftovers others throw you is pathetic and boring. Do not let people push you around; stand your ground!
9. Interesting people are dreamers. Boring people are posers.
If you don't dream, then you can't possibly make your dreams a reality. Our minds can be our most interesting playground as long as we spend enough time focusing on that which presents itself among the swing sets and sandboxes. Picture what you want and what you want to do in your future. Imagine your life the way you wish you could live it and focus on it every waking moment of your life. Then work on making your dreams your reality.
10. Leading an interesting life is easy if you want it.
More importantly than anything else is truly and completely wanting to live an interesting and exciting life. You must want to do things you are not comfortable doing. You must want to experience new experiences and you must want to get a fuller, more in-depth understanding of the way other people see the world. You must want to have an open mind. The world is an exciting place, so get excited!