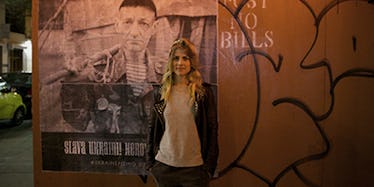 This Millennial Filmmaker Went To Ukraine To Tell The Story The Media Wasn't Telling (Video)
Introducing Elite Daily's newest series "Millennials Making A Difference," focusing on some of the many standout individuals of our generation. Whether a filmmaker, designer, entrepreneur or philanthropist, these are the individuals who have gone above and beyond to have an effect on not only Millennials, but society as a whole.
We launch the series with 26-year-old filmmaker and photographer Vanessa Black, who recently returned from Kiev to help raise awareness of the current crisis in Ukraine. Her main goal: better storytelling of the news. Black feels passionate about the outside world knowing more about the human stories rather than exclusively hearing the less personal breaking news segments.
Vanessa worked for a month in the middle of what became an international crisis, producing a digital series for young people about the conflict — content for a feature film and a large format portrait series of the Self Defense groups. She published articles with us on Elite Daily that showed the day-to-day responses in Kiev of the aftermath of the revolution and the reaction to the crisis in Crimea.
This video is promoting Vanessa's larger project with her production company BLKFLM, titled #UkraineRising. The goals of the project are to raise awareness about the Ukrainian Crisis and report human news, not only breaking news. The project aims to elevate social media for a greater good and inspire young people to use such outlets as a tool to express their voice. By blending pop-culture and politics, Vanessa hopes to make the situation easier to relate to.
As part of this project, she has teamed up with SHNY Gallery to create "The DEFENDERS: The Heroes And Barricades Of Maidan," a large format photo series consisting of photos Black took during her time in Ukraine. You can also find her photos as part of a Guerilla Gallery throughout the streets of New York City.
In a time when we are all glued to social media for sometimes selfish and trivial reasons, Black strives to use the platforms as a way to communicate the personal accounts that often get very minimal attention on main network segments.
The gallery is located at 116 Suffolk Street in Manhattan and is open Monday through Saturday, 11 am to 8 pm. Follow Black for more at @BLKFLM.
Check out more original Elite Daily documentaries and videos on the Elite Daily YouTube Channel.