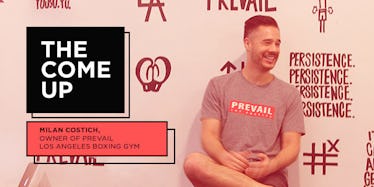 How One Man's Pursuit Of Self-Excellence Can Teach Us All To Prevail
Robert Rodriguez
It's an unsuspecting place.
Tucked between an old auto repair shop on the corner and a black-and-white-spotted animal grooming storefront, Prevail Los Angeles, one of the city's favorite boxing gyms, has no marking with the exception of its name on the top left corner of a small, grey brick building.
Upon entering, you're already one of them: the alluringly unintimidating community the boxing gym has built over its two years of life. Greeted by unfamiliar yet welcoming faces, the butterflies of unpreparedness for a morning workout and simultaneously not knowing what to expect from your first foray into boxing fade away.
There's an air of positivity, encouraging you to release your clammy palms from their self-inflicted grips and loosen up a bit. This is no trendy, commercialized, stop-and-stare establishment, it's a no bullsh*t place and you're here to learn how to box.
Owner Milan Costich is among the crowd, standing tall at about six feet, salt-and-pepper hair, a nationality you can't quite put your finger on.
He's at attention in front of an accent wall featuring brand-reflective artistic stylings of Tonia Calderon, which sets the tone for the gathering space. It's an inspiration wall with motivational messages that moonlights as a background for students to pose for much-anticipated Instagram photos showing Prevail solidarity.
On the wall reads a standout message: "The Pursuit of Self-Excellence."
We're all on the pursuit of something: the pursuit of money, the pursuit of love, the pursuit of happiness. But it's this line, coined by Costich himself, that best reflects the packaging of each of those elements in not only his personal life but his position as the leader of esteemed boxing gym Prevail Los Angeles.
For Milan, it's a name that signifies his personal struggle, dedication and perseverance to get to this point. As the 35-year-old says of opening the doors to the gym, "I'd felt like I prevailed through this really challenging period of my life."
Growing up a martial artist, Costich found the most rewarding challenge was competing against other fighters to reach one constant goal: win. Though, it wasn't so much about the fight as it was a form of refuge for the Virginia native.
Once a breakdancer, forever a fighter and fan of photography and design, Costich declares his love for the arts in the name of self-expression. He says,
I like [art] because I feel like it's a window into a person's soul -- or at least, their deepest thoughts, feelings and expressions.
His passion for art in its various mediums shows consistent throughout his diverse background. When he was 16, Milan's father co-signed on his first business venture: performance parts for cars.
He would later attend George Mason University as a business-turned-media-production major, quickly realizing the nature of business education was grooming him to become a cog in the wheel of a major corporation, something his entrepreneurial mind could never have envisioned.
The irony came, however, when he accepted a rather lucrative job offer at consulting firm Booz Allen Hamilton in Washington, DC.
Milan would rapidly climb the ranks -- graduating from temp, to researcher, to consultant, to senior consultant -- and position himself on a steady incline to a lifelong career by age 27. Becoming that once-avoided cog in a wheel, however, did not deter his underlying desire to create.
It was during this time Milan's passion for storytelling, something he would later incorporate into Prevail, really began to take shape, and he says,
I knew that if I didn't leave, I would be stuck in this lifestyle that wasn't the right fit for me. I wanted to do something more.
Milan shifted his focus to bettering himself and channeling his competitive nature within in order to identify and attain the value of life he knew was awaiting him.
He says, "I told myself, 'I have to recommit to this entrepreneurial spirit.'"
Approaching 30, he was comfortably living among friends he'd known since grade school and college, family nearby and a sizable paycheck direct-deposited into his bank account on the 15th and final day of every month.
But for the man who astutely shares, "I've always had a very strong desire to have an impact on the world," settling wouldn't cut it.
It wasn't until he moved to Los Angeles that Milan took the time to introspect and realize his aim for happiness was misdirected and draining his energy, leaving him with little peace or fulfillment.
Within two weeks of settling in on the West Coast, Milan says, "Luck, fate, whatever it was …I had a job at one of the biggest talent agencies in the world." The talent agency at the time was Endeavor, soon to merge with William Morris to create William Morris Endeavor, and at 28 years old, Milan took his first position in the entertainment industry in the mailroom.
He recognized the challenge, and it's one he took with pride, saying,
It was easily the best decision I'd made in my life. I don't think I'd been happier professionally than I was there.
Acknowledging that he'd have to start from the bottom and climb to the top, he allowed himself a timeline of three years to take advantage of every opportunity, establish himself and live comfortably before it would be time to move on from this dream.
He immersed himself in film, working alongside both independent and studio-supported producers, however, ultimately found himself at a crossroads once again.
He sets the bar high for himself, and he'll stop at nothing to reach it. He trails on about his accomplishments, ironically speaking to them as if they were an accumulation of mishaps, leading him to this moment. Failure or milestone, filmmaking was not going to be his magnum opus.
Little did he know, or expect, his life's work would soon reveal itself in the form of an undesirable pitch from an old acquaintance.
When I look back, every single chapter of my life plays a pivotal role in Prevail today.
The man who welcomed Milan to Los Angeles with his first job in the entertainment industry would circle back, positioning himself as the impetus of defining moments in Milan's career, and sparking the inception of Prevail. He would ask Milan to train him, a request to which Milan says,
I actually was opposed to it; I didn't want to be a personal trainer. I had taught and coached back in Virginia, and I enjoyed the experience, but I thought it would be a distraction from what I thought I was going to do at this new chapter of my life.
Given the friend's potent presence and influence in his life, Milan said yes, unexpectedly surprising himself with a renewed interest in having an impact on the world by helping people on an interpersonal and deeply emotional level.
Of his revelation, he says,
One month to two months in, I started to feel the value of the fruits of my labor: [My client was] losing all this weight, being more disciplined and happier in other avenues of his life. I didn't really get that feeling when I would work at a big company. You wouldn't see the immediate results of your work, or you wouldn't see the look on the person's face.
It was this confounding sense of satisfaction in helping a person to realize his own potential that would send Milan full-force into building the brand.
He would run the business out of subleased gym spaces over the course of two years, until September 2013, when Milan finally found the space that would become a second home to him and every person who would subsequently walk through the door of the tiny grey building next to the auto shop.
A close friend of Milan's, Lawrence Thomas, fondly known as LoLo, would become his partner in crime in the endeavor. The two are a less than obvious match before you're awarded the opportunity to see their true colors align so clearly. Milan says it best, speaking to Lawrence's magnetic nature while unknowingly defining his own: "He's a nurturer by nature. He's such a loveable person, and he has a sincere desire to help other people."
Together, they officially opened the doors to Prevail in January 2014 with one mission, which Milan pitches persuasively:
This is a boxing workout for the everyday person. We don't want to scare anyone away. If you want to box, and you want to get in shape, we hope that this is a great place for you. We try to create a welcoming, positive environment. It's an empowering workout.
At 33 years old, Milan found another new beginning, during which the first three months he says were brutal and actually felt more like three years. As few as two to four clients, if any, were showing up to classes with him and Lawrence. He remembers it vividly:
I was sitting at my desk, so incredibly stressed out. Lo would look at me and say, 'It's gonna be alright, man. It's gonna be alright.' And at that moment in time, I definitely didn't believe him. I wanted to believe him because I wanted to be able to sleep at night. I wanted to know that, somehow, we were gonna make this work. There were days where it felt hopeless. But we didn't stop.
It was a trying time, during which they would figure out how to spread the word, while getting better at what they were doing and building momentum. It was a time when Milan, now dedicated to a considerably healthy lifestyle, was eating peanut butter and jelly sandwiches for breakfast, lunch and dinner.
The stress and uncertainty of those initial months had him contemplating moving out of his apartment, downsizing to his car, sleeping in the gym and waking up in the morning to hit the ground running again.
I had already arranged my life to be very simple. I had a very low-cost life. …The tough times in my life prepared me for other tough times. If you stick with it long enough, and if you find a way … I think there always is a way; we just have to be willing to find it.
But thankfully, in large part to Milan's connections in the entertainment industry and his understanding of the value of grassroots marketing, Prevail took off somewhere around a year following the opening of its doors. 
With committed clients in the entertainment industry from models to actors and digital influencers, including Jamie Chung, Amanda Seyfried and Olivia Culpo; LA locals to transplants and tourists, the gym has seen its community grow from two people to a class, to 10 people, to what is now 1000 unique clients per month.
If not for organic endorsement by those clients, who take to social media to share those aforementioned photos in front of the patterned accent wall, it's Milan's dedication to authenticity that translates into drawing interest.
Now almost three years since its inception, the Prevail family is a group of 15 talented, compassionate, encouraging people, whom Milan describes as "like-minded individuals with a sincere desire to build a community and make a difference in people's lives."
With just one room in which to host 24-person classes, eight punching bags, mirror-lined walls and 45 minutes to leave an impression seven days a week, Milan takes pride in building a fresh, never-done-before workout with his team every day, saying,
My understanding of storytelling and how people consume media and attention span go into how I've shaped the workout.
Overwhelmingly female, the Prevail clientele are on common ground when they're present in the house that Milan built: They've been conditioned to exploit their potential here, without fear. He finds value in that, saying,
I'm very proud of the community we have because I do think it's a positive community. It's built around a healthy lifestyle; it's built around overcoming challenges and exceeding expectations and breaking stereotypes and barriers.
This community will continue to grow, not only at its home on West Third Street, but even further permeating the LA fitness scene and eventually extending its presence to bigger markets.
Milan reveals to me the nearest evolution, slated to take place at the start of summer 2016, will be the addition of a third type of class offered at Prevail. Complementing its counterparts -- Sweat and Box -- on an LED sign in the gathering room, Sculpt, a resistance training class, will complete the evolution of training offered at Prevail.
The gym's surmounting success is obvious, but such prospective plans are a blip on Milan's radar, as he's only now readying himself to shift his focus to balancing the other aspects of his life that need nurturing.
Though this is only beginning of a very positive future in the story of Prevail Los Angeles, there's a palpable release to be felt in Milan's recounting of his come-up, as he's finally found himself at peace. The sacrifices and hard work have been worthwhile on the Pursuit of Self-Excellence.
Follow Prevail Los Angeles on Instagram.