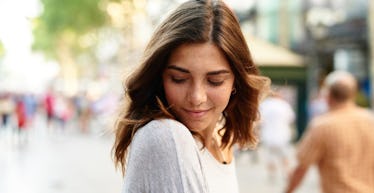 4 Ways To Practice Self-Love When Your Self-Perception Is At A Low
How much do you truly love yourself – wholeheartedly, authentically, genuinely — beyond the superficial definition?
This is your life, and your life's mission is to learn to love who you are.
We are simply here, existing. We're existing to create what we love and love what we create.
We are here to expand our vision of who we are and who we wish to be. Without loving ourselves first, how will we ever be able to give genuine love to others?
It is our responsibility to live true to ourselves with integrity and communicate that message to the world. You see, our world is consumed with hate. It's terrifying because day by day, our world is becoming a more dangerous and self-destructive place.
We ask ourselves, "Why?"
Why do we spend so much time seeking revenge, or looking for ways to hurt someone? Why do we spend even more time holding onto grudges and harboring hate? Why do we let it occupy our minds and eventually destroy ourselves in the process?
The answer is simple: We do not love ourselves, and we resort to darkness and hate. The solution is even simpler: We have to learn to love ourselves in order to resonate lightness and love.
But, how do we practice this? Well, it's easier said than done.
You have been hurt or betrayed.
Maybe, you have been hurt or betrayed. You aren't perfect, so people and the unfortunate situations they put you in will damage you.
We feel like we've put too much effort into a friendship or relationship to let it go. We feel like we aren't good enough.
We question what we could have, should have or would have done differently. We end up feeling insecure and worthless, and this formulates a cycle.
You can either hate the person who hurt you and dwell on the situation, or you can forgive and learn from it. Most of the time, we are put in these situations to learn to love ourselves.
If you hate the person after what he or she did to you, that should give you a sign of how much you genuinely love yourself.
If you wholeheartedly loved yourself, you would know you are worthy and would not succumb to insecurities the person who hurt you left you with.
I'm not saying not to feel the pain. Feel the pain all you want, but do not let it overtake and change your perception of who you truly are and who you want to be.
You dislike your appearance.
There are times when you're not going to like the way you look. Maybe, you're too skinny or overweight. Maybe, you dislike your skin tone or your complexion.
Your appearance makes you feel unattractive. We end up feeling insecure and worthless, and again, this formulates the same cycle.
You can either hate how you look, or you can learn to love how you look.
Your character will always make you more attractive. People are more attracted to people who loves themselves rather than people who are too self-critical.
The way you feel about your appearance is in your hands; you have the ability to change how you feel. If you don't like the way you look, have you ever thought it may have a lot to do with the person you think you are internally?
If you loved yourself enough to know you are an imperfect, beautiful human, you will have the motivation to encourage yourself and others to make a healthy change.
You didn't get what you thought you deserved.
Maybe, you didn't get the job or position you wanted and worked so hard for. Maybe, you failed numerous times. Maybe, you didn't get treated fairly.
We tend to feel sorry for ourselves and start to give up when things do not go our way. We get frustrated, and we feel like nothing pays off.
We start to compare ourselves to others. We end up feeling insecure and worthless. This, again and again, formulates a cycle.
If you loved yourself, you wouldn't put yourself down. You would understand, like all humans, you have potential for greatness. You would not accept failure because as humans, we will all fail at least once in our lives.
You hate yourself.
The problem with the people in our world is that many of them do not love themselves, and because of that very reason, they resort to hate. Loving yourself and all your flaws is the first step in recognizing you have the ability to genuinely do the same with others.
It's our ability to appreciate ourselves that allows us to respect and value others. It's our ability to love ourselves to the fullest that will actually promote a healthier, more loving and genuine world.
The most important thing to recognize is we are all imperfect humans; we are all bound to make mistakes. Our greatest enemies are ourselves, so if there is something we do not personally like about ourselves, we have the ability to change it.
Maybe, a good way to start is to use gratitude toward ourselves and others as a weapon against self-hatred. You may think it's selfish, and it's perfectly okay to be selfish when it comes to love. It's selfish, but only selfish for the end result to be selfless.
So be selfish, and start with loving yourself first.
This way, you can end up being selfless and sharing that pure and genuine love to others.