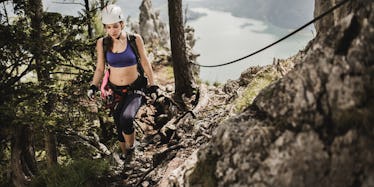 How Social Media Has Made Us Lose Sight Of The Meaning Of The Holidays
Stocksy
As soon as the clock strikes midnight on Halloween night, there seems to be a shift in the universe; it's time for the holidays, American style.
The stores turn their product placement to Thanksgiving and Christmas; coffee shops begin selling endless amounts of pumpkin, peppermint, eggnog and sugar-infused drinks to power us through the cold shopping days.
For most people, this time is exciting. It's a time when we are more likely to reconnect with family and cross-country friends over delicious meals and fuzzy sweaters. However, it also begins open season on our bank accounts, putting a price on how much we love these people.
So, here's my question: Why has the most wonderful time of the year turned into a period ridden with anxiety?
Personally, while I love using social media in all its filtered glory, it has put a Miley-sized wrecking ball through true holiday cheer.
As soon as the first piece of wrapping paper is torn on Christmas morning, we're plotting which present is worthy of posting with the perfect caption, upping the stakes for our loved ones to get the perfect present for us.
The expectation to get someone a gift that's equal parts thoughtful, eclectic and dripping in enough labels to spark jealousy in others is overwhelming.
The fact alone of knowing we're automatically set up for failure allows the anxiety to begin flowing through us. We know we're getting this person a gift he or she truly wants, but still worry if it's worthy enough for a news feed.
However, we're all adults here, and we know it's not all about social media bragging rights, right? Frankly, all the designer items in America can't bolster our personal relationships; those require real, face-time interaction, which is not found behind an iPhone screen.
But, can we quench our thirst for the world to view how glossy our lives look through the looking glass of a smartphone screen? We would all like to think we are above this habit of boasting, and then, without even realizing it, we fall into the same habit repeatedly.
It is said that comparison is the thief of joy; yet, we open ourselves up to this thievery over the holidays by pouring through our social media feeds and basing our personal gains and losses against others.
The important aspect to remember before delving into the holidays is that these are meant to be magical times. The beautiful snow, coupled with bright lights, provides an endless amount of reasons to give gifts to people you love.
Therefore, it is what you make of it.
If the holidays primarily represent a time to celebrate your religion, praise the way you want to. If they represent curling up at home watching your favorite movies, pop some more popcorn and dust off that DVD collection.
Or, if it means donning your favorite sparkling outfit to sip eggnog with your favorite people, then sparkle away, dear.
The point is, let your holiday flag fly; everyone expresses joy, but the way we do it is different. Don't judge your expression of happiness by the standards shown on the screen.
Gifts do not always come in the form of a cute little designer number that will look perfect in the group picture you take on New Year's Eve. Instead, the valuable gifts come in the form of what we have intangibly.
Intangible gifts of value come in many forms: seeing your family, having someone to love and taking some time to just sit and exist.
If you have never been to Northeast Ohio during the early winter, I'll let you in on a secret: There is nothing more beautiful than the freshly fallen snow on a suburban street at 1 am.
The peace you feel standing outside, looking at the lights and just soaking in the energy is revitalizing. Granted, there will be at least five people who post a picture of their streets after seeing it as well, but I have some advice: Put down your smartphone, go outside and look around.
In the words of Pat, Sr.
When life reaches out at a moment like this, it's a sin if you don't reach back. -- "Silver Linings Playbook"