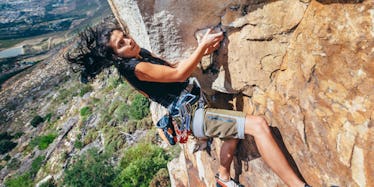 8 Lessons You Can Only Learn From Curing Your Wanderlust
Micky Wiswedel
In my first Latin class, I was introduced to the philosopher Augustine of Hippo.
He once said,
The world is a book and those who do not travel read only one page.
Ever since I was a baby, my brother and I wouldn't stay in one home for more than a year because of my parent's job. Even though it was difficult to transition, learn a new culture and language and leave friends and lovers, I now realize I wouldn't change one bit of it.
Here are eight things I've learned from traveling, going on road trips and living in over nine countries:
1. The beginning is always the hardest.
Whether your plans involve starting a sustainable business, employing people from underprivileged backgrounds or inventing a $1 million dollar app, the important thing is to pursue your goals no matter how big or small they are.
Investigate, research and plan. Get sponsors and supporters.
But always remember to be the type of person who not only turns heads, but also souls.
Why, sometimes I've believed as many as six impossible things before breakfast.
2. You are no better than the person next to you.
One of the most valuable lessons I've learned has been understanding that we are all one. It's good to be ambitious, and it's even attractive. But, there is nothing sexy about a cocky or plain sh*tty person.
Aim to climb higher so you can see things clearer. Do this so you can see anything and everything, not so you can shine brighter next to those who are still finding themselves.
3. Never give up.
You're going to be stepped on, and you're going to fall. But, you're going to rise as well.
'Would you tell me, please, which way I ought to go from here?' `That depends a good deal on where you want to get to,' said the Cat. `I don't much care where—' said Alice. `Then it doesn't matter which way you go,' said the Cat.
4. Overcome dark times.
You're on a path to success. Now, nothing is going to prevent you from facing times of darkness.
Your mind moves at a million miles a minute. You overthink your goals, but you're not pushing yourself to go after them.
Maybe it's because fear rules the decisions you make. Fear is just your own false evaluation about reality. It's an illusion.
It is all "what ifs," "should haves" or "could haves." Push past them.
5. You can always change.
You have the right to grow, expand and explore every horizon. Stop caring about what society expects or thinks of you. Seriously, f*ck what everyone else think.
These people aren't contributing anything positive to your life, and they're stirring up self-doubt. Close those magazines for a second, and turn off the TV.
Understand that the industry is selling you an unrealistic lifestyle. Rise above it.
6. Make your journal your best friend.
I've always been a free spirit. I felt restless whenever I wasn't traveling or exploring.
There is just too much to see. So, I didn't stop.
I wandered and wandered, and I still am in the process of discovering as many unknown, unvisited places as I can.
Everywhere I go, I write down what I've learned, the people I've met, the new languages I've learned and the new experiences I've had.
Some pages are filled with blunt wraps. Others house train tickets. Some contain gifts from strangers.
There were Burning Man polaroids, feathers from Coachella and Maha Shivaratri and Ganesh and Buddha stickers I found in Tulum and La Quinta Avenida, Mexico.
Carry a book everywhere. I cannot emphasize enough how important it is to read.
You'll never feel judgment from a book. Books don't make you feel insecure as reality TV, movies or social media do.
7. Be kind to everyone you meet.
You don't have to be taught to be good. We're light beings at birth.
Life is the school that will teach you the most valuable lessons. It's where you learn to remember what your soul already knows.
8. Connect with others.
When you're traveling, please try to have a conversation with the person next to you. It will help you overcome your shyness, and it will teach you how to speak to strangers when in a new city or country.
I one met a woman who had just graduated from college and was also traveling to Aruba. I told her my parents lived there, and she could come visit anytime.
We bonded over kite surfing lessons, and after my trip, I ended up visiting her in San Diego. We went to the Reggae on the River festival together.
I know you are important and I know you're going places, but you have to believe it. That is the only way you'll be able to form deep connections with others.