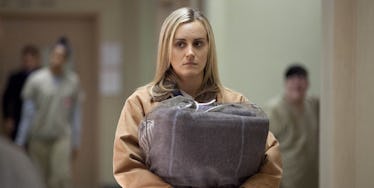 5 Ways To Think About Career Possibilities After You've Been In Prison
Netflix
When you're first released from prison, the first thing you do is stare into that bright abyss filled with freedom.
You may be excited by this newfound opportunity you once took advantage of, or you may feel intimidated knowing you've just adopted a new criminal record.
While at times, this criminal conviction may very well hinder you from the perfect job opportunity, it should never ever stop you from making those opportunities a reality in the very near future.
Your criminal record should never be a representation of the person you are today. The skills you had prior to your sentence, the skills you picked up during your sentence and the skills you're willing to learn after your release should be used both in your search for employment and beyond.
Here are five new habits that will help you along your journey:
1. Presentation is everything.
Groom yourself well and dress nicely. I always suggest a high-end cologne like YSL, but I understand that it may not be obtainable until after you've landed a new job. So just make sure you're clean, fresh and confident.
Don't carry the same mindset you had in prison. You've been given a second chance, and you'll do great.
2. Spruce up your resume, as it might not have a lot of recent information.
Begin creating your resume by using your personality traits, skills and even past experiences. Make sure you touch base when it comes to your personal interests and goals.
3. Be realistic.
I know you want to sell houses, but it may take five to seven years before you're even allowed to take the test to get your real estate license. Take your time. You're starting over, but that doesn't mean your life is over.
Start out small. Look for jobs with small businesses around your area. These types of jobs have easy access to the owners, making it a bit easier for you to introduce yourself.
Speak face to face with the owners, and make a great impression. A lot of these businesses don't have the extra funds to run background checks, so they hire new employees based on experience and personality.
4. It may take a while, but stay positive.
You made it through a whole prison sentence. You're strong, you're smart and you're destined for greatness. The road will be tough, but it will be worth it.
5. Once you've landed that gig, work harder than everyone else.
Remember: Your manager's eye is on you. You're being watched. He or she may have told others about your criminal record, and you're being tested.
Have no fear. Remember: You were built for this.
Remember how important this job is. But more importantly, remember that this is building the foundation for the better, more lucrative positions you will soon hold.
People always seem to forget that Google is absolutely brilliant. Search for jobs that hire felons, or even groups that may hold classes for felons looking for work. There are plenty of them out there, and these things will be really helpful in your journey.
It took me roughly five years to build my own business after I got released from prison. It wasn't the jobs that I hated, though: It was the time it took to finally see the light at the end of the tunnel.
As felons, our paths are a bit more chaotic. But I've learned to accept this because it's something I did to myself. Now, watch me make this money for myself.