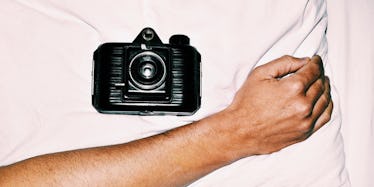 The Porn Star With The Million Dollar Penis Tells Us About, Well, His Penis
Keiran Lee is the ultimate male porn star. Easy on the eyes? Check. British accent that makes the ladies swoon? Check. A penis that measures over nine inches and is insured for one million dollars? Somehow, check.
To date, Lee, who is the only man in the world with a penis insured for one million dollars (according to his Twitter), has starred in too many movies to name. Wikipedia (updated July 15, 2016) sets his appearances at roughly 1,144 for porn powerhouse Brazzers alone.
This is in addition to another thousand scenes shot for Killergram (a UK company) and a stint as a freelance performer and that works out to a healthy share of women -- especially when you consider the likely fact that there are many other women he's bedded in his personal life.
Lee is also the only male judge on the first-of-its-kind reality show, "The Sex Factor," which sees him judging/mentoring wannabe porn stars alongside adored female luminaries: Tori Black, Lexi Belle, Remy LaCroix and the one and only Asa Akira.
Lucky for us, the legendary Keiran Lee was kind enough to chat about life as a top male porn star and being the owner of the world's only million-dollar penis.
Q: First and foremost, can you give us the details on your penis insurance? As the only man in the world whose penis is insured for one million dollars, we need to know.
Keiran Lee: Well, initially, the insurance policy was an in-house discussion with Brazzers as I shot so many scenes with them. The Brazzers production team were worried that, if I ever broke it, they'd have nobody to shoot the remaining scenes.
Marketing got wind of this and thought it would a good idea to take out an insurance policy and so it began. I had to go for a medical to make sure I was all fit and healthy and explain what I did for a living. After that, it was all approved and I was the official owner of a million-dollar penis.
Basically, the only way I can receive compensation is if I broke it on set or I'm involved in some freak accident.
Q: Have you ever received compensation as a result of your insurance?
Keiran Lee: Thankfully, I've never had to use the insurance policy. And although a million dollars is a lot of money, to me, my penis is priceless.
Q: Do other porn stars have their penises insured (just not for a million dollars)? Is this procedure somewhat common in the industry?
Keiran Lee: Not that I know of, but I'm surprised a girl hasn't had her ass or boobs insured.
Q: Really? What about vaginas?
Keiran Lee: None are insured yet, but every time I'm inside them I increase their value by a cool million.
Q: How many scenes (as an actor or director) do you shoot per month on average?
Keiran Lee: I shoot roughly 18 scenes a month as a performer and about 20 as a director. I'm in a lucky position that I get to direct most of the scenes I perform in.
Q: You are one of the most recognized male porn stars out there. How long did it take you to make it big in the porn industry?
Keiran Lee: I've been in the industry for about 13 years now, but I would say my name only got bigger once I came to America and started working for Brazzers. The exposure they get is on another level. To make it big in the industry these days you have to be able to perform, first and foremost, but a huge part of making it big in porn is marketing yourself on various social media outlets.
Q: How did you decide to enter porn?
Keiran Lee: I fell into porn by mistake, actually. I was on a lads' holiday and my friends took a picture of me naked and posted it on a swingers' website. Next thing I know I'm getting contacted by a couple shooting amateur porn and they wanted me to shoot.
I did my first scene in a car park and did really well. After that, the rest is history: I was contracted to them for about four years, went freelance for a year or so, then came to America and was contracted to Brazzers where I have been for the last eight years.
Q: You're a judge on "The Sex Factor," a show seeking the next big porn star. What was the criteria used when selecting contestants? Most chosen don't look like the traditional porn star. Intentional?
Keiran Lee: We didn't know who was applying for "The Sex Factor," so the first time we met the contestants was on set. There were roughly six contestants we had to cut before we decided on the winner.
As for their looks, I think porn is changing dramatically. Gone are the days where you had to look like an extra out of "300," now viewers are looking for guys and girls they can relate to more.
Q: How does one "mentor" a porn star? What kind of things do you discuss with the contestants?
Keiran Lee: For the guys, it was all about giving them the tips that helped me, like not drinking caffeine before scenes. Also, if the room is cold, keep your socks on so your feet stay warm. If your feet are cold, then all of the blood rushes to your feet and not to your willy. But although these work for me, this doesn't mean they will work for everybody else. I had to edit my tips for each performer.
Q: What's the most embarrassing thing a contestant has done on the show so far?
Keiran Lee: I think it has to be the fake cum shots, especially the Colonel. He's a special character on the show and although he did very well, there were particular things he'd do that looked very odd on set. You have to check it out.
Q: "The Sex Factor" has been doing well with audiences. Any word about a second season?
Keiran Lee: Possibly, we have been approached. It's now in the hands of the producers.
Q: You're married to Kirsten Price, who is also an adult performer. How does your relationship differ from most in that aspect?
Keiran Lee: I've been very lucky in finding love with Kirsten, although I go out most days and have sex with many beautiful women, we both know it's work at the end of the day.
We've been together for over five years now and have a beautiful son who is coming up to his second birthday, so she doesn't shoot anymore as she is a full-time mum.
Q: If your son wants to be a porn star one day, would you support him in his decision?
Keiran Lee: I would let him go whatever path he wants to go, but I would warn him of the negativity that doing adult movies receives from people and restrictions it can have moving forward in life.
Q: Throughout your career in porn, what do you say are the most important traits women look for in male porn stars?
Keiran Lee: Stay humble. So many guys come into the industry thinking they are God's gift to women and full-on sex machines. Although you may be on a Saturday night after the club, being on a porn set is a whole new animal and you never know when you could have an off day.
Q: If you had to choose, who will one day succeed you as the world's biggest male porn star?
Keiran Lee: I would say either Danny D or a young Spanish guy called Jordi. Danny D is a fantastic performer and has a huge weapon on him -- which he knows how to use. He's very grounded and really cares about his work. Jordi is new and I have worked alongside him and also directed him in scenes and he's very solid.
Q: Is it true that to make it in straight porn as a male actor, you have to start with gay porn?
Keiran Lee: This is one of the biggest myths in porn along with "fluffers." Doing gay porn can actually affect you negatively later on in your career if you cross over into straight porn as a lot of girls won't work with guys who have done gay porn.
Instead, if you want to get into the industry, look at joining "The Sex Factor." Or if that's not for you, then look at doing a couple of scenes for free. A lot of companies are reluctant to new guys, but if they have nothing to lose, they might take a punt.
Q: How does porn sex differ from regular sex?
Keiran Lee: I'm actually pathetic at home sometimes. I have to apologize to Kirsten as I two pump chump it. I don't have to worry about cameras and lights, so I can just enjoy myself. And sometimes, I enjoy myself a little too much.
Porn can be very uncomfortable as you must be aware of the camera and make sure they are getting the right shot, as well as if there's enough light getting in so they can see. You also have to position yourself to show off the girl, ensuring she looks the best she possibly can.
Q: Based on trends you've seen in your career, what do you believe is the next big trend in porn?
Keiran Lee: I think virtual reality porn is going be the next big thing, but unfortunately for male porn stars that sucks as it's shot in POV and you can't really move.
So your penis will become mine in a sense? That's fine by me. The ladies will be thrilled. Thanks, Keiran.