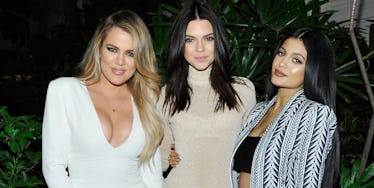 How Each Kardashian Promotes Positive Body Image Without Even Trying
Getty Images
The Kardashians have managed to be positive body role models. Before you start to disagree with me, hear me out.
This pertains to Kylie, even with the lip challenge. This pertains to Kendall, even with people saying she's become too thin. This pertains to Kim, even with her questionably plumped up badonkadonk.
Like I said, hear me out. Each Kardashian has individually and collectively managed to subconsciously impact the way we think about our looks, and it ain't all bad:
Kim, The Breaker Of The Beauty Mold
Kim stepped into the limelight in the 2000s while party-hopping with her BFF Paris Hilton. Paris was the epitome of what every girl wanted to be at the time: tall, blonde and extremely thin.
Her waif-like appearance mirrored all of the Hollywood celebrities of the day, inlcuding Nicole Richie, Lindsay Lohan, Mischa Barton and Mary-Kate Olsen. They were all curveless and a size 0.
Then there came Kim Kardashian on the arm of Nick Lachey, proving that you can have lady lumps (and even jet-black hair), and a former boy band hottie will still want to do you.
Not to mention, soon after, millions of people paid to watch a video of her curves jiggling around in the bedroom.
Basically, she showed all of us that you don't have to be a bleach blonde waif to be hot as f*ck.
Kourtney, The Pocket Hottie
With her model sister Kendall completely towering over her in photos and Khloé picking her up and tossing her across the room at times, Kourtney still holds her own and doesn't fade into the background.
She proves that you don't have to be tall to command a room or put your drunken boyfriend in his place. She is small, but mighty.
Khloé, The Fitness Junkie And Body Transformer
Of all of the Kardashian clan, Khloé has gotten the most sh*t for her body. I have met Khloé before, and I can tell you she has always looked incredible. With that said, she has recently taken it next level.
She is all about working out, but not in a way that has left her completely emaciated. She has built muscle and promoted strength training.
She started working out intensely not only to improve her figure, but also to de-stress during some difficult times. She is the new poster woman for the benefits of physical fitness.
Kendall, The Supermodel
Compared to her curvier sisters, she seems to be the only one who has shied away from plastic surgery. She didn't conform to the look that made her family famous.
She went her own way at a young age, and she is now one of the hottest muses of the fashion world. Her image is plastered on billboards across the globe screaming, "Au naturale is très chic."
Kylie, The King
Though she has transformed her face, I can get behind the fact she does what she wants with her looks and doesn't really answer to anyone.
She comes from an affluent neighborhood and sports blue hair, dagger nails and Chanel sneakers, all while rolling in her blacked-out Mercedes G-Wagon.
What she undoubtedly does well is sending us a message of, "F*ck 'em, be you."
Kris Jenner, The GILF
She hit her 60th birthday with a 35-year-old Corey Gamble on her arm. Enough said.
We get it. Beauty is timeless.
It may be easy to say these ladies promote superficiality and are fueled by injections, detox teas and an immense amount of contouring, but as a whole, the Kardashian message can be positive.
Even though they are from the same family, like all women, they come in all different shapes and sizes, they span decades in age, they have different styles and they are all undeniably beautiful. That is the part of them that we should embrace.