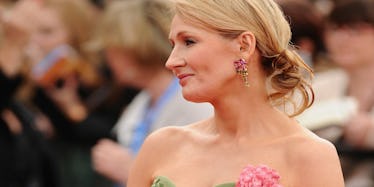 Why JK Rowling Is As Praised In The Business World As She Is In Writing
Getty Images
I've always admired JK Rowling. She's probably my favorite author, and she's the creator of a world I was happy to live in throughout my childhood and teen years.
As I've grown older though, I've begun to recognize that there is so much more to the writer than her magic and her stories. There's her business acumen, her creative strength and all the traits she has of a great innovator.
I think JK Rowling can be as inspirational for founders, entrepreneurs and business people as much as for budding authors and dreamers. Her work and her approach to it are examples of how we can create products we love and find a way to make other people love them, too:
1. She ignored hyped trends and believed in her product.
When Rowling wrote "Harry Potter," she had a lot of pushback from publishers. The trends didn't match what she was working on. The first novel was rejected by 12 different publishers.
The simplest option for Rowling would have been to bow to the rejection and go back to the drawing board. She could have created something new that would have matched the publishing trends. She could have built a product that could have had an easier path to success.
But, she didn't. Rowling believed in the product she had created. She believed in the audience that would enjoy it. She was prepared to go through the rejections and find a way to get in front of the people who would truly care.
If she'd built something that matched what was popular, we wouldn't have that scar-faced wizard we all love. Entrepreneurs would do well to follow suit.
2. She didn't have the opportunities we take for granted.
I hate the "inspiring" story founders often like to tell, the one about giving up their jobs and responsibilities and throwing themselves into their art like it was the only thing that mattered. Those entrepreneurs frequently come from a background where failing horribly wasn't going to destroy their lives.
They have support networks, resumes that show strong corporate experience and every opportunity to make money after they fail. In the end, founding an online startup is a cheap, simple process when you're starting out.
Rowling was a recent divorcee and single mother who was trying to become a teacher. She was desperately struggling to bring her idea to market against all odds. This was in the early days of the Internet, when self-publishing her book wasn't an option.
She was forced to struggle against negative gatekeepers. Rowling had the kind of true grit that many entrepreneurs don't have, and that true grit paid off.
3. She connects with her audience and maintains communication.
Since the last "Harry Potter" novel was published, Rowling has kept the flame burning. She communicates constantly with fans of the books and films through her Twitter account, still taking the time to respond to questions about the series years after its publication.
When fans have a burning question about the characters they grew up loving, Rowling is there to answer. Beyond that, she's used her fictional world to comment on the real world, explaining politics and prejudice through the paradigm of Voldemort and his Death Eaters. The way Rowling is able to communicate messages and maintain a level of connection with her audience in a way most authors in the past never could have done has enabled her to keep a loyal fanbase.
4. She focuses on developing new products continuously.
When companies refuse to improve on their products and experience, or when they don't create new products for their adapting and changing fanbase to use, that's when the brand becomes stagnant. That's never been a danger for Rowling. From the Pottermore social network and the novels published under her pen name to the play about to open in London and the upcoming movie, "Fantastic Beasts And Where To Find Them," JK Rowling has never been shy about developing new products.
She has an understanding of what her audience wants, but she's ready to challenge the way they receive it, its format and its delivery. With the number of projects that Rowling has delivered growing every year, it's impossible to imagine her slowing down.
5. She understands the importance of innovating old ideas.
The greatest innovators haven't always been the ones who could dream up something new. They're the dreamers who can take an existing idea, see through its problems to the brilliance within and draw it out to create something better. That's how we ended up with the car, the aircraft and the iPhone.
Rowling is in that category. She took a genre of children's books and updated it to create a timeless, yet strikingly modern fairytale. She managed to sell an old-fashioned, classic English boarding school novel with a magical twist set in the cynical '90s.
Her way of writing children's books has created stories that everyone enjoys by capturing the imagination of her readers of all ages. If that's not innovation, I don't know what is.