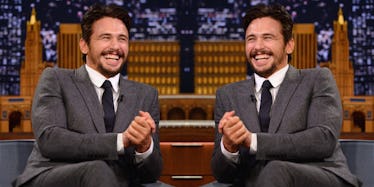 How James Franco Turned Into America's Favorite (Ambitious) Stoner
Getty Images
There's nothing traditional about James Franco.
When he isn't smoking weed with his bro, Seth Rogen, he is busy being an ultra successful actor, director, producer, writer and teacher of the film industry.
James shot to stardom after landing roles in "Freaks and Geeks" and  "James Dean." He has devilish good looks and infinite charm.
Females everywhere were drooling over this new heartthrob (including me).
He is a man of many talents, and he is one of the most intelligent celebrities out there.
If he isn't posting boundary-pushing Instagram selfies, he's starring in hilarious comedies and simply just doing whatever the f*ck he wants.
It's clear James isn't afraid to stay lit in his off-screen life. He proves the whole "weed kills your brain cells" myth totally wrong.
It isn't enough for him to play lead roles in Hollywood blockbusters. He takes his education just as seriously.
At 28, after becoming a celebrity A-lister, he enrolled in a creative writing literature course at UCLA. He enrolled in 62 credits per quarter, which is roughly three times the normal limit.
Now, he has completed a PhD in English at Yale.
Just in case you aren't feeling bad enough about yourself yet, as soon as he finished grad school at UCLA, he enrolled in four new courses.
These included NYU for filmmaking, Columbia for fiction writing, Brooklyn College for fiction writing and -- just for good measure -- a poetry program at Warren Wilson College in North Carolina.
Now, due to his hard work and relentless persistence, he has his own production company. He teaches at two film schools in both Los Angeles and New York.
All I can say is, welcome to the empire of James Franco.
It's safe to say James Franco isn't your average single stoner.
With his unorthodox way of life and incredible ambition, it's no wonder he isn't married with children at this stage of his life.
To be perfectly honest, though, who gives a f*ck?
So many of us follow structure in our lives, as we have expectations of how our lives are meant to go.
By the time most people are 30, they would like to be married with kids because this is what's considered "normal" in today's society.
Well, not James.
Life seems to be one big party for this celebrity A-lister. To be perfectly honest, his zest for life is completely contagious.
It's clear he marches to the beat of his own drum, and does whatever (and whoever) he wants.
James has been single for longer than any of us can remember.
He has had rumored love affairs with Lana del Rey, Ashley Benson and even some random 17-year-old girl off Instagram. (We still love you, James.)
Sometimes, being single can be a significant advantage when it comes to taking charge of your career.
There's no wasted time on relationship drama, as the only person you have to look after is yourself.
Smoking some weed is an amazing stress-reliever when you're trying to take over the world.
James' achievements and his way of life show an incredible amount of determination, work ethic and discipline. I'm sure this man doesn't even have time to sleep.
The thing about James is, he doesn't fit in anywhere.
You wouldn't call him your typical stoner, and you wouldn't call him your typical nerd.
I don't think anyone out there would call him a typical celebrity bachelor.
The truth is, he is all of those things. Yet, he is none of them at the same time.
He is the one and only James Franco.
If originality was a skill, he would have his PhD in that too.