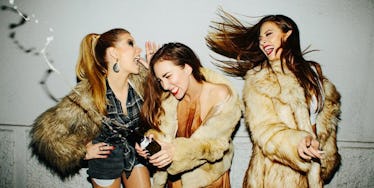 21 Instagram Captions That Will Make Your 21st Birthday Extra Lit
The day you turn 21 is a celebration of your first *legal* drink.
It's a glorious day spent with some of your closest friends and family, and embracing where the feels of the night take you.
Your 21st birthday is the prime time to enjoy yourself, and commemorate the years of life that have brought you to where you are now
Between drinking, throwing back shots, and dancing the night away with the squad, you're bound to take some epic pictures to help you remember the night when you're hungover the next morning.
These days, your Instagram caption is kind of, sort of, a major deal.
Not only does a subpar caption get less likes, but it actually makes your picture look less awesome, too. And let's be honest: A caption that's totally great can save a less-than-perfect shot.
The moral of this story? Make sure your caption game is on point.
For all of you planning your captions for the big 21, here are some ideas.
1."Today, a queen was born." -- Unknown
2. "21 and oh so fun." -- Unknown
3. "Wanna see my I.D.?" -- Unknown 
4. "You were my cup of tea, but I drink champagne now." -- Unknown
5. "Hakuna ma'vodka." -- Unknown
6.  "Hit me with your best shot." -- Pat Benatar
7. "Now we sip champagne when we thirsty." -- Notorious B.I.G.
8. "Cheers and beers to my 21 years." -- Unknown
9. "Turned my birthday into a lifestyle." -- Drake
10. "I doubt tequila is the answer, but it's worth a shot." -- Unknown
11.  "RIP fake I.D." -- Unknown
12. "Pitch-er perfect." -- Unknown
13. "I.D. love a drink, thanks!" -- Unknown
14. "There's a thirst time for everything." -- Unknown
15. "Sip happens." -- Unknown
16.  "Do you find me a-booze-ing?" -- Unknown
17. "Being 21 is nothing to wine about." -- Unknown
18. "The secret formula to happiness sure tastes a lot like tequila." -- Unknown
19. "I've been drankin.'" -- Beyoncé
20. "In dog beers I've only had one." -- Unknown
21. "When life gives you lemons, grab tequila and salt." –Unknown
Now go out there, have fun, and snap some incredible Instagram pics. A caption's just a caption, after all.