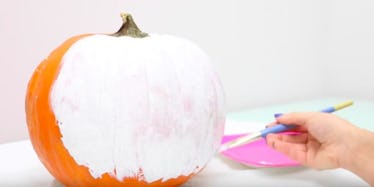 12 Pics That Will Give Every Squad Inspo For Wine & DIY Pumpkin Paint Night
Can you even have a proper fall without getting some pumpkins? Wait -- don't answer that, because there's only one good answer: No, no you can't. Pumpkins are a fall essential, just like apple picking and Halloween. This fall, take advantage of the season and plan the ultimate girls night, aka, a wine and DIY pumpkin painting night. How does one plan this perfect evening? Well, of course, you need the pumpkins, and you have to get your hands on your squad's favorite wines. The last essential party ingredient? You need some really awesome pumpkin painting inspiration. Luckily, I have put together some amazing pumpkin painting ideas for your girl crew.
Though you might have spent your childhood painstakingly carving all of your pumpkins into semi-recognizable shapes and faces, now, your girl crew will be all about a wine and DIY night. What's better than some arts and crafts to get into the festive, seasonal spirit of things? You don't need to be an artist, and getting a cute pumpkin for your apartment is super easy. So, no matter what skill level you and the squad are at, pumpkin painting is the way to go for girls' night. These 12 pumpkins are insanely cute, and all of your friends will love them. Get painting.
1. These Perfect Pastel And Gold Pumpkins
Just look at that millennial pink and try to tell me you don't want these pumpkins chilling on your front porch. Way too cute, amiright? The dipped paint look is an easy and beautiful DIY.
2. Give Us All The Flowers, Pretty Please
Are your girls major fans of all things preppy, floral, and girly? If so, this pumpkin design will be a huge hit. The vibrant paint colors and soft brush strokes will make it fun to recreate, but don't feel bad if it's not perfect.
3. Gold Pumpkins All Day, Every Day
If you're not totally into the DIY scene and are looking for a one-and-done kind of pumpkin, you'll love this spray-painted number. You can even take it a step further and buy some sequins and gems to spice it up a bit. Happy decorating.
4. All Halloween-ed Out
Looking for a festive pumpkin? This little one, complete with a few simple and festive doodles, is perfect for the craft lover. Don't forget to paint the stem for a finished look.
5. A Few Adorable Sprinkle Donuts
You literally can't go wrong with donuts, right? I'm obsessed with how adorable these little guys came out. It's the perfect paint plan for pumpkins that seem too small for anything else.
6. A Boo-tiful Design
This boo-tiful little pumpkin is simple, but looks great. The gold paint on the stem is a simple touch, but it takes it to the next level. Get ready to slay your script.
7. Your Very Own Van Gogh Pumpkin
Are you all about letting your artistic skills shine this Halloween? This Van Gogh "Starry Night" pumpkin is going to use all the talent you've got. Grab your glass of wine, and get to work.
8. A Few Colorful Doodles
If you have absolutely no idea what design to follow for your paint night, this pumpkin is a great option. The execution is easy, and there's lots of room for customization. Pick whatever colors are calling out to you.
9. Sweater Weather Pumpkins
Maybe these pumpkins are actually just supposed to be geometric designs, but how cute are they? The pattern is so reminiscent of cozy oversized sweaters. They seriously scream everything about fall.
10. Sequins, Sequins, And More Sequins
No one said you had to stop at the paint. Mix it up with some extras (in this case, a lot of bling). The sequins add the perfect touch to make a glam design, and with enough glue, you won't end up with them all over your apartment.
11. Stick To Neutrals
Neutrals are always a great way to go. I want these pumpkins in my living room because the vibe is just so calming. The best part? You really can't mess up painting your pumpkin one color.
12. Keep It Simple And Festive
This pumpkin looks fancy AF, but it's simple to replicate. In fact, after painting the pumpkins from number 11, it's easy to jump to this idea. Don't forget your Sharpie for the calligraphy.