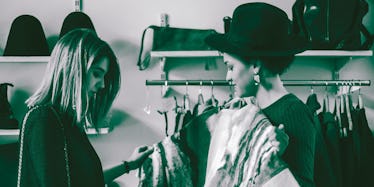 7 Ways To Hunt For Bargains When You're Broke, But Can't Give Up Shopping
Like many of my fellow Millennials, I'm still in school. I'm on a tight budget when it comes to my wardrobe. Given how rapidly fashion trends change, it can be difficult to know when to save and what to splurge on.
Whether we want to admit it or not, first impressions have a tremendous impact on how others perceive us. Wearing instantly recognizable brands creates a level of familiarity that makes people feel more comfortable when they meet us.
With that being said, spending $50 dollars or more on something like a pair of jeans is out of the question on my budget. Some of my favorite shirts only cost me $3 from Goodwill. I got both of my prom dresses at consignment stores for under $20. Yet, I still received numerous compliments on both.
Many people mistakenly believe looking good has to break their bank accounts. Many of my favorite pieces were either dirt cheap or on extreme sale. But with that being said, know there are some things worth splurging on (like a good coat, for example).
However, secondhand stores and discount outlets might be the greatest untapped resources of the 21st century. Do you want a "vintage" look? Rather than spend a ton of money at Forever 21 to get something that will probably rip after one season, why not get the real thing?
This has been my approach to dressing for almost a decade. Thanks to my life love affair with bargain shopping, here are seven tips on how to maxximize (pun intended) your potential at discount stores, from TJ Maxx and consignment stores to even Goodwill.
1. Be a brand whore.
Let's be honest here for a second: Some brands simply provide better quality than others. Now, this does not necessarily mean buying exclusively Gucci and Prada.
Many times, the designed for discount store brands are not as high-quality. This is why I only buy things from Marshalls or TJ Maxx if the brand is recognizable. This way, I know I'm truly getting a good deal.
I once got a pair of American Eagle bootcut jeans at Marshalls for $5. To tell if a brand is good or not, Google it online before buying it or simply feel the fabric to see if there are any loose threads or stitching. With Goodwill, the stakes are even higher because of the diversity of merchandise that gets donated.
2. Be willing to skip the trends.
Now, this does not mean looking dated. However, in my experience as a veteran bargain hunter, you have to be willing to go against the grain sometimes when it comes to fashion. While TJ Maxx might not necessarily always have the most recent trends, that doesn't mean you still can't invest in classic pieces that will last forever. Go classic.
3. Know yourself.
Don't buy something you wouldn't be caught dead wearing just because it's on sale. For example, I detest ripped jeans. I don't care how trendy they become; I refuse to buy a pair because I hate the way they look.
I also don't tend to buy a lot of seasonal trends, such as overalls. I always found them a bit impractical, despite their increasing ubiquity. This applies to brands as well. For example, I wouldn't be caught dead in pretty much anything from Lilly Pulitzer. I have nothing against the store, but the clothes just really aren't my style.
Everyone is different in terms of how adventurous he or she is willing to be with regard to new labels and styles. Therefore, it's important to know where you fall on the spectrum.
4. Invest in the basics.
One of my "dirty little secrets" is this: I often capitalize on basics at discount stores. I have countless brand-name t-shirts from discount stores.
I've also found designer (Calvin Klein, Aerie, etc.) bras and underwear for under $10. Since things like socks, bras, underwear, sleepwear and t-shirts are necessary basics, it makes sense to buy them in bulk. They will never go out of style.
5. Know your limits.
When you're shopping secondhand, know the things you're comfortable buying used and the things you aren't. I would generally advise against buying anything in the bathing suit or undergarment family secondhand. I'd also generally discourage against buying used shoes, due to their inevitable wear and tear.
6. Check for holes, rips, etc.
This one's pretty self-explanatory. Make sure it wasn't donated or marked down for a very obvious reason.
7. Look for sales.
Nothing beats the rush of getting the lowest possible markdown on a great piece. However, you should proceed with caution. It's also important to ask yourself if you'd buy the item if it wasn't discounted.
For most Millennial men and women, fashion is about both functionality and expressiveness. You should never have to compromise on your authentic look, but paying full price is so last generation.