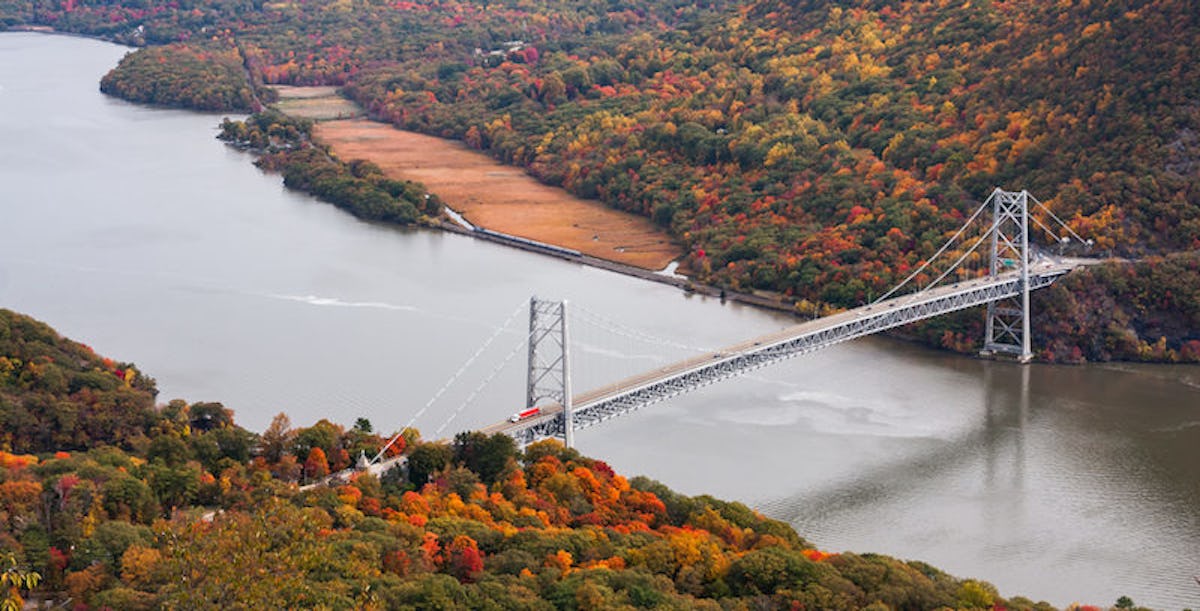 9 Reasons Hudson Valley Is The Most Underrated Weekend Getaway Spot
Shutterstock
Want to see gorgeous views?
Want to go back to nature?
How about taste some great beer, wine and incredible food?
Try the Hudson Valley.
It starts just north of New York City, and it has a little bit of everything you'd want in a getaway.
The first time you visit, you'll be upset you never visited before.
Here are nine reasons to visit the Hudson Valley right now:
1. Location, Location, Location
The Hudson Valley is extremely accessible.
The region stretches more than 100 miles up the Hudson River area, from Westchester County in the south all the way up to Albany County in the north.
New York City residents regularly visit the region for a dose of rest and relaxation, easily reachable by train or bus.
There are airports nearby, too.
The region is also very accessible for residents of New England, the Philadelphia area and much of New York state (just a few hours drive at most).
2. Hike A Mountain
One major reason New York City people venture north to the Hudson Valley? Nature.
The Hudson Highlands and Harriman and Bear Mountain state parks offer perfect day hiking opportunities in the south, plus the Appalachian Trail was born here at Bear Mountain.
Farther north, the Shawangunk Ridge and Catskill Mountains provide weekend excursions.
For the super adventurous, scale the Trapps and get ridiculous views of an endless sky.
And even if you're not a mountain or hill hiker, you can still enjoy the region with its leisurely rail trails and the incredible Walkway Over the Hudson, the longest footbridge in the world.
3. History Everywhere
Seeking a passage to China in 1609, Henry Hudson found himself on a northbound river winding through mountain ranges and unique natural beauty.
From its first Dutch settlements to the battles of the American Revolution, to being home to some of America's wealthiest and most creative people, the Hudson Valley (named after explorer Henry Hudson) has weekends of enjoyment for history buffs.
Check out Sunnyside (country home of "The Legend of Sleepy Hollow" author, Washington Irving), the Vanderbilt Mansion, the Franklin D. Roosevelt Presidential Library and Museum, Fort Montgomery and West Point, a fortress in its own right, sitting right on the banks of the Hudson.
4. Fall Is Everything
Speaking of Sleepy Hollow, yes, that's in the Hudson Valley, home to one of America's biggest Halloween celebrations.
Love haunted houses? Hayrides? Graveyard tours?
Or maybe you just want to get a glimpse of the Headless Horseman?
Or thousands of pumpkins lit up against the night sky?
It's all here.
For those who'd rather sip a warm drink while walking through a wonderland of fall colors, the Hudson Valley has that, too.
Storm King Art Center, one of the world's premiere outdoor sculpture parks, is an essential stop for any creative person longing for some inspiration.
5. A Beer Lover's Paradise
New York is known for its incredible variety of breweries, and the Hudson Valley specifically has no shortage of spots to enjoy a craft IPA, sour or stout.
The Peekskill Brewery sits by the Hudson River, offering a full menu with a substantial selection of beers (try the Simple Sour).
The nearby Captain Lawrence Brewing Co. has an outdoor beer garden with lawn games.
There are more than a dozen other breweries you can also visit while in the Hudson Valley.
6. Plenty Of Wine, Too
The Hudson Valley is home to the Shawangunk Wine Trail, with 14 wineries offering everything from deep reds to dry whites, to luscious rosés.
Popular wineries include Brotherhood Winery, the oldest in America, and Warwick Valley Winery, whose Doc's Draft Hard Apple Cider is a necessary beverage.
And for those who love brown liquor, Tuthilltown Spirits' Hudson Whiskey Baby Bourbon will rival most anything you try in Kentucky.
7. Foodies Rejoice
The Hudson Valley is home to one of the world's finest cooking schools, The Culinary Institute of America.
It's a must-visit for any foodie, partially since some CIA graduates never leave the area.
There are plenty of amazing dining options nestled right in the valley.
The best restaurant may be Blue Hill at Stone Barns, considered one of the founding sites of the American farm-to-table movement.
Surrounding the restaurant are gardens and pastures, and your food at Blue Hill comes mostly from those gardens and pastures.
It's one of the most definitive restaurant experiences in the world.
Other amazing foodie experiences await you in places like Hudson, Kingston and Tarrytown.
Be sure to sample a plate of Hudson Valley duck while eating about.
8. Explore Main Street
The Hudson Valley has farms and country scenes, sure, but it's also home to dynamic and diverse cities and villages like Beacon, New Paltz and the aforementioned Hudson, all with hip main streets to walk and explore.
Beacon is a blend of raw artistry and civic pride, filled with cute restaurants and bars, ambitious art galleries and community hangouts.
New Paltz is a bohemian college town with a great indie music scene and laid-back vibe, and Hudson is sprawling, filled with beautiful churches, antique and thrift shops and warehouses that become flea markets on the weekends.
9. Great Music Lives Here
Ever hear of Woodstock?
The 1969 music festival happened right on the doorstep of the Hudson Valley, in the Catskill Mountain area village of Bethel.
Its inspiration was the town of Woodstock itself, a music and arts mecca smack in the middle of the Hudson Valley.
Bob Dylan, Van Morrison and David Bowie are just some of the musicians who have made Woodstock home.
There are quite a few cool spots to hear great jazz and indie rock, especially.
Bands are everywhere in New Paltz, with the area also being an inspiration for groups like Fleet Foxes and Real Estate.
The Hudson Valley is ideal if you're looking for a quick weekend getaway, especially if you live on the East Coast.
The fall is always amazing, but really, anytime of the year is a perfect time to visit one of the world's most underrated tourist spots.