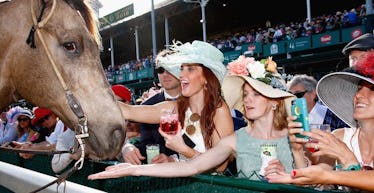 Here's How To Use The 2-Minute Kentucky Derby To Keep Your Party Going
Getty Images
The Kentucky Derby takes place tomorrow, May 6, so it's time to break out your preppiest apparel and your floppiest hat to celebrate the lavish affair.
The Derby has been dubbed "The Most Exciting Two Minutes In Sports" because the entire day comes down to a highly anticipated horse race that's only two minutes long.
How wild is that?
As Derby attendees, celebs and TV viewers alike hold onto their Mint Juleps as the race begins, they're all feeling anxious and exhilarated.
The high rollers are most likely feeling stressed AF. And then, the horses are off.. quickly sprinting their way around the track.
All of those bets made earlier in the day depend on just two minutes of time, which will shape who goes home with the gold, and who doesn't (no pressure or anything).
If you're attending a Kentucky Derby bash tomorrow, throwing one of your own or hitting up Churchill Downs to witness the grand event in person, here's how to use the two-minute race to keep the party going.
1. Refill everyone's drinks. Believe me, it's necessary. Make sure everyone's Mint Juleps are freshly topped off and ready to sip as the race ensues.
Get ready to raise your glasses once the horses and their jockeys cross the finish line.
2. Retouch your lipstick, and fluff up your picture hat. Once the race is done, you'll want to snap some adorable selfies with the winner in the background.
3. Fill up your plate with snacks. You know that last red velvet cupcake you've had your eye on? Snatch it up before someone else does.
Keep your eyes on the PRIZE.
4. Round up the squad, and make up a quick drinking game. This will definitely keep the adrenaline pumping.
5. Be spontaneous, and yell out your bets right as the horses leave the gate. Set up signs on the wall, and have everyone run towards their selected winner.
6. Check Twitter for the most hilarious memes of the race.
7. Use the race to gain some inspo for a kickass Instagram caption.
Get ready to have an awesome afternoon with your friends and indulge in ALL the Mint Juleps.
Citations: Kentucky Derby (Wikipedia)