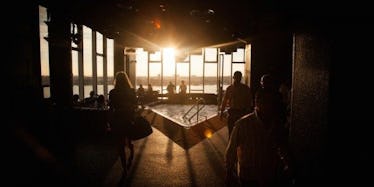 The List Of The Hottest Baby Names For 2014 Will Make You Scared For The Future Of Humanity
Stock
I didn't think it could happen, but it has. The list for "Hottest Baby Names of 2014"  has come out, replacing now the second douchiest list of all time, the "2014 List of Hipster Baby Names."
We thought we'd seen it all with names like Byron and Enoch. Yet, worse than the names was the idea that people wanted to name their babies something that would ensure a hipster destiny. They consciously doomed their children to a life of plaid button downs in the summer and public ridicule.
While that seems like one of the worst things a parent could do, the list of "hottest" baby names manages to one-up it because, well, it's just all wrong.
Somehow, someway, the average American population managed to solidify themselves as the lamest group there is, clicking on names for their children that rival ones like Blue Ivy and Apple (come on guys, we're supposed to be the sane ones).
But the mid-year tally is in, and Imogen and Asher hold the top two spots -- names we think people clicked on because their curiosity got the best of them (is it a boy's name or a girl's?).
According to Huffington Post, the list is compiled based on the number of times someone clicked on a baby name from Nameberry. It's not a report of what people named their babies in the past, but the names parents are most interested in.
And yet again, we've proven to ourselves, and the rest of the world, that we have no originality outside of what we see on television.
Many of the names with an asterisk, which means they are moving up in the list, are from popular movies. For all you "Game of Thrones" fans, Khaleesi is a popular yet somewhat inappropriate choice for a daughter who won't be raising dragons, killing men and having hot sex with her protectors.
Then, there's Ruby, which I assume could be from the hipster film "Ruby Sparks," or maybe it's appealing because it's close to a stripper name without actually being Crystal.
For all of you who dream of having a baby with a trending name, here's a list of the most popular ones piquing expecting parents' interests.
Girls
1. Imogen 2. Charlotte 3. Isla 4. Cora 5. Penelope 6. Violet 7. Amelia 8. Eleanor 9. Harper 10. Claire 11. Alice 12. Adelaide 13. Hazel 14. Katniss 15. Olivia 16. Evangeline 17. Ivy 18. Khaleesi * 19. Maeve 20. Evelyn 21. Maisie 22. Adeline ** 23. Genevieve 24. Seraphina 25. Beatrice 26. Lucy 27. Aurora 28. Rose 29. Scarlett ** 30. Elizabeth 31. Ava 32. Elodie 33. Lila ** 34. Nora 35. Grace 36. Emma 37. Willa 38. Clementine 39. Matilda 40. Eloise 41. Caroline 42. Clara 43. Finn 44. Aurelia 45. Arabella 46. Eliza 47. Poppy 48. Ella 49. Sophia 50. Iris 51. Ruby ** 52. Mila 53. Josephine 54. Harlow 55. Aria 56. Audrey 57. Isabella 58. Wren 59. Quinn 60. Cordelia ** 61. Chloe 62. Mae 63. Emily 64. Luna 65. Rowan 66. Mia 67. Stella 68. Emmeline 69. Ellie ** 70. Juliet 71. Merida 72. Anna 73. Lily 74. Olive 75. Margaret 76. Piper 77. Avery 78. Jane 79. Sadie 80. Lydia 81. Esme 82. Everly 83. Gemma 84. Willow 85. Maya 86. Frances 87. Louisa 88. Elsa * 89. Ada 90. Lola 91. Phoebe 92. Kinsley 93. Zara 94. Madeline 95. Hannah 96. James 97. Delilah 98. Mabel 99. Emmett 100. Hadley
Boys
1. Asher 2. Declan 3. Atticus 4. Finn 5. Oliver 6. Henry 7. Silas 8. Jasper 9. Milo 10. Jude 11. Ezra 12. Emmett 13. Harper 14. Leo 15. Owen 16. Levi 17. James 18. Rowan 19. Felix 20. Miles 21. Sebastian 22. Liam 23. Sawyer 24. Jack 25. Theodore 26. Beckett ** 27. Wyatt ** 28. Hudson 29. Evelyn 30. Kai 31. Ethan 32. William 33. Benjamin 34. Soren ** 35. Eli 36. Caleb 37. Flynn 38. Noah 39. Quinn 40. Julian 41. Bodhi ** 42. Archer ** 43. Oscar 44. Everett 45. Alexander 46. Django 47. August 48. Andrew 49. Josiah 50. Dashielle 51. Zachary 52. Christian 53. Kieran 54. Luca 55. Luke 56. Elliot 57. Charlie 58. Elijah 59. Hugo 60. Thomas 61. Ryder 62. Isaac 63. Theo 64. Jacob 65. Rhys 66. Lucas 67. Callum 68. Arthur 69. Gabriel 70. Samuel 71. Zane 72. Nico 73. Micah 74. Avery 75. Dylan 76. Ryker 77. Roman 78. Nathaniel 79. Jackson 80. Greyson 81. George 82. Knox ** 83. Rory 84. Ronan 85. Xavier 86. Daniel 87. John 88. Finley 89. Emerson 90. Aiden 91. Harrison 92. Simon 93. Nolan 94. Charles 95. Axel * 96. Tristan 97. Arlo 98. Beau 99. Jonah 100. Max
*New entries to Top 100
**Moving steeply up the list
via Huffington Post, Photo Credit: Getty Images