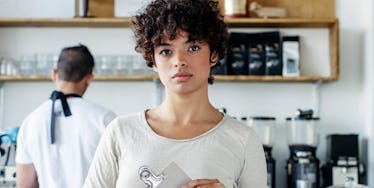 3 Things Being A Hostess Taught Me About The Accessibility Of Fine Dining
W2 Photography
If you are like me, a middle class, average, everyday American, when you hear "upscale" or "fine dining," you get an idea of something from a scene in "Titanic."
There are elegant tablecloths, classical music, overpriced food and a very elitist environment that would have any of us feeling more like Jack Dawson: a fish out of water and running for the nearest McDonald's. I grew up in central Texas, and if you were to tell me we're going somewhere nice, then I'm probably thinking Olive Garden, Benihana's or a steakhouse chain that can serve the entire family for around $50. There is a comfort in knowing I can go anywhere in the United States and dine at my local Outback and the food, service and price point will arguably be the same.
I didn't grow up with the luxuries that a fine dining experience can afford a person and I'm OK with that. Outside of a really elite steakhouse for junior prom and an etiquette seminar in college, my knowledge of the world where chefs craft food for my palette was only a far concept I drew from movies and TV.
When I was given the opportunity to work in an upscale facility here in Chicago, I was skeptical to say the least. It was a smaller place, but I still had no background or work experience in the fine dining environment.
My only restaurant experience prior to my upscale restaurant here in Chicago was at a TGI Friday's where I was hostess from the ages 16 to 18. I loved it. Being a hostess was as fulfilling for my teenage self as it could get. You get paid to seat people, smile, greet them and occasionally run food from the kitchen or bus a table.
The world of fine dining requires so much more than I anticipated when I first got the job last fall, and I'll always appreciate the lessons it has taught me.
1. The food is worth every single penny.
The chef works with an expert team that went to culinary school and handcrafts the fresh food that is brought in daily to the facility. When I say fresh, I mean there is emphasis put on the fact. Many items like seafood, truffles and caviar are imported from outside the state, and even the country.
Chefs get to create and customize their menus on a daily/weekly basis, depending on their vision or concept for the restaurant. They have the upmost creative freedom and liberties to adapt the flavors and food for their customers. Special preparation is done with a somali or wine expert to pair the correct wines to help accentuate or elevate the taste of certain flavors in a dish. So if you have the extra dough to take up the wine recommendations, it benefits the customer in more ways than just getting a buzz.
2. Fine dining is not exclusive to the rich.
Now, stay with me on this one. Yes the majority of clientele I interacted with wear Burberry, furs and threw down a black American Express card on dinner like they were at your local chipotle. It totally happens about 70 percent of the time. I'd be lying if I told you that wasn't the majority of our demographic.
However; we had many people who used fine dining as a chance to celebrate birthdays, engagements, anniversaries and just treating themselves out to somewhere nice.
I encountered many people who gushed and were floored by the fine dining experience because it was their first time, and they had never been somewhere that such excellent service and food. It may be once a year that you treat yourself, but if you're going to eat out, why not let it be a place where you're getting a full experience, versus just a plate of food to keep you full?
3. Ratings and reviews are imperative to the success and image of the restaurant.
We've all been to many stores and eateries where we get pushed or suggested to call and fill out a survey and tell some automated machine how the service was. In an upscale facility, whether the experience is good or bad, people flock to website like TripAdvisor, Yelp and Open Table to compliment, complain or state their opinion on their experience.
People are paying a hefty price for their meal (where I worked, it was anything from an average check of $90 to as much as $1,000), so every minuscule aspect of their time in the restaurant is dissected. Upscale restaurants thrive on reviews and ratings from newspapers and food critics, who can greatly affect the business that comes through the door. Therefore, making sure everyone is on their A game 100 percent of the time is imperative.
My time as a hostess was far different than when I worked at TGI Friday's, and even though I know it will be a while before I can comfortably drop $100 plus on a meal, I no longer view the fine dining world as something to fear or something I'm not worthy of.
My experience working as a hostess was so memorable, I made it a point to take my friends and expose them to what the fine dining world offers, even it was just for drinks.