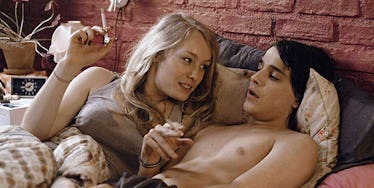 What It's Like To Be A Straight Male Escort Who Makes $30,000 A Year
Twentieth Century Fox
Tell me something: What would you do if your penis measured almost twice the international average in both length and girth?
Would you discreetly tuck it into your pant leg and carry on with your day, typing away at the keyboard and working your monotonous 9-to-5 desk job, all while knowing you're a sexual god among insects?
Or, would you profit from your extraordinary schlong by bedding limitless females under the guise of a sophisticated pseudonym and sideline as an escort?
Let me answer that for you: You'd do the latter, like Luke Jackson, a 32-year-old male escort whose penis measures at 9.5 inches long and 3 inches wide with a 7.5 inch circumference, has done.
As I would discover, the man (who chooses to remain anonymous) is an incredibly hard worker, extraordinarily polite and rather articulate. For instance, before we even address his career, he informs me he doesn't consider himself a "gigolo," a blanket term commonly used to generalize men in sex work.
"I prefer the term 'companion' or 'escort,' since much of what I do is based on intellectual and emotional connection, beyond just sexuality," he says. "Not that there's anything wrong with 'gigolo,' but certain terms mean different things in the sex work world."
Fascinated by the rare prospect that is a heterosexual male escort, I had many questions for Mr. Jackson. So, I contacted him and asked just about everything.
Q: How did you get started as an escort?
Luke Jackson: I got started when I met a woman who was putting herself through grad school as a high-end escort.
We became friends and ended up sleeping together for fun, and she suggested that I should think about trying it because there aren't many well-educated, well-endowed straight male companions in the market.
So I did some research, decided to try it and built my website. I got lucky enough to get listed on Concierge du Monde, a forum for straight male companions. That helped me meet my first clients.
Q: How did you come up with the pseudonym, "Luke Jackson"?
LJ: I always loved Paul Newman's "Cool Hand Luke," and that's his character's name in the movie. It played into the sort of boyish Southern charm that seemed to work for me, so I tried it out and it stuck.
Q: Is escorting a full-time or part-time gig?
LJ: It's very much part-time. I usually see patrons maybe once or twice a month at most. I do creative work as my main job.
Q: Illustrate what a client would get from a typical Luke Jackson experience.
LJ: We meet for the first time at a bar or restaurant and share a glass of wine as we get to know each other. We talk about the latest political news and what we're reading. We savor a delicious meal and compare notes on what we think of each dish.
After we've finished dinner, we go for a walk in the city streets, still talking passionately, my hand around your waist. We wander back toward your hotel and the night unfolds from there.
Q: Do your friends or family know what you do?
LJ: Some do, some don't. I try to be open and did "come out" as a sex worker to many friends and some of my family a few years ago, but overall, it's a part of my private life and not something I need to always share.
Q: Why do you wish to remain anonymous when popular websites (such as Cowboys 4 Angels) outwardly expose all of their men?
LJ: I have a professional career, and while I'm pretty open about my side job with close friends and even some family, I still value discretion. I think my clients to do too, so there's some shared sense of discretion and respecting the fact that we both have lives outside of this.
Q: How much money do you earn annually as an escort?
LJ: It depends on the year, but generally around $30,000 a year working very part time.
Q: How much do you cost?
LJ: My rates start at $1,500 for a shorter meeting and go up to $2,500 or more overnight or for a full day. Travel is generally extra, depending on where we're meeting.
My compensation is purely for my time. Anything sexual that happens is between consenting adults. So there's no laundry list of services. But obviously, we all have our tastes and interests, and I'm very open about my sexual side.
Q: How do you advertise your services?
LJ: I don't advertise; I have my site, Meet Luke Jackson, and I'm listed on Concierge du Monde. Many clients find me through word of mouth or from interviews that I've done.
Q: What are your clients' primary reasons for hiring you?
LJ: Completely varies from person to person. Some are looking for a travel companion or a date to a wedding, and others are curious about my size. Some couples are looking to expand their horizons and explore new things. Some women just want a playful getaway for an evening or a weekend.
Q: What's your most popular service?
LJ: Weekend trips are probably my most popular booking, since a full evening or overnight gives us time to get to know each other and explore all kinds of things. After that, it's probably couples looking for something specific and new and different to explore.
Q: What do clients seek more: sex, romance or somebody to talk to?
LJ: They want all three, but mostly intimacy and conversation. It's hard to open up with people, but that's something I've always been good at: listening and conversation, and then intense sex.
Q: As an escort, have you learned anything resourceful about female sexuality?
LJ: I think that female sexuality is far more varied and rich than popular culture gives it credit for. Women are just as sexually driven and passionate and kinky as men are. They want all different kinds of sex and experience.
Those desires are completely different for every woman. So, it's about listening and being aware of your partner and not just pursuing your own desires or pleasure, but really paying attention and being playful and open to new things and dynamics.
Q: Is all sex protected?
LJ: Yes, safer sex is very important. It's hard to find condoms that fit, but I get custom ones from Europe usually. And get tested regularly.
Q: Do you always climax with your clients?
LJ: Generally yes. It's often something that they really enjoy as well.
Q: What percentage of your clients are repeat customers?
LJ: At least half, probably close to 75 percent.
Q: Do you feel guilty when sleeping with married women?
LJ: No, it's entirely their decision and I'm generally an advocate of open or at least less closed marriages. I've often had married clients who tell me that being able to be honest and open with me about their sexual desires actually helped their marriage.
Q: Describe your most expensive experience.
LJ: I've had clients fly me all over the world, including Madrid, London, Edinburgh, San Diego, Chicago. A full weekend usually costs around $10,000 and includes lots of time exploring a city together, as well as everything else that we can think of in that time.
Q: Describe your typical client physically and emotionally.
LJ: There really isn't a typical client at all. They range in age from late 20s to 60s, all body types. The only commonality is that they're open-minded, curious, sexually liberated and thoughtful.
Q: Does this career have an impact on your relationships or your perceptions of them?
LJ: Yes, but only in a positive way. I've stopped doing this before when I fell in love. I find that being open and honest about this with potential partners and lovers is a good way of understanding how open they are.
It's not that they need to be OK with me doing this forever, since I don't plan to do this forever, but they have to be open-minded enough to accept me for who I am.
Q: You insist you're not a 'slick gigolo.' I'm curious, what differentiates you from them?
LJ: It's partly just humility and approach. I'm not pretending to be a bodybuilder with slicked-back hair and a rose between my teeth. It's not a romance novel.
I am who I am, and that's what I present. I think I have a pretty nerdy intellectual side to me, as well as a bit of a country boy honesty that just doesn't play into the stereotypes about male escorts.