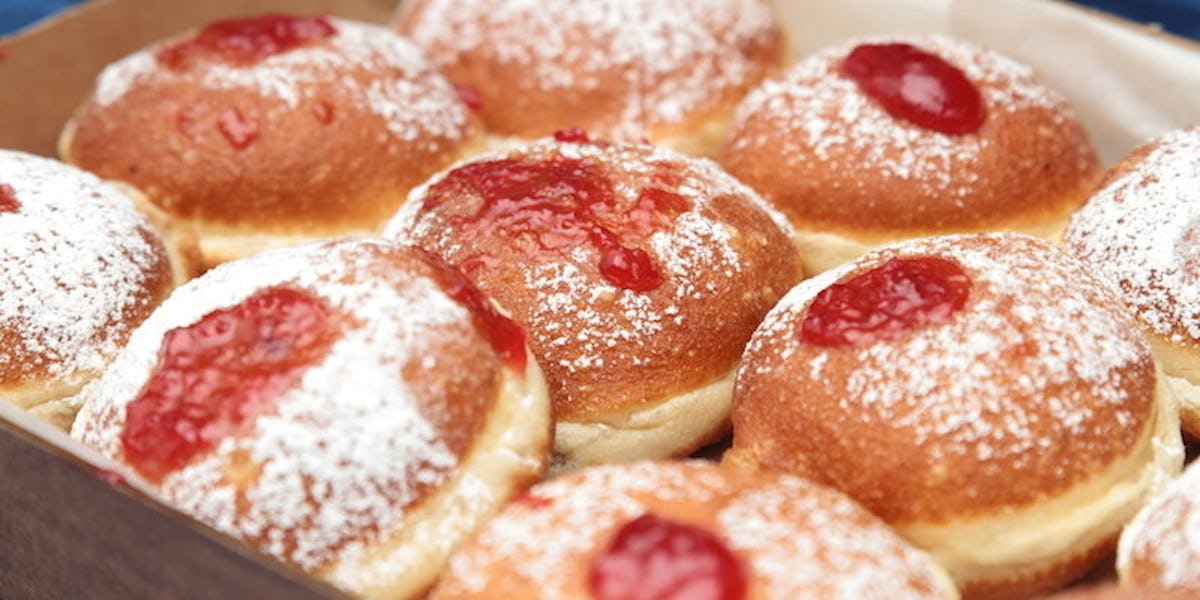 3 Mouthwatering Recipes To Celebrate The Jewish Festival Of Lights
Shutterstock
Let's be honest: Celebrating festivities is all about the food.
Like Christmas, the holiday of Hanukkah is spent among family and friends by giving gifts, enjoying traditional meals and basking in the presence of loved ones.
Hanukkah (also called the Jewish Festival of Lights) is a religious tradition spanning over eight days in December, in celebration of Jewish national survival and religious freedom.
Those who celebrate have numerous food traditions to remind people of the miracles associated with the events of Hanukkah.
Oil played a central role in the story of Hanukkah.
Therefore, fried foods are a must-have, serving as delicious reminders of the miracle of oil.
Whether it's your first Hanukkah or your 50th, celebrate this year with both some traditional and more modern recipes:
1. Fried Jelly Donuts (Adapted From My Name Is Yeh)
I don't know what's better. Is it "fried," "jelly" or "donut?"
The good news is, with this sufganiyot recipe, you don't have to choose.
Ingredients (Makes Eight To 10 Servings)
One roll of store-bought biscuit dough (or you could make your own) Canola oil, for frying A small bowl of white sugar 1.5 cup of jam
Steps
1. Let the dough sit at room temperature for about 20 minutes. That'll make it easier to roll out.
2. On a floured surface, roll out the dough until it's roughly 0.5-inch thick. Cut out 2.5- or 3-inch circles (try using a jar lid).
3. Fill a pot with 2 inches of oil, and heat to 360 degrees Fahrenheit.
4. Fry the dough until each side is a deep brown color.
5. Test one to make sure it's not doughy in the middle.
6. Put the donuts in a paper towel, pat off any excess grease and coat with sugar.
7. Fill the donuts with jam using a squeeze bottle. Warm the jam for 30 seconds in the microwave if it's being difficult.
8. Eat and enjoy.
Latkes are amazing. They're more simply described as potato pancakes.
(Yum, right?)
From sweet potato latkes to curried kale, zucchini or even apple latkes, this traditional appetizer is easy to adapt, no matter what your tastes are.
Another Hanukkah foodie tradition is dairy, especially cheese.
It's a tribute to the Jewish heroine, Judith (Yehudit).
Ingredients (Makes 12 Bites)
2 eggs 100 ml yogurt or sour cream 70 ml milk 80 g grated cheese of choice (except Parmesan) 50 g Parmesan 180 g plain flour Salt and pepper 2 large carrots (or zucchini), grated 2 large potatoes, grated Olive oil for frying
Steps
1. In a large mixing bowl, add together the eggs, yogurt and milk. Whisk.
2. Then, sprinkle over the flour and seasoning. Mix together.
3. Add the cheese.
4. Just before cooking, mix in the grated carrot and potato. Stir through the batter until it's all mixed together.
5. In a frying pan, add some olive oil on high heat.
6. Add a heaped tablespoon of mixture into the pan. Turn the heat to medium.
4. Fry for approximately four minutes before turning over. Remove once golden on both sides.
On the Friday night of Hanukkah after lighting the menorah, people traditionally sit down to a meaty meal.
For a main that will get your mouth watering, you can't go better than a beef brisket.
By preparing it in the slow cooker, you'll have free hands to get on with other important things (like unwrapping presents or holding a wine glass).
This year, give yourself the gift of not cooking.
Ingredients (Serves Five To Six People)
1.5 kg (approximately) beef brisket Half an onion, chopped 4 cloves of garlic, chopped 1 tbsp chili powder 1 tbsp Worcestershire sauce 1 tsp cumin 0.5 tsp pepper 2 tbsp brown sugar 0.25 cup beef broth 3 tbsp chili sauce
Steps
1. Mix together chili powder, brown sugar, Worcestershire sauce, cumin and pepper. Make a paste and rub over the brisket.
2. Place the brisket into the slow cooker.
3. Mix together beef broth, onions and chili sauce.
4. Pour over brisket.
5. Cover and cook on low for seven to eight hours or on high for four to five hours, until the meat is tender and easily pulls apart.
6. Remove the brisket from the cooker and slice it across the grain into thin pieces.
Happy Hanukkah, everyone!